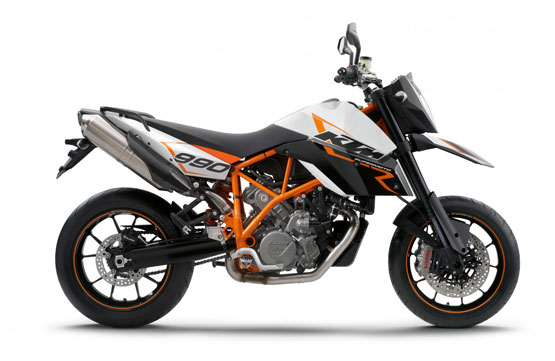 Back to 2011 KTM Motorcycle Index Page
Click photos to enlarge.
They make great desktop images.
– 2011 KTM 990 Supermoto R

2011 KTM 990 Supermoto R
A state-of-the-art V2 engine with electronic injection and impressive punch, a perfectly balanced chassis, a whole bunch of high-quality components – the 990 SM R is the most radical twin-cylinder Supermoto on the market. All the more astounding that it is just as much fun in the urban jungle as it is ticking off passes and out on the racetrack. One of the most dynamic, yet at the same time versatile machines, not only in the Supermoto segment.
2011 KTM 990 Supermoto R Features
Finest components

Carbon heat-protection shields
Finest ingredients — for the eyes too: lightweight and hard-wearing carbon heat-protection shields, radial Brembo® monoblock brake calipers, prestigious shock components from WP Suspension.

Perfect Supermoto ergonomics

Ergonomics
The 990 SM R's fuel tank in conjunction with the elongated seat provides the rider with excellent contact points and maximum freedom of movement under hard acceleration. The double-butted, ideally angled aluminum handlebars aid perfect vehicle control.

Superior chassis

Frame and swingarm
The 990 SM R's tubular space frame made from thin-walled chrome-molybdenum steel tubing with a bolted-on, light alloy subframe only weighs 9.5 kg (20.9 lb.), yet it impresses with exemplary torsional stiffness. The 575 mm (22.64 in) swingarm with conical profiles provides excellent grip.
Suspension Elements
Thanks to multiple setting options, the upside-down telescopic fork with TiAIN-coated sliding surfaces and the directly connected shock absorber from WP Suspension with a TiAIN-coated piston rod allow optimum individual adjustment of the chassis to suit load, riding style and course.
Radial brake
More than adequate braking performance are ensured in the 990 SM R by Brembo® brakes with the very finest components. On the front wheel, two radially-mounted monoblock four-piston brake calipers, pressured by a radial master cylinder, bite hard into floating 305 mm (12.01 in) rotors.
Forged rims
The forged Marchesini light alloy wheels on the 990 SM R are expensive, extremely lightweight and make the bike measurably faster due to negligible unsprung masses and low gyroscopic forces. Super-sporty: the Pirelli tires

Powerful, state-of-the-art V2

Engine
The 990 SM R's water-cooled V-engine with 85 kW (114 hp) sets the benchmark for free-revving twins. Its intelligent design principle with multifunction balancer shaft makes it one of the lightest and most compact V2s in its class. The engine impresses with explosiveness and spontaneous throttle response.
Cylinder Head
Aside from optimum combustion chamber design, the major factors behind the outstanding performance of the 990 SM R's V-twin with 75° cylinder angle are the state-of-the-art four-valve cylinder heads, each with flow-optimized ports and two overhead camshafts.
Crank drive / Pistons
Particularly lightweight pistons and connecting rods bestow the 990 SM R's V2 engine with reduced reciprocated weight and hence with decidedly spontaneous responsiveness, underlining its extremely sporty engine characteristics.
Engine Management
The electronic Keihin engine management system regulates the modern fuel injection system on the 990 SM R, focusing on smooth throttle response under partial load or spontaneous responsiveness when needed. In this way, KTM engineers were able to harmonize raw power with optimum ridability.

2011 KTM 990 Supermoto R – USA Specifications
MSRP: $13.999,00 USD
990 SUPERMOTO R: THE FIGHTING MACHINE

ENGINE
Design 2-cylinder 4-stroke Otto motor, 75° V arrangement, water-cooled
Displacement 999 cm³ (60.96 cu in)
Bore 101 mm (3.98 in)
Stroke 62.4 mm (2.457 in)
Performance 85 kW (114 hp)
Cold start device Electric starter
Transmission 6-gears, claw-shifted
Engine lubrication Dry sump lubrication system with two rotor pumps
Primary transmission 35:67
Secondary drive ratio 17:41
Cooling Water cooling, permanent circulation of coolant by water pump
Clutch Multidisc clutch in oil bath/hydraulically activated
Ignition system Contactless controlled fully electronic ignition with digital ignition adjustment

CHASSIS
Frame Lattice frame made of chrome molybdenum steel tubing, powder-coated
Fork WP Suspension Up Side Down 4860 ROMA PA
Shock absorber WP Suspension 4618 BAVP DCC
Suspension travel Front 160 mm (6.3 in)
Suspension travel Rear 180 mm (7.09 in)
Brake system Front Double disc brake with radially screwed four-piston brake calipers, float-mounted brake discs
Brake system Rear Single disc brake with dual-piston brake caliper, rigid-mounted brake disc
Brake discs – diameter Front 305 mm (12.01 in)
Brake discs – diameter Rear 240 mm (9.45 in)
Chain 5/8 x 5/16″ X ring
Steering head angle 65.6°
Wheelbase 1,505±15 mm (59.25±0.59 in)
Ground clearance, unloaded 195 mm (7.68 in)
Seat height, unloaded 875 mm (34.45 in)
Total fuel tank capacity, approx. 15 l (4 US gal)
Super unleaded (ROZ 95/RON 95/PON 91)
Weight without fuel, approx. 189 kg (417 lb.)
2011 KTM 990 Supermoto R – Canada Specifications
MSRP: See KTM Dealer for prices

990 SUPERMOTO R: THE FIGHTING MACHINE

ENGINE
Design 2-cylinder, 4-stroke, spark-ignition engine, 75° V arrangement, liquid-cooled
Displacement 999 cm³ (60.96 cu in)
Bore 101 mm (3.98 in)
Stroke 62.4 mm (2.457 in)
Performance 85 kW (114 hp)
Starting aid Electric starter
Transmission 6-speed, claw shifted
Engine lubrication Dry-sump lubrication with 2 rotor pumps
Primary gear ratio 35:67
Secondary gear ratio 17:41
Cooling system Liquid cooling system, continuous circulation of cooling liquid with water pump
Clutch Wet multi-disc clutch / hydraulically operated
Ignition system Contactless, controlled, fully electronic ignition system with digital ignition timing adjustment

CHASSIS
Frame Tubular space frame made from chrome molybdenum steel, powder-coated
Forks WP Suspension Up Side Down 4860 ROMA PA
Shock absorber WP Suspension 4618 BAVP DCC
Suspension travel front 160 mm (6.3 in)
Suspension travel rear 180 mm (7.09 in)
Brake system front Twin-disc brake with radially mounted four-piston brake calipers; floating brake discs
Brake system rear Single-disc brake with two-piston brake caliper; fixed brake disc
Brake discs – diameter front 305 mm (12.01 in)
Brake discs – diameter rear 240 mm (9.45 in)
Chain 5/8 x 5/16″ X Ring
Steering head angle 65.6°
Wheel base 1,505±15 mm (59.25±0.59 in)
Ground clearance (unloaded) 195 mm (7.68 in)
Seat height (unloaded) 875 mm (34.45 in)
Total fuel tank capacity approx. 15 l (4 US gal)
Unleaded premium fuel (95 RON)
Weight without fuel approx. 189 kg (417 lb.)
2011 KTM 990 Supermoto R – International Specifications
MSRP: 10.245,00 GBP
990 SUPERMOTO R: THE FIGHTING MACHINE

ENGINE
Design 2-cylinder, 4-stroke, spark-ignition engine, 75° V arrangement, liquid-cooled
Displacement 999 cm³ (60.96 cu in)
Bore 101 mm (3.98 in)
Stroke 62.4 mm (2.457 in)
Performance 85 kW (114 hp)
Starting aid Electric starter
Transmission 6-speed, claw shifted
Engine lubrication Dry-sump lubrication with 2 rotor pumps
Primary gear ratio 35:67
Secondary gear ratio 17:41
Cooling system Liquid cooling system, continuous circulation of cooling liquid with water pump
Clutch Wet multi-disc clutch / hydraulically operated
Ignition system Contactless, controlled, fully electronic ignition system with digital ignition timing adjustment

CHASSIS
Frame Tubular space frame made from chrome molybdenum steel, powder-coated
Forks WP Suspension Up Side Down 4860 ROMA PA
Shock absorber WP Suspension 4618 BAVP DCC
Suspension travel front 160 mm (6.3 in)
Suspension travel rear 180 mm (7.09 in)
Brake system front Twin-disc brake with radially mounted four-piston brake calipers; floating brake discs
Brake system rear Single-disc brake with two-piston brake caliper; fixed brake disc
Brake discs – diameter front 305 mm (12.01 in)
Brake discs – diameter rear 240 mm (9.45 in)
Chain 5/8 x 5/16″ X Ring
Steering head angle 65.6°
Wheel base 1,505±15 mm (59.25±0.59 in)
Ground clearance (unloaded) 195 mm (7.68 in)
Seat height (unloaded) 875 mm (34.45 in)
Total fuel tank capacity approx. 15 l (4 US gal)
Unleaded premium fuel (95 RON)
Weight without fuel approx. 189 kg (417 lb.)