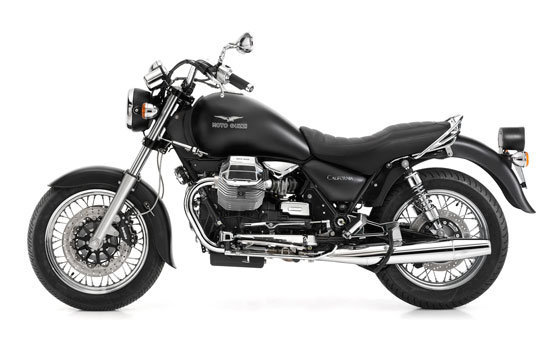 Back to 2011 Moto Guzzi Motorcycle Index Page
Click photos to enlarge.
They make great desktop images.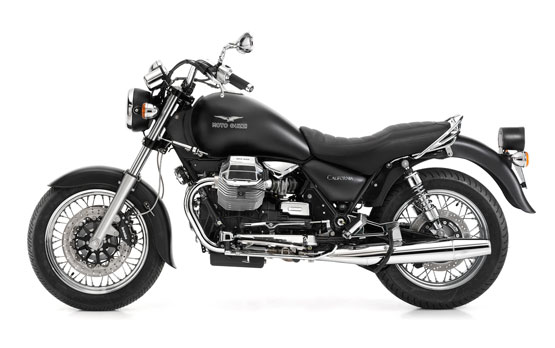 2011 Moto Guzzi California Black Eagle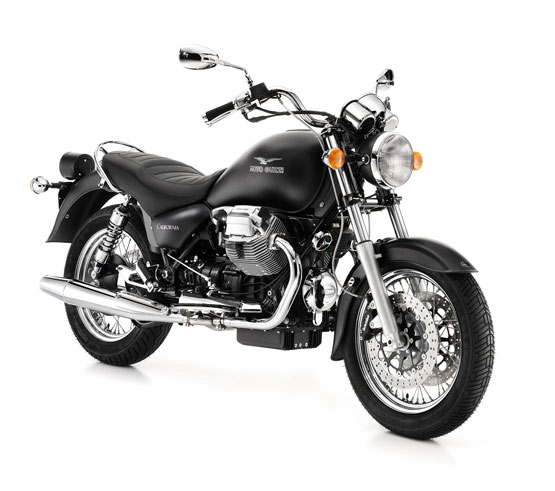 2011 Moto Guzzi California Black Eagle
– 2011 Moto Guzzi California Black Eagle

2011 Moto Guzzi California Black Eagle
MOTO GUZZI: PRESENTING THE NEW AQUILA NERA SERIES FOR THREE GREAT
CLASSICS OF THE EAGLE BRAND

The new 2011 range of Moto Guzzi "customs": the legendary California 1100, the nimble Nevada 750 and the sporty Bellagio 940 are all now available in the new Aquila Nera variant. Once again, the historical Moto Guzzi eagle takes pride of place on the tank, now against an all-new black livery highlighting the mechanicals and the classic lines of these three legendary bikes.

Aquila Nera: this evocative moniker has been chosen for a new trim level for created for Moto Guzzi's custom models.

With the Aquila Nera range, Moto Guzzi has, for the first time ever, applied the same unique and bold styling cues to a range of legendary models evocative of some of the most significant successes in the history of the brand.

Moto Guzzi California is unquestionably Moto Guzzi's most famous custom model and is one of the best known and best loved bikes in the world. Conceived in the early 1970s for the American market, it made for a name for itself in all five continents, earning universal acclaim for its bold image and impeccable road manners. It became famous for its legendary reliability – as testified by the fact that it was used as an official police vehicle by the NYPD (New York Police Department) for over a decade – and for its performance, which increased progressively through a continuous process of evolution of
the engine that took it from 750 cc to 850, 1000 and eventually 1100 cc.

The successful flagship model was joined in the second half of the 1980s by the Moto Guzzi Nevada, one of the best selling bikes ever to come out of Mandello del Lario. Originally offered in 350 and 650 cc variants, its success was consolidated by successive evolutions which culminated in today's 750 cc version with electronic fuel injection.

Completing the family of Italian custom bikes is the Bellagio, the Moto Guzzi that has most in common with American custom machines which, however, retains many of the eagle brand's hallmark characteristics: the 940 cc short stroke engine, dual spark plugs, the CA.R.C. ('CArdano Reattivo Compatto' – compact reactive cardan shaft) transmission and six speed gearbox. These features, skilfully complemented by a class leading chassis layout, make the Bellagio the sportiest bike in its segment, offering a riding experience comparable to that of a naked machine.

In the "Aquila Nera" trim level, the three kings of the road from Mandello del Lario share the same "Coal Black" matt black colour treatment applied to the upper structures- namely the tank, side panels and mudguards – and the surfaces of the engine block. The dark finish emphasises the contrast with metal elements such as the aluminium cylinders and the generous chrome applied in key areas for maximum impact: the wheels, exhaust and control panel. Adding further emphasis to the whole is the
momentous return of the historical Moto Guzzi badge, with a large golden eagle spreading its wings majestically against the name Moto Guzzi.

Comparing the new range against the previous versions, it is clear that the most significant changes have been made to the California 1100 which, in Aquila Nera guise, maintains the technical content of the iconic Vintage model but with new, more subdued and essential aesthetics.

The new variant retains the generous footrests and highly polished passenger grab handle of the original luxurious version, but features lightened iterations of accessories such as the engine guards, leg shields, windshield, supplementary headlights and panniers. The resulting reduction in weight over the Vintage version endows the Moto Guzzi California Aquila Nera with superior agility and responsiveness, to appeal to those who enjoy a more spirited riding style. Mechanically, the California is the only Moto Guzzi still in production still featuring the renowned brake force corrector system and
the glorious 1064 cc big block engine, capable of propelling Moto Guzzi's imposing flagship to a top speed approaching 200 Km/h.

Moving on from the brand's most long lived model to its most modern, the Moto Guzzi Bellagio boasts a decidedly more sporty riding position: with its low two-up saddle shifted over the rear wheel, forward mounted footrests and spectacular drag bar handlebars for total control over the machine.

An even weight distribution over the front and rear wheels and centralised masses make this a surprisingly nimble bike that simply cries out to be ridden on twisty roads, with swift directional changes and a composed front end that remains firmly planted on the tarmac at all times. The secret of the agility and directional precision of the Bellagio lies in its all-new double cradle tubular steel frame linked to a progressive linkage singlesided swingarm in aluminium that also houses the compact reactive cardan shaft transmission. These elements come together to form a system of superlative structural stiffness, which translates to an instantaneous response to the inputs of the rider.

Contributing in no small measure to the riding pleasure of the Bellagio is the outstanding performance of its all-new short stroke 935.6 cc twin cylinder engine, which produces 75 hp at 7,200 rpm. While similar in power to the California, this engine has a decidedly sportier temperament tailored to suit the rider who prefers the adrenaline rush of a powerplant that expresses itself best at high revs over relaxed cruising.

Just like the flagship, the Bellagio also features adjustable suspension, spoked wheels and a meaty chromed exhaust system, with a spine tingling exhaust note emphasising the impressive power of the engine. This latter feature also makes an appearance on the smallest member of the "Aquila Nera" family: the Nevada 750.

Unchanged over the version presented in March 2008, which introduced major new features such as the new exhaust system and instruments, the Nevada 750 "Aquila Nera" differs only in the new matt black livery of the upper structures and the historical logo proudly emblazoned on the tank. Nevada 750 "Aquila Nera" has been created for anyone who wants to join the Moto Guzzi world with a bike that is easy to ride, very reliable and inexpensive to own. This is thanks to the 750 cc 90° V twin with
exceptional responsiveness and mid range torque that is perfectly matched by the chassis with premium features such as a Marzocchi fork at the front and dual adjustable shock absorbers at the rear. For maximum safety, the brake system boasts a powerful 320 mm disc at the front with 2 horizontally opposed pistons backed up by a 260 mm rear disc.

---
2011 Moto Guzzi California Black Eagle – North American Specifications
American MSRP: See dealer for details
Canadian MSRP: See dealer for details
NEVADA AQUILA NERA
Type : 90° V-Twin, 4 stroke
Cooling system : air cooled
Displacement : 744 cc
Maximum power : 35,5 kW at (48.2 HP) 6,800 rpm (25kW available upon request)
Maximum torque : 54.7 Nm at 3.600 rpm
Gearbox : 5 speed
Secondary drive : shaft drive, ratio 8/33 = 1:4.825
Front suspension : Marzocchi hydraulic telescopic fork, Ø 40 mm
Rear suspension : swinging arm in light cast alloy with two dampers, preload adjustable
Front brake : single stainless steel floating disc, Ø 320 mm, 4 piston calipers
Rear brake : single steel disc, Ø 260 mm
Front tyre : 110/90
Rear tyre : 130/90
Length : 2,166 mm
Width : 825 mm
Height : 1,068 mm
Seat height : 767 mm
Dry weight : 184 kg
Fuel tank capacity : 14 litres (reserve: 4 litres)
Accessories : rear carrier, side bags, engine guard

BELLAGIO AQUILA NERA
Engine :Four-stroke V 90 twin
Cooling :Air cooled
Capacity :935.6 cc
Maximum power output :55 KW at 7,200 rpm
Max Torque :78 Nm at 6,000 rpm
Exhaust system :2 stainless steel pipes connected to 1 expansion chamber connected to two
chromed
steel silencers; 3-way catalyser with Lambda probe.
Gearbox :6 speed – constantly engaged cogs with integrated flexible couplings
Final drive :Shaft drive, ratio 12/44 = 1 : 3.667
Front suspension :Marzocchi Ø 45 mm adjustable front forks
Rear suspension :Single swingarm with progressive action – single rebound adjustable shock
absorber
with easy to operate pre-load setting knob
Front brakes :Twin floating 320 mm stainless steel discs, floating Brembo calipers with 2 parallel
pistons.
Rear brakes :Single 282 mm fixed stainless steel disc, floating Brembo calipers with 2 parallel
pistons.
Front tyre :120/70 ZR 18 M/C (59W) TL Roadtec Z6
Rear tyre :180/55 ZR 17 M/C (73W) TL Roadtec Z6
Length :2,270 mm
Width :890 mm
Height :1,310 mm
Saddle height :780 mm
Dry weight :224 kg
Fuel tank capacity :19 litres (reserve: 4 litres)
Accessories : real leather tank cover, real leather side bags


CALIFORNIA AQUILA NERA
Type : 90° V-Twin, 4 stroke
Displacement : 1,064 cc
Maximum power : 54 kW (73,4 CV) at 6,400 rpm
Maximum torque : 94 Nm at 5,000 rpm
Exhaust system : steel, 2 tubes connected to an expansion room, that is connected to 2 steel
mufflers;
three-way catalyzer with Lambda sensor (Euro 3)
Gearbox : 5 speed, costant mesh gears with built-in cush drive
Secondary drive : shaft drive, ratio 8/33 = 1:4.125
Front suspension : Marzocchi hydraulic telescopic fork, Ø 45 mm, adjustable separately
Rear suspension : swing arm with 2 hydraulic shock absorbers, exstension adjustable
Braking system : Integral braking system, with proportioning and delay valve
Front brake : double Brembo Serie Oro stainless steel floating disc, Ø 320 mm, 4 piston calipers
Rear brake : single Brembo stainless steel floating disc, Ø 282 mm, 2 piston calipers
Front tyre : 110/90 VB 18"
Rear tyre : 140/70 VB 17"
Length : 2,380 mm
Width : 815 mm
Height : 1,390 mm
Seat height : 780 mm
Dry weight : 251 kg
Fuel tank capacity : 19 litres (Reserve 4 litres)

---
2011 Moto Guzzi California Black Eagle – Europe Specifications
European MSRP: See below
The new Aquila Nera versions of the Nevada and Bellagio are offered at the same price as the standard models – 7,860 and 10,760 Euros respectively – while with a price tag of 13,570 Euros, the California Aquila Nera is on sale at an incredible 3,000 Euros less than the Vintage version.
All the models in the new Aquila Nera range may be purchased taking advantage of government incentives for trading in old vehicles for scrapping, making a further saving of 500 Euros on the catalogue price possible (all prices exclusive of road tax and registration, inclusive of VAT).
NEVADA AQUILA NERA
Type : 90° V-Twin, 4 stroke
Cooling system : air cooled
Displacement : 744 cc
Maximum power : 35,5 kW at (48.2 HP) 6,800 rpm (25kW available upon request)
Maximum torque : 54.7 Nm at 3.600 rpm
Gearbox : 5 speed
Secondary drive : shaft drive, ratio 8/33 = 1:4.825
Front suspension : Marzocchi hydraulic telescopic fork, Ø 40 mm
Rear suspension : swinging arm in light cast alloy with two dampers, preload adjustable
Front brake : single stainless steel floating disc, Ø 320 mm, 4 piston calipers
Rear brake : single steel disc, Ø 260 mm
Front tyre : 110/90
Rear tyre : 130/90
Length : 2,166 mm
Width : 825 mm
Height : 1,068 mm
Seat height : 767 mm
Dry weight : 184 kg
Fuel tank capacity : 14 litres (reserve: 4 litres)
Accessories : rear carrier, side bags, engine guard

BELLAGIO AQUILA NERA
Engine :Four-stroke V 90 twin
Cooling :Air cooled
Capacity :935.6 cc
Maximum power output :55 KW at 7,200 rpm
Max Torque :78 Nm at 6,000 rpm
Exhaust system :2 stainless steel pipes connected to 1 expansion chamber connected to two
chromed
steel silencers; 3-way catalyser with Lambda probe.
Gearbox :6 speed – constantly engaged cogs with integrated flexible couplings
Final drive :Shaft drive, ratio 12/44 = 1 : 3.667
Front suspension :Marzocchi Ø 45 mm adjustable front forks
Rear suspension :Single swingarm with progressive action – single rebound adjustable shock
absorber
with easy to operate pre-load setting knob
Front brakes :Twin floating 320 mm stainless steel discs, floating Brembo calipers with 2 parallel
pistons.
Rear brakes :Single 282 mm fixed stainless steel disc, floating Brembo calipers with 2 parallel
pistons.
Front tyre :120/70 ZR 18 M/C (59W) TL Roadtec Z6
Rear tyre :180/55 ZR 17 M/C (73W) TL Roadtec Z6
Length :2,270 mm
Width :890 mm
Height :1,310 mm
Saddle height :780 mm
Dry weight :224 kg
Fuel tank capacity :19 litres (reserve: 4 litres)
Accessories : real leather tank cover, real leather side bags


CALIFORNIA AQUILA NERA
Type : 90° V-Twin, 4 stroke
Displacement : 1,064 cc
Maximum power : 54 kW (73,4 CV) at 6,400 rpm
Maximum torque : 94 Nm at 5,000 rpm
Exhaust system : steel, 2 tubes connected to an expansion room, that is connected to 2 steel
mufflers;
three-way catalyzer with Lambda sensor (Euro 3)
Gearbox : 5 speed, costant mesh gears with built-in cush drive
Secondary drive : shaft drive, ratio 8/33 = 1:4.125
Front suspension : Marzocchi hydraulic telescopic fork, Ø 45 mm, adjustable separately
Rear suspension : swing arm with 2 hydraulic shock absorbers, exstension adjustable
Braking system : Integral braking system, with proportioning and delay valve
Front brake : double Brembo Serie Oro stainless steel floating disc, Ø 320 mm, 4 piston calipers
Rear brake : single Brembo stainless steel floating disc, Ø 282 mm, 2 piston calipers
Front tyre : 110/90 VB 18"
Rear tyre : 140/70 VB 17"
Length : 2,380 mm
Width : 815 mm
Height : 1,390 mm
Seat height : 780 mm
Dry weight : 251 kg
Fuel tank capacity : 19 litres (Reserve 4 litres)