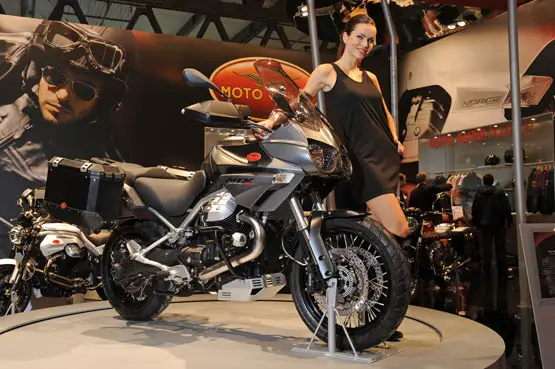 Back to 2011 Moto Guzzi Motorcycle Index Page
Click photos to enlarge.
They make great desktop images.
– 2011 Moto Guzzi Stelvio NTX

2011 Moto Guzzi Stelvio NTX
A REVAMPED DESIGN AND ENDLESS IMPROVEMENTS LAUNCH MOTO GUZZI STELVIO INTO THE SCRUM ALONG WITH THE OTHER MAXI ENDURO. HIGHLY SUPERIOR AERODYNAMIC PROTECTION PROVIDED BY A BRAND NEW WINDSHIELD, A TRULY HIGH PERFORMING ENGINE AND A RECORD RANGE THANKS TO THE NEW 32 LITRE FUEL TANK. AVAILABLE ALSO WITH THE NTX NO-LIMITS VERSION
Named after the famous Alpine pass that connects Valtelline Valley to Vinschgau Valley with 84 amazing s-bends between them, Stelvio has launched Moto Guzzi back among the stars of the maxi enduro world. A highly appreciated bike that has now reached a coming of age at a technical-functional level, thanks to the updates and final tweaking undergone by the MY2011.

It all starts with its style, now even more attractive and trendy rounding off the fuel tank by integrating it within the lightweight fairing, which now highlights a clearly smooth streamlined effect which flows into the double front headlight assembly. The latter feature is a distinctive element of the Stelvio design, and the only detail inherited from the previous version. The top fairing, windshield and the half-fairing with integrated turn indicators are all brand new elements that combine to give the front-end of the Stelvio MY2011 a cutting-edge, more aggressive and dynamic look. It has an original design, but it is above all more functional and versatile, features that are of uppermost importance on models of this type. From an objective standpoint, the style of the new surfaces emphasises two fundamental project milestones compared to the previous version: more efficient aerodynamic protection, thanks to the new top fairing and practically twice fold range capacity thanks to the outstanding new fuel tank with a 32 litre record capacity.

This new Stelvio bike has an air of complete renovation about it, fine examples being the cockpit with brand new graphs on the on-board control panel, a new increased scale fuel indicator.

The heart that beats inside this touring bike is the renowned V-shaped 90° transverse twin-cylinder "Four valve" engine, the highest performer among all the families of engines manufactured at Mandello del Lario, which has now reached exclusive levels as far as its technical/performance development is concerned.

This latest version can boast the careful attention paid to achieve a more silent and smooth running of the engine, whilst tweaking the electronic control, timing system and cooling system. The brand new integrated ignition and injection ECU now exploits the signals sent by the two lambda probes to guarantee adequate feeding throughout the entire combustion cycle, improving response to the throttle control, mid range power delivery further to consumptions and emissions.

The engine now boasts a maximum torque of over 113 Nm delivered at a mere 5,800 rpm and easily reaches a peak in output of over 105 Hp; it practically reaches an automobile-level speed of 7,250 rpm.

Due to the unanimous success of Stelvio's chassis, no changes of any kind have been made to the upper dual beam frame, in high tensile steel that is connected to the engine in six different points giving an exceptionally high levels of torsional rigidity. The chassis geometry therefore remains unaltered, with a rake of 27°, a 125 mm trail, improved by the all important 1535 mm wheelbase which guarantees impeccable steering precision, and is something that has contributed to boosting the reputation of this model over time. High quality suspension whose adjustable preload and hydraulic response during compression and rebound combine to ensure instant, smooth response to pressure on the handlebar.

The front-end is controlled by a solid 45 mm upside-down Marzocchi fork with 170 mm travel, whereas the rear-end has progressive action suspension kinematic mechanism moved by a Sachs rear monoshock which runs on a 155 mm stroke. The Brembo braking system remains in place, unbeatable in terms of efficacy and look, along with the front radial-mounted callipers that engage with a new couple of discs, with lighter flanges and a new brake band that better dissipates heat. Innovation also for the wheels which now boast a cutting-edge designed set of light alloy rims and the standardisation of the rear sizes 150/70/17, previously exclusively mounted on the NTX, also on the standard version of the Stelvio 1200. On request, the wheels can also be assembled with Ber rims and Alpina spokes, which are standard fixtures on the NTX version whilst both models are fitted with the new Continental ABS anti-lock system.

The NTX is the more "adventurous" version of the Stelvio, and now has all the technical features of the base version, plus some exceptional new fixtures, i.e. the sturdy "armour" that embraces it and comprises the oil sump guard, engine guard, cylinder guard and full cover hand-guards to protect the rider and his bike against the hidden dangers throughout his trip.

A bike dedicated to long haul travellers naturally needs luggage space, hence the spacious aluminium panniers and additional halogen lights. Even more luxury options are available on the accessory catalogue including a GPS navigator, heated hand-grips, and CA.RC protection(Cardano Reattivo Compatto, i.e. Compact Reactive Cardan Shaft Drive).

The new Stelvio MY 2011 will be on sale from next Spring boasting Guzzi Black and Diamond White colour schemes, while the NTX will flaunt a brand new colour concept on a black Lava satin finish base.

2011 Moto Guzzi Stelvio NTX Features
MAIN CHARACTERISTICS

DESIGN
– New headlight fairing.
– New 32 litre fuel tank.
– New windshield.
– New saddle lining.
– New Moto Guzzi customised side panniers.
– Brand new shaped saddle.
ENGINE
– 1200 90° V-shaped Twin-cylinder "Four Valve"
– Single overhead camshaft timing system with decreased valve control noise level.
– New profile camshafts.
– Oil radiator increased.
– Single plate clutch.
– New exhaust system.
– Transmission with compact reactive cardan shaft drive.
– 6-gear gearbox.
– Euro 3.
CHASSIS
– High tensile steel upper dual beam frame.
– Front fork with 50 mm legs, adjustable spring preload and hydraulics fitted with a new set of progressive action springs.
– Shock absorber with adjustable preload and rebound fitted with a new more preloaded spring
– Rear suspension with progressive articulation single arm.
– 4 horizontally opposed piston front brake system with new 320 mm discs.
– Rear 282-mm disc brake, floating calliper with two parallel pistons.
– Rear tyre ZR 150/70/17.
– Front tyre ZR 110/80/19.
STANDARD OUTFIT:
– New cutting-edge Continental ABS.
– New instrument panel with increased scale fuel level indicator.
– Heated hand-grip fixture.
– Satellite navigator fixture.
---
2011 Moto Guzzi Stelvio NTX – North American Specifications
American MSRP: TBA
Canadian MSRP: TBA
Engine : 90° V-shaped twin cylinder, 4 valves per cylinder
Engine capacity : 1,151 cc
Max output : 105 CV at 7,250 rpm
Max torque : 113 Nm at 5,800 rpm
Exhaust system : stainless steel, 2-in-1 type, three-way catalytic converter with double lambda probe
Gear : 6-speed
Final drive : CARC compact reactive shaft drive; double cardan joint and floating bevel gear set, ratio 12/44 = 1:3.666
Front suspension : completely adjustable upside-down fork (spring preload and hydraulic compression and rebound damping) with mounting bracket for radial brake calliper
Rear suspension : single-sided swing-arm with progressive linkage and monoshock with adjustable hydraulic rebound and dial for setting spring preload
Front brake : dual 320 mm stainless steel floating discs and radial callipers with 4 horizontally opposed
pistons – ABS
Rear brake : 282 mm stainless steel fixed disc, floating calliper with 2 parallel pistons – ABS
Tyres : 110/80 R19″ tubeless (front) – 150/70 R17″ tubeless (rear)
Max length : 2,305 mm
Max width : 1,080 mm
Height : 1,475 mm
Saddle height (adjust.) : 820/840 mm
Dry weight : 259 Kg
Fuel tank capacity : 32 litres (including 7 litre reserve)
Standard accessories : Aluminium top box, Tom tom Rider2 and navigator holder, heated hand-grips, headlamp guard.

---
2011 Moto Guzzi Stelvio NTX – Europe Specifications
European MSRP: €13,590 Euro

Motore bicilindrico a V di 90°, 4 valvole per cilindro
Cilindrata 1.151 cc
Potenza MAX 77 kW (105 CV) a 7.250 giri/minuto
Coppia MAX 113 Nm a 5.800 giri/minuto
Impianto di scarico in acciaio inox, del tipo 2 in 1 catalizzato a 3 vie con sonda Lambda
Cambio 6 marce
Trasmissione nale cardano reattivo compatto CA.R.C.; doppio giunto di cardano e coppia conica ottante, rapporto
12/44 = 1:3,666
Sospensione anteriore forcella a steli rovesciati completamente regolabile (precarico molla e idraulica
in estensione e compressione)
Sospensione posteriore monobraccio con leveraggio progressivo, monoammortizzatore con regolazione
idraulica in estensione e registro precarico molla a pomello
Freno anteriore doppio disco ottante in acciaio inox, Ø 320 mm, pinze radiali a 4 pistoncini contrapposti
Freno posteriore disco sso in acciaio inox, Ø 282 mm, pinza ottante a 2 pistoncini paralleli ABS optional, disinseribile
Pneumatici 110/80 R19" tubeless (ant.) – 150/70 R17" tubeless (post)
Lunghezza max 2.305 mm
Larghezza max 1.080 mm
Altezza 1.475 mm
Altezza sella 820/840 mm
Peso a secco 259 kg
Capacità serbatoio 18 litri (riserva 3,5 litri)
Stelvio 1200 NTX

La dotazione di serie comprende: borse laterali in alluminio nero satinato, paracilindri, fari di profondità , paracoppa in alluminio, paramani, cerchio posteriore 4,25", pneumatici Metzeler
Tourance (ANT 110/80 R19, POST 150/70 R17) o, in alternativa, Karoo "T" (tipo Mud & Snow, non montabili su versione abs e velocità  limitata a 160 km/h)