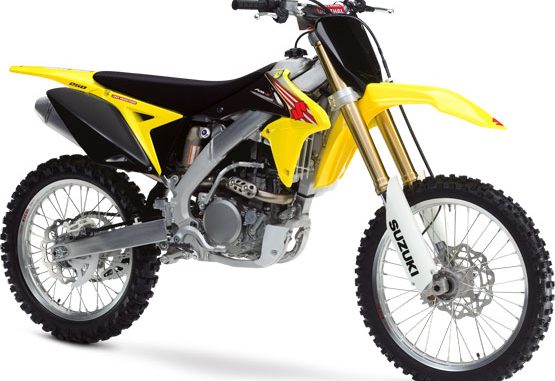 Back to 2011 Suzuki Motorcycle Index Page
Click photos to enlarge.
They make great desktop images.
– 2011 Suzuki RM-Z250

2011 Suzuki RM-Z250
For 2011 Suzuki has taken its potent RM-Z250, and have fine-tuned it into an even more capable machine. The 2011 RM-Z has seen numerous updates: it now meets a stricter AMA noise limit (94db) while maintaining smooth engine output; the intake and exhaust timing has been changed for better engine feeling with lower noise output; the exhaust pipe length has been changed for better engine feeling with lower noise; ECU settings have been updated for more linear acceleration and improved over-rev; and the radiator hose routing has been changed for more efficient cooling.
In addition, Suzuki has focused on improving operation and overall feeling (primarily in shifting and starting). The 2011 RM-Z250 features improved lubrication on the center of the clutch and counter shaft for better durability and improved clutch feel; an updated transmission (focusing on 3rd and 4th gear) provides improved durability; and the kick starting arm has been redesigned for improved starting.
And to cap off an already impressive ride, Suzuki has focused on providing easier maintenance features on the 2011 RM-Z250 as well. Updated wiring harness routing and a convenient fuel line cap for regular maintenance are two new features.
Suzuki racing technology is everywhere you look on the 2011 RM-Z250: the 249cc engine utilizes advanced Suzuki fuel injection, and when combined with the twin-spar aluminum frame and class-leading Showa suspension components, you get the perfect weapon for motocross racers worldwide. And there's also the eye-catching slim, aggressive styling that causes the RM-Z250 to stand out at any track.
2011 Suzuki RM-Z250 Features

Key Features

New graphics complete the 2011 package. In addition, the number plates have a black background to conform to rules for competition numbers.

For 2011, the RM-Z250 meets stricter AMA noise limit (94db) while keeping smooth engine output.

Engine Features

The RM-Z is powered by a compact and lightweight 249cc, fuel-injected, DOHC, titanium four-valve, semi-dry-sump, four-stroke engine. Its advanced, battery-less fuel-injection (FI) system, features a 44mm throttle body with progressive throttle linkage and a 16-bit computer.

The FI system uses a unique capacitor-assisted starting system, and is powered by a durable, lightweight magneto-generator after starting.

The engine's aluminum cylinder is treated with Suzuki Composite Electrochemical Material (SCEM) coating. The cylinder is built for durability, is light weight and the coating allows for efficient heat transfer.

A sturdy connecting rod and mirror finishing permits a stunning 13,500-rpm maximum engine speed.
Transmission Features

A 5-speed transmission provides extra flexibility, offering gear ratios suited for various terrains and conditions.

Chassis Features

Inverted twin chamber Showa 47mm forks and Showa piggyback shock designed with emphasis on smooth shock absorption and ample bottoming resistance. Tuned to offer superb handling for a wide range of riders, the suspension delivers excellent traction without sacrificing quick-turning ability.

The RM-Z250 features a twin-spar aluminum frame and aluminum swingarm developed and refined for a highly optimized balance between rigidity and superb high-speed traction.

Smart chassis design details include footpeg brackets shaped to help prevent mud from clogging.

Radiator louvers (for the twin side-mounted aluminum-alloy radiators) are joined to the outer bodywork to add strength without adding weight.

Race-inspired brake disc rotors offer enhanced cooling performance and efficient mud slinging.

High-quality Renthal handlebars featuring a tapered design are fixed to the rubber mounted triple clamp.

A gripper seat, with projected cross-shaped patterns on the top surface, provide additional grip.
2011 Suzuki RM-Z250 – United States of America Specifications
USA MSRP – $7,299 USD
CHASSIS:
Overall Length 2170 mm (85.4 in)
Overall Width 830 mm (32.7 in)
Wheelbase 1475 mm (58.1 in)
Ground Clearance 345 mm (13.6 in)
Seat Height 955 mm (37.6 in)
Curb Weight 104.5 kg (230 lbs)
Transmission 5-speed constant mesh
Final Drive Chain, DID520DMA2, 114 links
Suspension Front Telescopic inverted, coil spring, oil damped
Suspension Rear Swingarm, link type, coil spring, oil damped
Brakes Front Disc brake
Brakes Rear Disc brake
Tires Front 80/100-21 51M, tube type
Tires Rear 100/90-19 57M, tube type
Fuel Tank Capacity 6.5 L (1.7 US gallons)

ENGINE:
Displacement 249cc, 4-stroke, liquid-cooled, single cylinder, DOHC
Fuel System Suzuki fuel injection
Starter Primary kick
Ignition Electronic ignition (CDI)

WARRANTY:
Warranty No Warranty


American Suzuki Motor Corporation makes every effort to present the most current specifications and product features. Because of our policy of continual improvement, changes may be made in equipment, availability, specifications and features without notice or obligation.
2011 Suzuki RM-Z250 – Canadian Specifications
Canada MSRP – $TBA CDN
Chassis:
Overall Length 2170 mm (85.4 in)
Overall Width 830 mm (32.7 in)
Wheelbase 1475 mm (58.1 in)
Ground Clearance 345 mm (13.6 in)
Seat Height 955 mm (37.6 in)
Curb Weight 104.5 kg (230 lbs)
Transmission 5-speed constant mesh
Final Drive Chain, DID520DMA4, 114 links
Suspension Front Telescopic inverted, coil spring, oil damped
Suspension Rear Swingarm, link type, coil spring, oil damped
Brakes Front Disc brake
Brakes Rear Disc brake
Tires Front 80/100-21 51M, tube type
Tires Rear 100/90-19 57M, tube type
Fuel Tank Capacity 6.5 L (1.7 US gallons)

Engine:
Displacement 249cc, 4-stroke, liquid-cooled, single cylinder, DOHC
Fuel System Fuel injection
Starter Primary kick
Ignition Electronic ignition (CDI)

Warranty:
Warranty No warranty