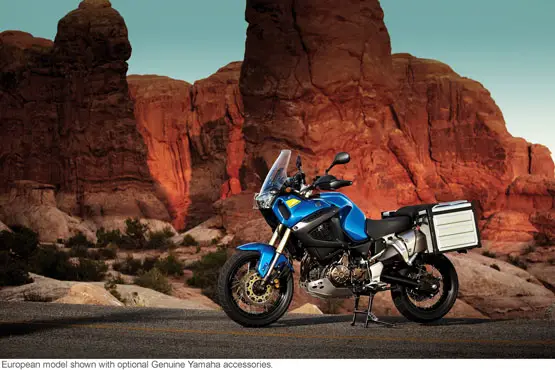 Back to 2012 Yamaha Motorcycle Index Page
Click photos to enlarge.
They make great desktop images.
– 2012 Yamaha Super Tenere

2012 Yamaha Super Tenere
The all-new ultimate adventure touring platform with a host of technological features and accessories.
Yamaha has a long history of success at the famous Paris to Dakar Rally. In fact, Yamaha won the first ever event in 1978 and has since followed up with 8 other victories at this gruelling rally. The new and versatile 2012 Yamaha Super Ténéré is designed to be the most exciting next-generation adventure tourer, combining Yamaha's Dakar-bred toughness and reliability with light, easy handling and advanced rider assist technology.
Intercontinental adventure awaits.
All it takes is one look at the rally-inspired 2012 Yamaha Super Tenere and the wonder lust sets in. And there's no stopping it with a super compact parallel twin engine with a unique 270 degree firing order, a wide ratio 6-speed transmission, YCC-T (Yamaha Chip Controlled Throttle) – optimum throttle control and acceleration, Traction Control, Anti-lock Breaking System (ABS), adjustable seat height and the list goes on. Dream big because the 2012 Yamaha Super Ténéré will take you there.
Adventure traveling takes skill, determination and endurance – as well as unwavering confidence in your machine.
The lessons Yamaha learned during the Dakar Rallies, has been utilized in the development of the Super Ténéré. Lightweight, compact, and easy to handle, the Super Ténéré offers a host of rider assist technologies that make it the ideal adventure touring mount. But there is more, a lot more. The Super Ténéré is an ultra versatile performer that will turn any ride into an enjoyable adventure, including the commute to work. From pavement to gravel to dirt, the Super Ténéré is ready to provide an incredibly fun riding experience.
2012 Yamaha Super Tenere model Features
All new, 1199cc, fuel injected, inline twin
Traction control, ABS & Unified braking

ENGINE
All new, compact, lightweight, 1199cc, liquid-cooled, DOHC, 4-valve, inline twin pumps out over 80 foot pounds of torque, one of the key ingredients that makes adventure touring so exciting.
Engine is slanted 26 degrees forward, allowing for the use of a very efficient downdraft intake system and at the same time lowering the centre of gravity for light, easy handling
All new 4-valve cylinder head design. The DOHC valve train features 37mm intake and 31mm exhaust valves. Valve angles are 12.5 degrees for the intakes and 14 degrees from centre for the exhaust, creating a compact combustion chamber. The valves feature an Isonite coating for excellent durability.
Automatic, hydraulic automatic cam chain tensioner reduces both maintenance and engine mechanical noise.
4-valve cylinder head features 2 spark plugs per cylinder which shortens the flame diffusion time and speeds combustion for excellent torque character.
High performance direct ignition coils (ignition coil is built into the spark plug cap) reduce weight while iridium spark plugs and high-output magneto deliver increased spark energy.
High performance, short skirt, forged aluminium pistons are light weight for fast throttle response and also reduce reciprocating mass for less mechanical vibration. Compression ratio is 11:1
Newly designed 270 degree crankshaft with uneven firing order (270 & 450 degrees) is used for superior traction and throttle control. This crank design and firing order reduces the "inertial torque" providing a more linear throttle response and improved rear wheel traction. The rider feels like he / she is connected directly to the rear wheel, an important benefit when riding on loose surfaces like gravel and dirt.
The crank uses carburized connecting rods for excellent strength and durability. Carburizing is a heat treating process that increases the carbon content on the outer surface of the rod increasing its strength and durability.
Ceramic composite cylinder "bores" are a "liner less" design with the ceramic coating applied directly to the aluminium block to ensure uniform heat dissipation for consistent power delivery, reduced oil consumption, reduced friction and reduced weight.
Specially designed high lift intake and exhaust cams provide excellent torque and power characteristics well suited to adventure touring.
Automatic decompression device makes starting the Super Tenere fast and easy. The benefit is the starter motor can be made smaller and lighter since the load on it is reduced.
Dual, front and rear gear driven balancer shafts reduce engine vibration to a minimum for great rider and passenger comfort
Single, side mounted (LHS) radiator with specially designed ring type cooling fan keeps engine temperatures under control. The side location helps lessen the overall length of the bike.
Dry sump lubrication system eliminates the deep design oil pan on the bottom of the engine. The oil tank is integrated inside the engine cases. This design helps increase ground clearance since there is no oil pan under the engine. It also reduces weight and centralizes mass since there is no remote oil tank or oil lines.
Easy access spin-type oil filter and drain plug make oil changes fast and easy.
Newly designed air box optimizes air flow for excellent power & torque output and uses a high flow viscous paper filter element.
Dual bore, 46mm throttle body fuel injection system with TPS (Throttle Position Sensor) and APS (Accelerator Position Sensor ). This is a "closed loop" system that utilizes oxygen sensors in both header pipes. The sensors "sniff" the spent exhaust gases and feeds info back to the ECU which in turn adjusts the fuel/air mixture for maximum power with minimum emissions. The oxygen sensor is located before the muffler, so the use of a slip-on muffler will not affect this system.
Denso injectors utilize 12 holes and a 20 degree spray pattern for excellent fuel atomization, more complete combustion chamber filling and instant throttle response. One injector per cylinder. Fuel injection benefits include excellent fuel economy; choke-less operation, reduced emissions, and smoother running.
Yamaha Chip Control Throttle (YCC-T) electronically controls the throttle valves for outstanding response and improved controllability at all rpms. The YCC-T is used to provide even more control of the intake air volume for a smoother torque character. Special main ECU actually features 3 internal ECUs to control ignition, fuel injection and the YCC-T. The ECU that controls the YCC-T is capable of responding to changes at a speed of 1000th of a second.
The rider can "mechanically close" the throttles by simply closing the throttle twist grip.
Traction control function is also part of the ABS system and works in conjunction with the YCC-T system. Utilizing front and rear wheel sensors, this system senses when the rear wheel begins to spin and modifies the ignition timing and fuel injection to reduce power and eliminate wheel spin. This traction control system features 2 operating modes; TCS1 the standard mode and TCS2 with slightly less effectiveness. The system can also be turned off for those occasions when rear wheel spin is desired.
Yamaha D-Mode variable throttle control, also a function of the YCC-T, enables the rider to adjust the performance characteristics of the engine based on riding conditions or rider preferences. The "S mode" provides sporty engine performance while the "T mode" is well suited for touring or around town use. The D-Mode switch is located on the R.H.S. handlebar switch gear.
Wide ratio 6-speed transmission utilizes optimized gear ratios suited for a wide variety of riding conditions. Top gear is an overdrive gear delivering reduced rpms at highway speeds for relaxed, long-distance comfort.
High capacity, heavy duty clutch uses 9 friction and 8 steel plates. The clutch lever offers 4 positions of adjustment to suit a variety of hand sizes.
Low maintenance, compact shaft drive system features a hypoid gear. The benefit of the hypoid gear is that it allows the ring gear to be smaller, thereby reducing the size and weight of the housing as well. Reducing unsprung weight enhances handling.
2 into 1 exhaust system features a honeycomb style catalyser to reduce harmful exhaust emissions and a compact "elliptical" short design muffler. The "elliptical" design keeps the muffler thin, thereby maintaining a slim overall machine width. The muffler features a heat shield to protect the rider and passenger as well as providing a throaty exhaust note.
Compact 600 watt (@ 5,000rpms) AC magneto provides lots of electrical power
CHASSIS/SUSPENSION
Backbone style high tensile steel frame uses the engine as a stressed member. Steel pipe is used since it offers an excellent strength – rigidity balance and more inherent softness than aluminium, for excellent rider and passenger comfort … especially on longer rides. The engine is mounted low in the frame and allows for a fuel tank designed to lower the centre of gravity too.
Detachable rear sub frame is made of aluminium for reduced weight and good strength. This rear frame has been designed to withstand the rigors of rough adventure riding with a passenger and gear.
Long design, low pressure cast steel swingarm. This casting method offers superior strength since it reduces the amount of gas / air trapped in the material … making it stronger. The long design contributes to stability and handling. The left side of the arm "houses" the drive shaft.
Fully adjustable 43mm inverted fork. This fork has been designed to offer good compliance and stroke feeling. Adjustments include 8-way spring preload, 10-way rebound and 13-way compression damping. Front wheel travel is 190mm (7.5″). This adjustable design allows the rider to tailor suspension settings to match rider weight, load and terrain conditions.
Link type Monocross rear suspension system features an adjustable, shock with conveniently located integrated "knob type" spring preload adjuster (no tools are required to adjust rear spring pre-load). Rear shock adjustments include: 6-way spring preload and 18-way rebound damping. Rear wheel travel is 190mm (7.5″).
ABS equipped dual 310mm "wave style" floating front discs are squeezed by ultra rigid 4-piston monoblock calipers. The master cylinder features a 16mm piston. Braking performance is excellent and offers good "feedback" to the rider. There are 5 positions of adjustability for the front brake lever to suit a variety of hand sizes
ABS equipped "wave-style" 282mm rear disc is squeezed by a single piston, slide-type rear caliper. The rear master cylinder uses a 14mm piston to deliver strong, progressive stopping power with excellent control and feel.
The ABS or Anti Lock Braking System features Yamaha's next generation independent linear controlled system with step-less, infinitely variable hydraulic pressure adjustment. The ABS unit, the ECU and the hydraulic unit are combined into a single compact unit that allows for mass centralization. This system uses the same wheel sensors as the traction control system, further reducing weight. When the ABS system senses impending wheel lock-up, the system regulates the hydraulic pressure to the point just before the wheel or wheels lock-up. The benefit of ABS is excellent control under hard braking or when braking on wet, slippery or loose surfaces. The ABS system helps prevents wheel lock up.
Unified Brake System is combined with the ABS system. The Unified Braking System is a system whereby when the front brake is activated; an electronic control applies some rear wheel braking force as well. The amount of rear braking force is dependant upon how hard the front brake has been applied, unit speed and the amount of load on the unit. If the rear brake is applied prior to the front brake, it cancels the unified braking system temporarily (there may be times on difficult terrain when a rider does not want the unified system to activate).
Large capacity 23 litre fuel tank is vertically elongated to help centralize mass and lower the centre of gravity. Parts of tank are positioned low, behind the air box and the cylinders to keep weight lower in the chassis. The reserve portion is 3.9 litres.
"Double T" type rim is used on the front wheel. There are 2 raised "rails" that the spokes attach to, allowing the use of tubeless tires and providing the optimum spoke angle for excellent strength and durability. The rear rim, since it is wider, only uses a single raised rail design. Both front and rear tires are radials.
Dual, cat-eye, projector type H7, 55 / 55 watt headlights provide a serious beam of light for extra confidence when riding after dark. A solenoid moves the shade that controls the projector headlight function.
Touring focused rider and passenger seats. The rider portion (only) offers two different seat height settings. The low position is 845mm (33.3″) off the ground while the tall position is 870mm (34.3″). The passenger seat is removable.
Multi-function plastic resin rear rack. In standard form it is a conventional rack / carrier. It also functions as a mount for the accessory 30 litre top box. And finally, there is an additional carrier built in under the passenger seat. When the passenger seat is removed, it blends with the rear rack to make a longer platform, providing maximum rack area / space.
Based on the Super Tenere being used for various types of riding conditions, the handlebar position and bend have been designed to be both versatile and comfortable whether the rider is standing or sitting. The handlebars are a rugged tapered design for excellent strength and durability.
The combination rubber / steel rider footrests offer the best of two worlds. When sitting, the rider's foot is resting on the vibration damping rubber insets. When standing the rubbers compress and expose the serrated edges of the steel pegs providing additional grip for more technical riding.
Compact, multi function, one-piece instrument features analog tachometer, digital speedometer, dual tripmeters, fuel tripmeter, fuel gauge, and clock. It also features traction control and D-mode indicators, average and instant fuel consumption readouts, coolant temperature, ABS warning light and self-diagnosis functions, plus more. Background illumination is adjustable. The button that operates the traction control system is conveniently located on the side of the instrument for easy access.
ADDITIONAL FEATURES
Lightweight, magnesium cylinder head and clutch covers reduce weight
Adjustable front brake and clutch levers
Low maintenance 11 amp hour battery
Immobilizer ignition system is designed to reduce the possibility of "ride away" theft. This system must recognize the "coded ignition key" in order for the unit to start. If the immobilizer ignition does not recognize the key (or a thief's screwdriver or other type of "jimmy tool") the bike will not start even if the ignition is turned or forced into the on position. If the system does not recognize the coded chip in the ignition key, it will not allow the ignition system, fuel pump or starter motor to function.
Brilliant LED taillight reduces weight and power consumption
Rugged plastic handlebar mounted brush guards
Dash board mounted 12 volt DC outlet
Low maintenance, lightweight, sealed battery
Convenient centre and side stands

2012 Yamaha Super Tenere – USA Specifications
MSRP:
MSRP* $13,900 (Impact Blue) Priority Delivery Program – Delivery begins May 2011
$13,900 (Raven) Priority Delivery Program – Delivery begins May 2011


Engine
Type 1199cc, liquid-cooled, 4-stroke 2-cylinder DOHC

Bore x Stroke 98.0 x 79.5mm

Compression Ratio 11.0:1

Fuel Delivery Fuel Injection with YCC-T

Ignition TCI: Transistor Controlled Ignition

Transmission Constant mesh, 6-speed

Final Drive Shaft


Chassis
Suspension / Front Telescopic fork, 43mm tube, adjustable preload, compression and rebound damping, 7.48-in travel

Suspension / Rear Monoshock, adjustable preload and rebound damping, 7.48-in of travel

Brakes / Front Dual 310mm hydraulic disc, ABS/Unified Brake System

Brakes / Rear 282mm single disc

Tires / Front 110/80R 19M/C

Tires / Rear 150/70R 17M/C


Dimensions
Length 88.6 in

Width 38.6 in

Height 55.5 in

Seat Height 33.26 or 34.25 in

Wheelbase 60.6 in

Rake (Caster Angle) 28.0°

Fuel Capacity 6.0 gal

Fuel Economy** N/A

Wet Weight*** 575 lb


Other
Warranty 1 Year (Limited Factory Warranty)




2012 Yamaha Super Tenere – Canada Specifications
MSRP: $TBA CDN

Engine Liquid-cooled, DOHC, 8-valve, inline twin
Displacement 1199cc
Bore and Stroke 98 x 79.5mm
Compression Ratio 11:1
Maximum Torque 11.6 kg-m (84 ft-lbs.) @ 6,000 rpm
Engine Management YCC-T, D-Mode & Traction Control
Fuel Delivery Mikuni 46mm throttle body F.I
Lubrication Dry sump
Ignition / Starting TCI / Electric
Transmission 6-speed
Final Drive Shaft

Suspension (Front) Fully adj. inverted 43mm fork / 190mm (7.5″) travel
Suspension (Rear) Adjustable link Monocross / 190mm (7.5″) travel
Brakes (Front) Dual 310mm discs (ABS & Unified)
Brakes (Rear) 282mm disc (ABS & Unified)
Tires (Front) 110/80R19 (tubeless)
Tires (Rear) 150/70R17 (tubeless)

Length 2,255mm (88.8″)
Width 980mm (38.6″)
Height 1,410mm (55.5″)
Wheelbase 1,540mm (60.6″)
Rake / Trail 28 degrees / 126mm
Seat Height 845mm (33.3″) or 870mm (34.3″)
Fuel Capacity 23 litres (5.1 Imp. gal.)
Wet Weight 261kg (574.2 lbs)
Colour(s) To be announced

* Fuel economy estimates are based on US EPA exhaust emission certification data obtained by Yamaha and converted into Canadian measurements. Your actual mileage will vary depending on road condition, how you ride, maintain your vehicle, accessories, cargo and operator/passenger weight.
Specifications, appearance, and price of product are subject to change without notice.
* MSRP does not include freight, PDI (Pre Delivery Inspection), pre-rigging (boats), or taxes. Dealer may sell for less.