Back to Total Motorcycle Dunlop Tire/Tyre Guide
Click photos to enlarge.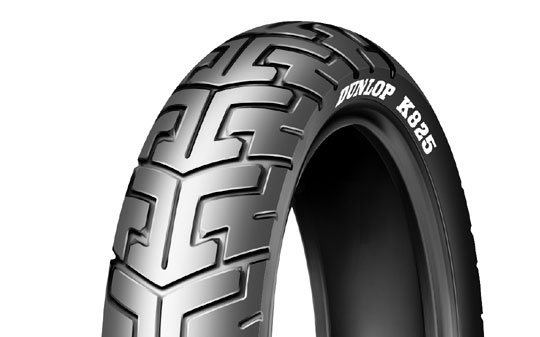 Dunlop K825
– Dunlop K825
O.E. Replacement – Scooter/Misc./Vintage Bias

Dunlop is committed to providing O.E. replacement tires for touring bikes and cruiser bikes. Bikes that started with the best, should always have the best. Dunlop O.E. partners include Arctic Cat, Aprilia, BMW, Buell, Ducati, Harley-Davidson, Honda, Kawasaki, Polaris, Suzuki, Victory, and Yamaha.


FEATURES
Sizes
SIZE

LOAD/ SPEED INDEX

SIDEWALL

PART #

APPLICABLE RIMS
Rec. Rim

OVERALL DIAMETER

OVERALL WIDTH

FULL TREAD DEPTH

MAXIMUM LOAD @ PSI

K825 Front

3.50-12

BW

4244-33

2.50

19.41

3.62

8/32

356 @ 25
B = Belted Construction BW = Black Sidewall RWL = Raised White Letter WWW = Wide Whitewall TT = Tube Type – use only with a tube.
Note: When new tires are fitted, they should not be subjected to sudden acceleration, hard cornering, maximum power or braking for at least 100 miles. Failure to do so may result in loss of control and serious injury. The 100 mile run-in is required to adjust to the feel of new tires versus the worn tires.