You are here: Home — Tire/Tyre Guide — Michelin — Michelin Pilot Sport SC
Michelin Pilot Sport SC
Back to Total Motorcycle Michelin Tire/Tyre Guide
Click photos to enlarge.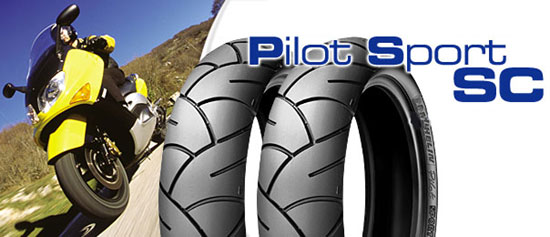 Michelin Pilot Sport SC
– Michelin Pilot Sport SC
FEATURES
Looks and performance

– The true state-of-the-art in scooter tyres, with amazing grip
– Remarkable handling and comfort
An adaptation of the highly regarded Pilot Sport tyre found on many new sport motorcycles, the Michelin Pilot Sport SC is designed for large-displacement scooters. Its 100% silica rubber mix, developed from MotoGP racing technology, delivers excellent grip. The tyre's profile promotes aggressive cornering and offers excellent handling on any type of road.
Sizes / Load Index & Speed Rating

Pilot Sport SC
120/70 – 12 / 51P
130/60 – 13 / 53P
120/70 – 14 / 55S
120/80 – 14 / 58S
130/70 – 12 / 56P
140/60 – 13 / 57P
150/70 – 13 / 64S
150/70 – 14 / 66S

Pilot Sport Radial
120/70 R 14 / 55H
120/70 R 15 / 56H
120/70 R 16 / 57H
160/60 R 14 / 65H
160/60 R 15 / 67H