You are here: Home — Tire/Tyre Guide — Michelin — Michelin Sirac
Michelin Sirac
Back to Total Motorcycle Michelin Tire/Tyre Guide
Click photos to enlarge.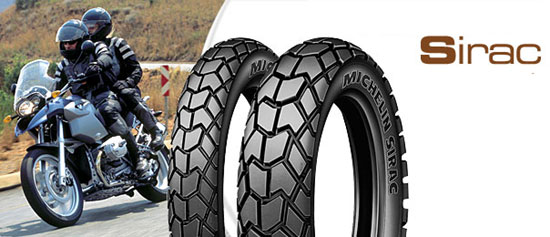 Michelin Sirac
– Michelin Sirac
FEATURES
For medium-size adventure tourers
Excellent price/quality ratio
Longevity and versatility
If you enjoy the adventure of discovery, check out the Michelin Sirac. While it easily handles the demands of everyday riding, it's always ready to explore dirt roads or trails. Best of all, this versatility comes at a surprisingly reasonable price.

Usage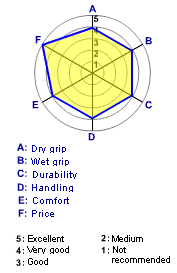 Highway : 3/5
Sport riding : 4/5
Commuting : 4/5
Sizes

FRONT
130/80 P 18*
80/90 R 21
90/90 S 21
90/90 T 21
2.75 R 21
3.00 T 21

REAR
180/80 P 14*
120/90 S 17
120/90 T 17
130/80 T 17
110/80 R 18
120/80 T 18
4.10 R 18
4.60 T 18

* Coming soon; consult your dealer