You are here: Home — Tire/Tyre Guide — Pirelli — Pirelli City Demon
Pirelli City Demon
Back to Total Motorcycle Pirelli Tire/Tyre Guide
Click photos to enlarge.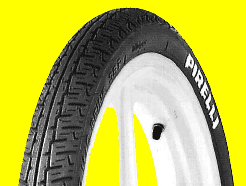 Pirelli City Demon Front
– Pirelli City Demon
FEATURES

New "MILEAGE ORIENTED" TREAD PATTERN with speed index from P to H.


– VERY LONG LASTING ORIENTED TREAD PATTERN DESIGN to ensure good mileage and even wear.
– FRONT TYRE WITH CENTRAL GROOVE for good straight stability and good wet performance and to assure secure and controllable riding under all condition.
– STIFF CARCASS IN BIAS CONSTRUCTION for high durability and wide range of usage on small displacement bikes.

Alternative tyres
– MT75

Sizes
Front: CITY DEMON
2.25-17M/C REINF 38PFRONT CITYDF
2.50-17M/C REINFTL 43P CITYDF
2.50-18M/C 40P CITYDF *
2.75-17M/C REINF 47PFRONT CITYDF
2.75-18M/C 42P CITYDF
3.00-17M/C REINF 50PFRONT CITYDF *
3.00-17M/C REINFTL 50P CITYDF
3.00-18M/C 47SFRONT CITYDF
3.25-16M/C REINF 55PFRONT CITYDF
90/90-18M/C 51HFRONT CITYDF
90/90-18M/C 51SFRONT CITYDF
90/90-19M/C 52SFRONT CITYDF
80/100-18M/C 47P CITYDF
90/100-18M/CTL 54SFRONT CITYDF

Rear: CITY DEMON
2.50-17M/C REINF 43P CITY_D
2.75-17M/C REINFTL 47P CITY_D
2.75-18M/C REINFTL 48P CITY_D
3.00-17M/C REINF 50P CITY_D
3.00-18M/C REINFTL 52P CITY_D
3.25-18M/C 52S CITY_D
3.50-18M/C 56H CITY_D *
3.50-18M/C 56S CITY_D
3.50-18M/C REINF 62P CITY_D
4.00-18M/C 64S CITY_D
100/90-18M/CTL 56S CITY_D
120/90-16M/CTL 63S CITY_D
130/90-15M/CTL 66S CITY_D
130/90-16M/C 67S CITY_D
90/90-18M/C REINF 57P CITY_D

( * ) Close out