You are here: Home — Tire/Tyre Guide — Pirelli — Pirelli Dragon GTS MTR24
Pirelli Dragon GTS MTR24
Back to Total Motorcycle Pirelli Tire/Tyre Guide
Click photos to enlarge.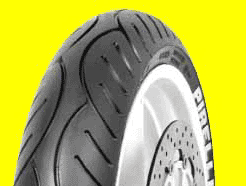 Pirelli Dragon GTS MTR24 Front
– Pirelli Dragon GTS MTR24
FEATURES

Perfect radial tyre FOR SPORTY USAGE OF TOURING BIKES with D-A-T Profile and 0°-steel belt.

– 0° – STEEL BELT to have high-speed stability and less stand-up tendency while braking.
– Tread grooves position to follow the forces acting on the tyre (Dual Arc Tread – DAT) for lighter handling, steering precision, high speed stability and TOURING COMFORT.
– Increased tread depth to 4,5 mm front and 6,5 mm rear for BETTER WATER DRAINAGE AND MILEAGE and high safety reserves also at worn out tyres.


Alternative tyres
– DIABLO STRADA
– SCORPION SYNC




Sizes
MTR23 DRAGON GTS
110/70ZR17TL 54W MTR23
120/70ZR17TL(58W)(B) MTR23
120/70ZR18TL 59W MTR23
110/80ZR17TL 57W MTR23

Rear: MTR24 DRAGON GTS
190/50ZR17TL(73W) MTR24
180/55ZR17 (73W) TL MTR24S
160/60ZR18TL(70W) MTR24
170/60ZR17TL(72W) MTR24 *
160/70ZR17TL 73W MTR24

( * ) Close out