You are here: Home — Tire/Tyre Guide — Pirelli — Pirelli Dragon Slick
Pirelli Dragon Slick
Back to Total Motorcycle Pirelli Tire/Tyre Guide
Click photos to enlarge.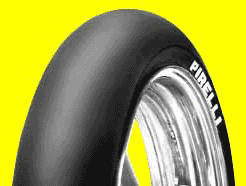 Pirelli Dragon Slick Front
– Pirelli Dragon Slick
FEATURES

The 2004 season sees the introduction on the new ZERO compound, specifically formulated for cold track conditions, short race distances and qualifying situations. The introduction of new rear size 190/65 confirms the continous development of slicks range and stronger engagement in Superbike World Championship.

– Front 16,5″ (R420) with a sharp cross section and a dedicated compound define the state of the art of this generation of tyres. Front 17″ tyre size has latest cross section development for fast response. The tyre offers the capability to keep the chosen trajectory but also supports easy changes of direction.
– New 16.5″ rear size 190/65 has been developed in World Championship Superbike with four new dedicated compounds. As Superbike fitment, this new aspect ratio gives two clear benefits: higher profile speeds up transition in directional changes and a larger footprint at all lean angles which equates to more grip
– Range 17″ has been developed in several sizes to fit different rims (4.00″ to 6.00″). The SC3 compound is especially designed for use in Endurance races and Track day application. Size 160/60 with latest generation carcass and cross section introduces a winning tyre which can also be used for Supermoto races.



Alternative Tyres

– DIABLO WET
– DIABLO RAIN




Sizes
Front: DRAGON SLICK
120/70R17/K099 NHSTLSC0 DSLICF
120/70R17/K099 NHSTLSC1 DSLICF
120/70R17/K099 NHSTLSC2 DSLICF
120/70R17M/C /004NHSTL SC0 DSLICF *
120/70R17NHS DRAGONTLSC1 DSLICF *
120/70R17NHS DRAGONTLSC2 DSLICF *
120/75R420NHS DRAGONTLSC0 DSLICF
120/75R420NHSTLSC3 DSLICF
120/75R420NHSTLDRAGON SC1 DSLICF
120/75R420NHSTLDRAGON SC2 DSLICF

Rear: DRAGON SLICK
180/55R17221TL221 SC1 DSLICK
180/55R17/221NHSTLDRAGONSC0DSLICK
180/55R17NHSTL221 SC2 DSLICK
180/55R17NHSTL221 SC3 DSLICK
190/55R17/188NHSTLDRAGONSC0DSLICK
190/55R17NHSTL/K188 SC1 DSLICK
190/55R17NHSTL/K188 SC2 DSLICK
190/55R17NHSTL/K188 SC3 DSLICK
160/60R17NHSTLSC1 DSLICK
160/60R17NHSTLSC2 DSLICK
190/65R420NHSTLDRAGON SC1 DSLICK
190/65R420NHSTLDRAGON SC2 DSLICK
190/65R420NHS DRAGONTLSC0 DSLICK
190/65R420NHS DRAGONTLSC3 DSLICK

( * ) Close out