You are here: Home — Tire/Tyre Guide — Pirelli — Pirelli Dragon Supercorsa PRO
Pirelli Dragon Supercorsa PRO
Back to Total Motorcycle Pirelli Tire/Tyre Guide
Click photos to enlarge.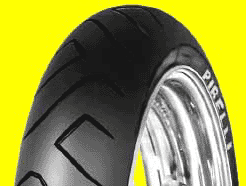 Pirelli Dragon Supercorsa PRO Front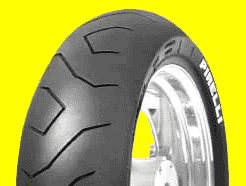 Pirelli Dragon Supercorsa PRO Rear
– Pirelli Dragon Supercorsa PRO
FEATURES

Radial racing tyres optimised for use on pubic roads.

– New special compound formulated for maximum possible grip with innovating materials but still suitable for daily use.
– Front tyre contour designed for better handling, 0°- steel belted for high- speed stability and less tendency to 'stand-up' whilst braking.
– Tread pattern with minimised grooves for full racing performance, especially at full lean angles.
– PEN carcass with reduced weight for improved handling, excellent response and control. With the Diablo Wet Front the perfect choice under intermediate conditions.


Alternative tyres
– DIABLO CORSA

Sizes
Front: DRAGON SUPERCORSA FRONT
110/70ZR17TL 54WSC2 DRGSCF *
120/70R17M/CTL 58VSC0 DRGSCF *
120/70ZR17TL 58WSC1 DRGSCF *

Rear: DRAGON SUPERCORSA
180/55R17M/CTL 73VSC0 DRGSC *
180/55ZR17TL 73WSC1 DRGSC *

( * ) Close out