You are here: Home — Tire/Tyre Guide — Pirelli — Pirelli MT450
Pirelli MT450
Back to Total Motorcycle Pirelli Tire/Tyre Guide
Click photos to enlarge.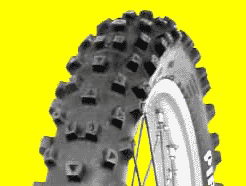 Pirelli MT450 Front
– Pirelli MT450
FEATURES

Off-road tyre for usage on medium to hard terrain.


– SPECIAL CARCASS MADE OF HP (=HIGH MODULUS) POLYESTER, for heating resistance under severe and long lasting GP usage conditions also at high temperature, and reduced weight without compromises on stability.
– NEW CONTOUR AND TWIN-KNOB DESIGN for enlarged ground contact avoiding knobs tear off and constant traction even under changing terrain conditions.
– MORE FLEXIBLE KNOBS STRUCTURE and low section design for precise steering and better lean holding.


Alternative tyres
– MT480

Sizes
Front: MT450
80/100-21 51R MT450F
90/100-20 56R MT450F

Rear: MT450
100/90-19NHS MT450
110/90-19NHS MT450