You are here: Home — Tire/Tyre Guide — Pirelli — Pirelli MT60 R Corsa
Pirelli MT60 R Corsa
Back to Total Motorcycle Pirelli Tire/Tyre Guide
Click photos to enlarge.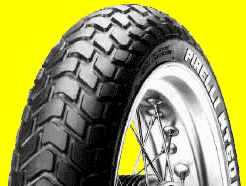 Pirelli MT60 R Corsa Front
– Pirelli MT60 R Corsa
FEATURES

Radial tyre set for SUPERMOTARD AND FUN BIKES, ensuring light handling.


– STEEL RADIAL TECHNOLOGY for excellent high-speed stability, handling and steering precision.
– STREET USE OPTIMISED PATTERN DESIGN still ensuring an off-road usage.
– CORSA "SUPERMOTARD" compound for extreme grip with unlimited cornering fun
– LOW SECTION TYRE for perfect straight and lean riding stability.

Alternative tyres
– SCORPION MT90 S/T
– MT80RS
– MT60
Sizes
MT60 RADIAL
120/70R17TL 58VCORSA MT60R

Rear: MT60 RADIAL
160/60R17TL 69VRS CORSA MT60R