You are here: Home — Tire/Tyre Guide — Pirelli — Pirelli MT70
Pirelli MT70
Back to Total Motorcycle Pirelli Tire/Tyre Guide
Click photos to enlarge.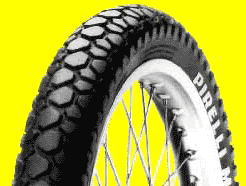 Pirelli MT70 Front
– Pirelli MT70
FEATURES

Dual purpose tread pattern BEST FOR OFF-ROAD USAGE BUT STILL WITH ROAD PERFORMANCE.

– KNOBBY TREAD PATTERN with transversal grooves decreasing towards the shoulder to have continues contact with the ground and optimised traction an all surfaces, also at lean angle.
– LARGE CENTRAL BLOCKS for straight stability, good street performance and superior water dispersion.


Alternative tyres
– SCORPION MT90 A/T
– MT40 TRAIL
– MT21 RALLYCROSS


Sizes
Front: MT70
2.75-21M/C 45R MT70F
80/90-21M/C 48R MT70F
90/90-21M/C 54R MT70F

Rear: MT70
110/80-18M/C 58R MT70
130/80-18M/C 66R MT70
4.10-18M/C 60R MT70