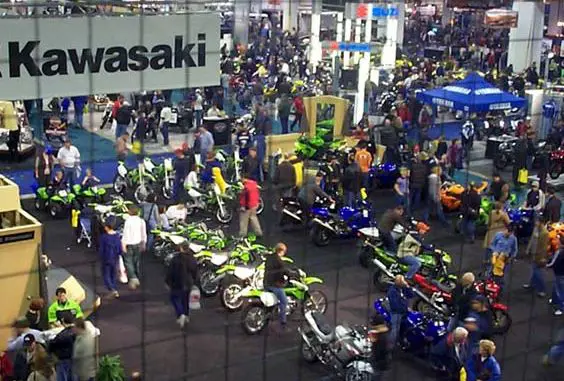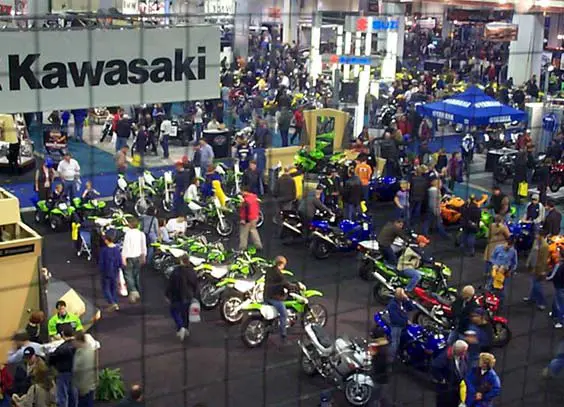 What does 3 days, 27,000 visitors, 11 major manufactures, 200 exhibitors booths, a Kawasaki MX Extreme show, Mini Road Racing, Trails Show and hundreds of new motorcycles make?
One great motorcycle show.. The Calgary 2005 Motorcycle show to be exact.
The Calgary Motorcycle Show is now in it's 4th great year. Total Motorcycle has been there since the 1st one and each year it keeps getting bigger and better. So hopes are high that the 4th Calgary Motorcycle Show will surpass the other years ones, if that is possible.
FAST FACTS:
The North American Motorcycle Industry:
– Canadian retail related sales for motorcycles, scooters and ATVs were close to $5 billion dollars per year, according to a survey conducted by the Motorcycle and Moped Industry Council (MMIC), and ending in February 2002. New vehicles made up $2.8 billion dollars of the total figure. – Motorcycle sales have gone up every year between 1992 and 2002 in the United States.
– On-highway motorcycles made up 62 per cent of the market in 2001, and cruisers accounted for more than 50 per cent of unit sales
– The Motorcycle Industry Council (MIC) from the United States, showed the age of American bikers increase from 27 in 1985 to 38 in 1998. Older Baby Boomers also tended to purchase cruiser?style bikes, which generally cost $15,000 and up.
– The number of bike owners from 35-49 years of age increased from 21.9% to 40.6% of all bike owners between 1985 and 1998
Thanks for your support and for coming back time and time again to visit us.
Mike.
Total Motorcycle.com
---
Contact us: e-mail | Total Motorcycle – Motorcycle Buyers Guides, Beginners Guides, Motorcycle Photos, 2005 motorcycles.
Unbiased, helpful, personal, friendly and useful motorcycle resource