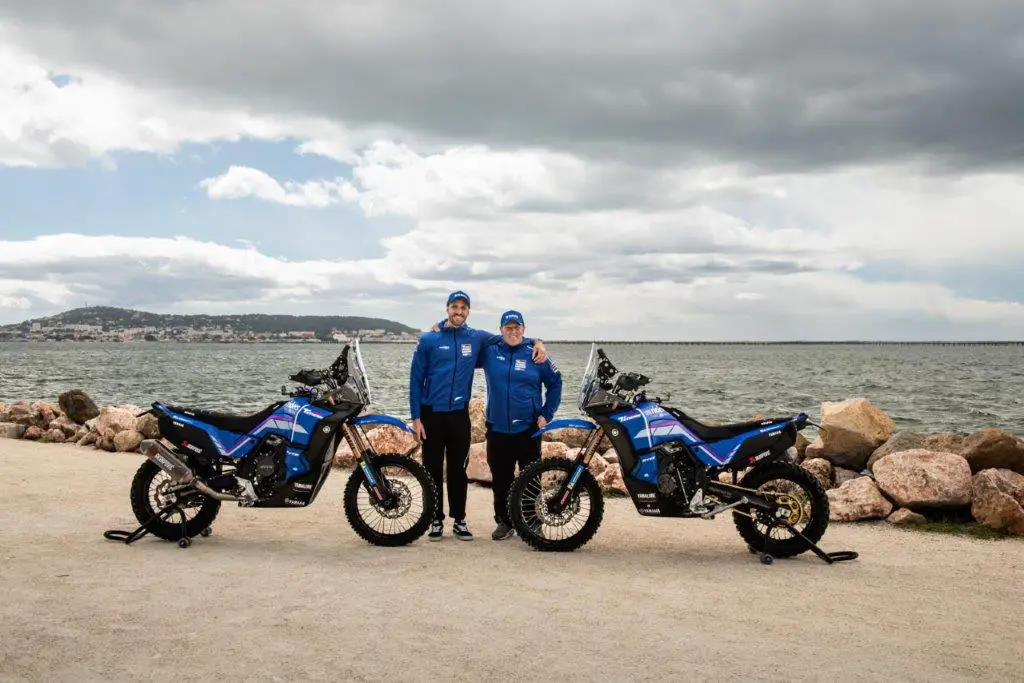 Three Podiums in a Row for Tarrés at the Morocco Desert Challenge
Yamaha Ténéré World Raid Team's Pol Tarrés fought through extreme heat and challenging terrain to continue his run of third-place finishes during Stage 5 of the Morocco Desert Challenge, while his teammate Rodney Faggotter overcame damage caused by hitting a rock to finish the special in ninth.
The fifth stage of eight at the Morocco Desert Challenge (MDC) started from the bivouac in Foum Zguid and saw the competitors take on a 385km special that partially followed the old Paris-Dakar route. Rocky trails, stony tracks, and the dunes of Erg Chegaga made up the stage before it ended at the bivouac in M'hamid, while temperatures rising to 50 degrees Celsius added to the challenging nature of the special.
In just his second season in Rally Raid, Tarrés is showing the world his potential as he once again managed to secure third for the third stage in a row, meaning he has been on the podium in four of the five stages so far. Despite his lack of experience, the Andorran navigated superbly to end the stage with a time of four hours, 15 minutes and 12 seconds, 21 minutes and eight seconds behind the winner of the special.
His experienced teammate Faggotter, filling in for regular rider Alessandro Botturi due to a schedule clash for the Italian, was setting a great pace before he was struck by a rock at around the 70km mark. It caused damage to his chain guard and sprocket, but the Australian managed to carry out running repairs and made sure he made it to the refuelling point, wary of breaking down in the scorching desert heat. Addressing the issue superbly, he then put the hammer down in the second half of the stage and passed over 20 riders on track to secure ninth and finish in a time of four hours, 46 minutes and 26 seconds.
These results mean that Tarres remains third in the general classification, 55 minutes and 35 seconds behind the leader. Faggotter is fourth despite losing time on Thursday's stage, 37 minutes and 36 seconds behind his teammate, and almost an hour ahead of the rider in fifth, while the duo maintains a 1-2 in the Big Bike category (600cc and above).
During the MDC, the official Yamaha Team is being accompanied by several riders taking part in the Ténéré Spirit Experience (TSE), and they were joined on Thursday by "Mr Dakar" Stéphane Peterhansel. The Belgian is the most successful Dakar competitor of all time, winning six titles for Yamaha during the 90s, riding a twin-cylinder Ténéré and a further eight on four wheels. The 57-year-old enjoyed being reunited with the modern version of the bike he created history in Africa on and was delighted to share his experience and knowledge with the TSE riders.
Thursday's Stage 6 at the MDC is cancelled for the Bike class due to the tragic passing of 48-year-old Dutch malle-moto rider Bram van der Wouden. Everyone in the Yamaha Ténéré World Raid Team offers their sincere condolences to his family and friends.
Stage 5 Results
General Classification After Stage 5
Pol Tarrés – P3 (4hr 15m 12s)
Ténéré World Raid Team
"Honestly, I am pleased with today's results, as it was an important stage. Every day is important for me, as I am still learning and gaining experience. The Ténéré 700 World Raid is working perfectly; once again, I was able to challenge the two leading bikes and open more of an advantage over our rivals behind. I was pleased with my navigation today as I got everything perfect and to secure three podiums in a row, and my fourth of the rally shows our potential. My teammate Rodney had some bad luck, which is unfortunate, but this happens in Rally Raid. We will keep to the plan, with our goal to stay calm and safe and finish the race in the best fashion possible."
Rodney Faggotter – P9 (4hr 46m 26s)
Ténéré World Raid Team
"It was a good stage, apart from hitting a stray rock. I was riding well up until around the 70km mark and enjoying it when bad luck struck, and it damaged my chain guard and sprocket. So, I just had to take it easy for a while and manage the bike. I honestly thought my day was over, so it improved from there and by the time I got to the fuel stop, I realised I could pretty well ride as normal. I got my head down, and I must have passed 20-odd riders on track and still managed to finish inside the top ten. I am just happy to be back in the bivouac as it was boiling out there, and I could easily still be stuck out in the sun and have recorded a DNF. We still have three stages to go, and I am fourth in the general classification with a nice advantage over the rider in fifth, so let's see what we can do."
Marc Bourgeois
Ténéré World Raid Team – Team Manager
"It has been a superb effort by the whole team. We have been in contact with the leading riders during every stage and are in a very strong position. Even with all his experience, even Rodney can't avoid bad luck, and today a rock damaged his chain guard and sprocket. I am happy with how he responded, fixing the issue and bringing it home in a solid ninth position and maintaining fourth in the general. Pol has been superb and got another podium today. He is constantly improving, and his relationship with Rodney is incredible. The atmosphere in the team is excellent, and now we aim to stay focused and make sure we finish the rally in the best way."
Would you like to participate in a Rally Raid alongside the Ténéré World Raid Team? Thanks to the Ténéré Spirit Experience, which provides the perfect balance of adventure and enjoyment, you can discover the joys of rally while riding a route adapted to suit your riding skill level. Click here to learn more and book your place on one of the four remaining events in 2023.