You are here: Index — Motorcycle Photo Gallery — Gallery Number Sixteen
Your Bike Photos
~ Gallery Number Sixteen ~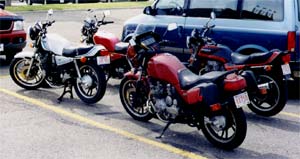 Below is a gallery of bike photos submitted to our site to share from around the world. We would be happy to post your motorcycle photos up in our Galleries.
Click HERE to submit your photo today.
1987 Yamaha FZR1000
Wayne Rainey replica
Phil Coplin – New York, NY. USA

1988 Bros NT650
Les Ashton – Sheffield. U.K.

Foot Notes:
1983 Kawasaki GPZ 750 – Body work is my design. TOP

---

1970 Honda CB350K2 – Restored 1995. TOP

---

1995 Suzuki GSF250 Bandit – This is my first bike and im hoping to get a GSXR600 in February . TOP

---

1999 Honda Shadow ACE Tourer – New to me in September, 2003 with 10,000 miles. Excellent shape. Only ridden about 400 miles, but what a ride! My sixth bike; first V-Twin. I'm in love!!! TOP

---

2003 Ninja EX500R – Got it in Jan'03 (now Dec), took it almost 5000 miles and I am SO mad its cold outside! TOP

---

2004 Yamaha Road Star Midnight Silverado – Accessories – three piece Mustang seat, passing lamps, engine guard. TOP

---

BMW F650 Strada 1999 – I have added a mudflap on the front wheel and gators on the forks . TOP

---

1980 Suzuki GS1000G – Cycle was rebuilt by Dane Carter . TOP

---
All makes, models, and years accepted into the gallery.