You are here: Index — Motorcycle Photo Gallery — Gallery Number Seven
Your Bike Photos
~ Gallery Number Seven ~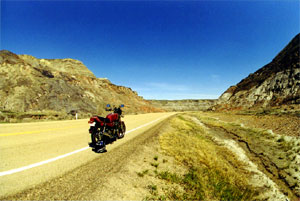 Below is a gallery of bike photos submitted to our site to share from around the world. We would be happy to post your motorcycle photos up in our Galleries.
Click HERE to submit your photo today.
2002 Honda VFR800FI Interceptor
Guy Fortier – Sydenham, Ontario. Canada




1993 Honda CB750 Nighthawk
Karim El Tawil – USA

1974 Kawasaki Z1000-A
Sonny Cascio – Canada




1982 Suzuki GS750T
Marc Lombard – Greenfield, MA. USA

1974 Honda XL 100
Tracy Malinoski – Calgary, Alberta, Canada.

2000 Suzuki GSF600S Bandit
Tracy Malinoski – Calgary, Alberta, Canada.

2002 Yamaha FZ1 (FZS 1000 Fazer)
Tracy Malinoski – Calgary, Alberta, Canada.

1994 Kawasaki ZL250 Eliminator
Tracy Malinoski – Calgary, Alberta, Canada.

1998 Harley-Davidson
Sportster 883 XLH
T. Kroll – Oahu, Hawaii. USA.

Foot Notes:
1982 Yamaha XJ650R Seca –The story behind this bike is that eight years ago while having a beer or two or three with some of the boys one of them mentioned there was this bike that was under a tree in his backyard it had been there for years, (turned out it was a friend of his son who had long since left town). Being a bit of a fixer-upper type I said I'd have a look at it.
It was a total mess, engine was in a box and it would not even roll as the wheel bearings were seized.
I got it for a case of Blue, his son even tracked down his buddy and he sent me the ownership!
It had 21,000km on it.
I had it running in two days. Every single piece I needed was in the box! The only thing that was wrong with the engine was that every single port and drilling in the carbs were completely choked up.
The exhaust fell apart in my hands, so I bolted on the header. I need decals of course.
But it runs great and rides even better! TOP


 
All makes, models, and years accepted into the gallery.