Total Motorcycle on your favorite social sites
Why not join and follow Total Motorcycle on your favorite Social Media sites like Facebook, Twitter, Google Plus, Blogger, YouTube? Show the world you are a fan of Total Motorcycle! Join/Follow us today.


Subscribe to Total Motorcycle on YouTube
Subscribe to Total Motorcycle on YouTube
YouTube is a place to discover, watch, upload and share videos. Join Total Motorcycle is the largest worldwide video-sharing community!

YouTube is also a great way to Subscribe to the Total Motorcycle Channel as well no matter if you live in the USA, Canada, Europe, UK, Australia or any part of the world. We keep our YouTube Channel updated and uploaded with useful, helpful and friendly free videos that's relevant to you. Watch, discover, share and engage in our Motorcycle videos, new motorcycle model videos, review videos important announcements and more; all found on our Total Motorcycle YouTube Channel. Add some entertainment to your day, find the perfect motorcycle videos in our Favorites and upload channels or search through all our videos.
While YouTube is an important social media site to follow us at, Total Motorcycle will always have the latest information up so check our website daily to be up on the best motorcycle information on the internet. Just do a search for: Total Motorcycle and add us to your circle. You can also Share, Like and Google +1 button ANY page on Total Motorcycle to Twitter as well to show your friends something cool and neat!
Don't be just be a motorcycle fan, be a Total Motorcycle Fan! Subscribe to the YouTube Total Motorcycle Channel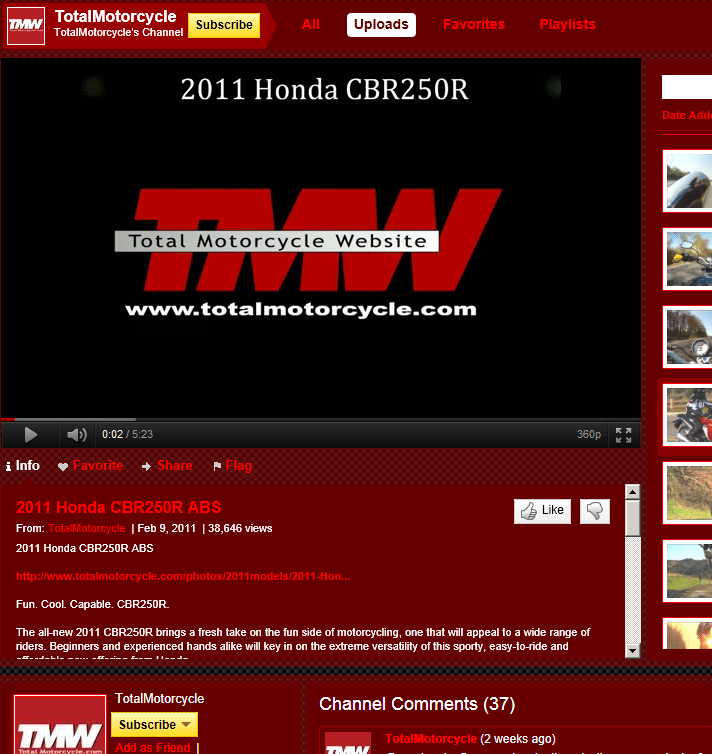 Subscribe to Total Motorcycle on YouTube
Thanks for making Total Motorcycle your virtual motorcycle destination!
Total Motorcycle is official media/press for the following motorcycle manufacturers: Aprilia, Benelli, Beta, Bimota, BMW, Buell, Cagiva, Can-Am, Ducati, EBR (Erik Buell Racing), Harley-Davidson, Honda, Husaberg, Husqvarna, Hyosung, Indian, Kawasaki, KTM, KYMCO, Moto Guzzi, Moto Morini, MV Agusta, Norton, Phantom Manufacturing Co, Piaggio, Ridley, Roehr, Royal Enfield, Suzuki, Triumph, Ural, Vespa, Victory, Yamaha and Zero motorcycles.