Back to 2010 Honda ATV Quad Models Index Page
Click photos to enlarge.
They make great desktop images.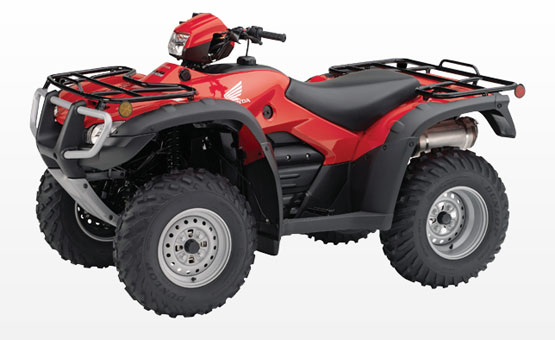 2010 Honda FourTrax Foreman 4X4 TRX500FM
– 2010 Honda FourTrax Foreman 4X4 TRX500FM

2010 Honda FourTrax Foreman 4X4 TRX500FM
If you've been waiting for the ultimate utility ATV built with Honda's famous durability and attention to detail, your ride is here. The Honda TRX500FM Foreman combines a powerful 475cc air-cooled engine with a precise foot-shift transmission, then adds switchable 2WD/4WD, specially designed front disc brakes with thick, long-life brake pads, and lots more. Check out the sleek styling, the handy start-in-gear feature, and the sealed glove box that really can keep your cell phone or sandwich clean and dry.

Features/Benefits
Powerful four-stroke 475 cc OHV air-cooled longitudinally mounted engine allows direct driveshaft alignment to both front and rear wheels for improved drivetrain efficiency.

The overhead valve arrangement features angled valves in a hemispherical combustion chamber for straighter intake and exhaust flow for improved engine performance.

Patented oil cooling system features one single larger oil cooler for greater cooling capacity. The cooler is mounted higher in a protected position under the front plastic away from mud and debris and is fed a cool supply of air through a centre duct. In addition, to complement the oil cooler, an electric fan is still located in the traditional position in front of the engine.

Rubber-cushion engine mounting and gear-driven counterbalance shaft reduce vibration.

Snorkel-type air intake system is specially designed to admit air without water intrusion during water crossings.

Integral electric carburetor heater system improves driveability and ensures smooth operation in cold conditions.

A closed crankcase vent system safeguards against engine oil contamination.

Spark arrester/muffler is constructed of stainless steel.

Switchable 2WD/4WD enables the rider to shift between 2WD and 4WD with the simple push of a switch. Quiet operation and smooth engagement are key features of the system. An electromagnetic mechanical clutch unit located on the centre of the propeller shaft engages 4WD with a quiet two-way roller clutch. Unlike mechanical designs, this ensures smooth operation by employing a magnetic switching mechanism that engages when front and rear wheel speeds vary by less than 9.6 km/h.

Super-heavy-duty automatic clutch for excellent driveability and towing capacity.

Convenient five-speed transmission with reverse.

Maintenance-free shaft drive routes power directly from the longitudinally mounted engine without inefficient directional changes.

Torque-sensitive front differential reduces torque steer for less steering effort.

Convenient electric start plus a lightweight auxiliary recoil starter with an automatic internal decompression system ensure an easy start every time.

CD ignition with electronic advance for excellent performance and reliability.

Reusable foam air filter.
Chassis/Suspension

Rugged frame and suspension provide an exceptional 190 mm (7.5 inches) of ground clearance.

Independent double-wishbone front suspension uses KYB shock absorbers to give 170 mm (6.7 inches) of travel.

Steel swingarm and dual KYB rear shock absorbers give 168 mm (6.6 inches) of travel.

Rugged, large-diameter 25 x 8 – 12 front, 25 x 10 – 12 rear tires provide added ground clearance while maintaining precise handling.

Dual front disc brake calipers feature a patented built-in scraper system to remove mud and snow from inside the front wheel to help prevent build-up of debris between caliper and rim to ensure consistent braking performance.

Brake pads feature thick long wear material with improved mud durability, feel and control. Pads feature internal scraper that gives audible warning when pad life is low.
Additional Features

Attractive styling features flowing fenders with integrated headlights at the front and one centre taillight at the rear for a rugged, adventurous look.

Engine design produces low emissions and meets California Air Resources Board (CARB) off-road emissions standards along with current EPA standards.

Water-resistant left-side glove-box compartment.

Large cargo racks front and rear allow payloads of 30 kg (66 pounds) and 60 kg (133 pounds), respectively.

Heavy-duty trailer hitch with towing capacity of 385 kg (850 pounds).

Large, lightweight plastic fuel tank with 15-litre capacity.

Unique rear-opening storage compartment allows access when rack is loaded.

Powerful 326W alternator.

Triple headlight system with single 45-watt upper light and dual 30-watt lower lights with multi-reflector lenses for optimal light distribution plus a 21-watt stoplight and taillight.

Multi-function LCD digital meter is compact, tough and waterproof, featuring large readouts for fuel gauge, gear position, speedometer, odometer, tripmeter, hourmeter/clock and oil change reminder.
Meter housing includes LED lights for reverse, neutral, oil temperature and front differential indicator.

Waterproof accessory socket provides 12-volt, 10-amp power with a built-in temperature-type fuse.

Uniquely designed floorboards allow the rider's feet to grip the footrests while keeping mud and debris away from the rider's feet.

Over-fenders give excellent mud protection.

Thickly padded seat provides excellent comfort.

Large mud flaps keep dirt and debris off of the rider.

Two-piece boot guards on the front disc brakes help prevent damage to boot covers.

Maintenance-free battery.

Durable, comfortable, easy-to-use controls.

Keyed ignition switch for added security.

Triple skid plates.

Easy-to-use parking brake.

Top-mounted choke lever for simple operation.

Standard tool kit includes a tire-pressure gauge.

1 year, transferable limited warranty.
2010 Honda FourTrax Foreman 4X4 TRX500FM – USA Specifications
US MSRP* $NA USD
Model not available in the USA
2010 Honda FourTrax Foreman 4X4 TRX500FM – Canada Specifications
Canadian MSRP* $7,999 CDN
Engine Type Air-cooled longitudinally mounted single-cylinder four-stroke

Displacement 475 cc

Bore & Stroke 92 mm x 71.5 mm

Compression Ratio 8.3:1

Valve Train OHV, 2 valves

Fuel Delivery Single 36 mm CV carb

Transmission Five-speed with automatic clutch, reverse and ultra-low first gear

Final Drive 2WD/4WD; direct front and rear driveshafts with switchable 2WD/4WD and torque-sensing front differential

Front Suspension Independent double-wishbone with hydraulic shocks; 170 mm (6.7 in.) travel

Rear Suspension Swingarm with dual hydraulic shocks; 168 mm (6.6 in.) travel

Tires 25 x 8 – 12 front; 25 x 10 – 12 rear

Brakes Front dual 180 mm hydraulic discs; rear sealed mechanical drum

Length 2,109 mm (83 in.)

Width 1,188 mm (46.8 in.)

Ground Clearance 190 mm (7.5 in.)

Seat Height 860 mm (33.9 in.)

Wheelbase 1,287 mm (50.7 in.)

Curb Weight 281 kg (620 lb) including required fluids and full tank of gas – ready to ride

Fuel Capacity 15 litres, including 2.5-litre reserve

Colour Red