You are here: Home — 2012 ATV Models — 2012 Polaris Ranger Crew Diesel
Click photos to enlarge. They make great desktop wallpaper.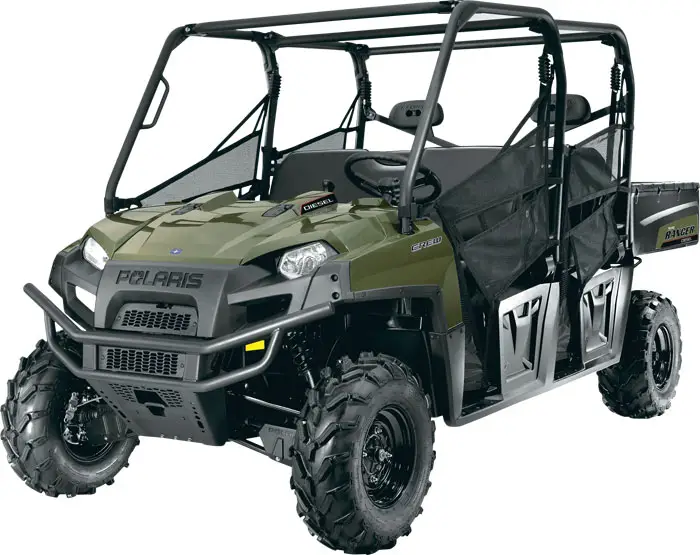 2012 Polaris Ranger Crew Diesel
– 2012 Polaris Ranger Crew Diesel

2012 Polaris Ranger Crew Diesel Review
RANGER CREW® Diesel – Seating for 6 Diesel
The NEW 2012 RANGER CREW® Diesel carries 6 adults in total comfort and is perfect for those who need diesel power. It features an isolation-mounted, fuel-efficient 24 HP YANMAR® diesel engine.
2012 Polaris Ranger Crew Diesel Highlights
– 40% more range than comparable gas model.
– NEW! Improved dash/seat sealing for increased cab comfort.
– On-Demand True AWD maximizes traction.
– 90% of peak torque is available at 1600 RPM for incredible low-speed pulling.
– 55 amp Alternator allows the use of multiple electrical Pure Polaris® accessories at once such as lights, heaters, wipers and sound systems without depleting the battery.
– The diesel engine has 90% of its peak torque available at 1,600 rpm, for outstanding low-speed pulling and smooth control even when hauling heavy loads.
– 40% More Fuel Range Than Comparable Gas Model (RANGER CREW® 800)*
– Powerful Headlight Beams With High/Low Switch Operation (60/55 W)
– Driver and Passenger Side Nets
– Certified Roll-Over Protective Structure (ROPS)

2012 Polaris Ranger Crew Diesel Features

FUEL EFFICIENT DIESEL POWER
All of the features of RANGER CREW 800, but with an isolation-mounted, fuel efficient YANMAR® diesel power plant for low vibration and monstrous low-speed torque. Plus a fully sealed transmission and plenty of horsepower to get the job done.



ON-DEMAND TRUE ALL WHEEL DRIVE WITH VERSATRAC TURF MODE
True AWD keeps you moving, automatically engaging all four wheels when you need more forward traction and reverting back to 2WD when you don't. When in 2WD, the VersaTrac Turf Mode switch unlocks the rear differential for easier, tighter turns that won't tear up your grass.



MONSTROUS 1-TON TOWING
The strength to tow 2,000 lbs. means you can tackle the toughest jobs, towing trailers and wheeled equipment with confidence. Features a standard 2″ hitch receiver.



DUMP BOX WITH LOCK & RIDE® CARGO SYSTEM
1000 lb capacity rear dump box has gas-assist dumping operation and features exclusive Lock & Ride cargo system that accommodates many hard-working accessories that can go on and off in seconds.



MASSIVE UNDER-SEAT STORAGE
If the oversize glove box and three open compartments aren't enough for all your equipment and gear, there's also an extra large storage box under the front seat. It features two divider slots and a 28 gallon capacity.



SUPERIOR COMFORT FOR 6
Carries 6 adults in total comfort, with leaned seatbacks and lots of legroom. 9.6″ of front suspension travel combined with independent rear suspension with 9″ of travel, helps absorb all the bumps and ruts – even carrying the whole Crew.



FULLY ADJUSTABLE SUSPENSION
The only four-corner adjustable suspension system. Dual A-Arm with exclusive top mounting-point adjustability. Adjust to softer setting for light-duty work or stiffer for heavy-duty work.


LONG WHEELBASE FOR A SMOOTH RIDE
The longer wheelbase of the RANGER Crew, combined with advanced long-travel suspension, create a smooth ride even when fully loaded. A full 11.5″ of ground clearance adds to the comfort by clearing obstacles and moving smoothly through ruts and over rough terrain.



ERGONOMICS
Cab ergonomics deliver outstanding driver and passenger comfort, including tilt steering with the highest range of motion (10″), extra legroom, and easy cab slide-through design for six adults to get in and out quickly.

---
2012 Polaris Ranger Crew Diesel – USA Specifications
US MSRP: $13,999 USD

ENGINES
Engine Type 3-Cylinder Diesel
Displacement 904cc – 24hp
Fuel System Indirect Injection
Cooling Liquid

DRIVETRAIN
Transmission/Final Drive Automatic PVT H/L/N/R; Shaft
Drive System On-Demand True AWD/2WD/ VersaTrac Turf Mode
Engine Braking System/ Active Descent Control Not Equipped

SUSPENSION
Front Suspension Dual A-Arm 9.6″ (24.4 cm) Travel
Rear Suspension Dual A-Arm, IRS 9″ (22.9 cm) Travel

BRAKES
Front/Rear Brakes 4-Wheel Hydraulic Disc with Dual-Bore Front and Rear Calipers
Parking Brake Hand-Actuated

TIRES/WHEELS
Front Tires / Model 26 x 9-12; PXT
Rear Tires / Model 26 x 11-12; PXT
Wheels Stamped Steel

DIMENSIONS
Wheelbase 108″ (274.3 cm)
Dry Weight 1,660 lb (755 kg)
Overall Vehicle Size (LxWxH) 145 x 60 x 76″ (368 x 152 x 193 cm)
Ground Clearance 11.5″ (29 cm)

CAPACITIES
Fuel Capacity 9 gal (34.1 L)
Bed Box Dimensions (LxWxH) 36.5 x 54 x 11.5″ (93 x 137 x 29 cm)
Box Capacity N.A./1,000 lb (453.6 kg)
Payload Capacity 1,750 lb (793.8 kg)
Hitch Towing Rating 2,000 lb (907.2 kg)
Hitch/Type Standard/2″ Receiver

FEATURES
Cargo System Lock & Ride
Lighting 55W low/ 60W high, LED Tail
Electronic Power Steering Not Equipped
Instrumentation Digital Gauge, Speedometer, Odometer, Tachometer, Tripmeter, Hour Meter, Clock, Gear Indicator, Fuel Gauge, Hi-Temp/Low-Batt Lights, DC Outlets (3)
---
2012 Polaris Ranger Crew Diesel – Canadian Specifications
Canadian MSRP: $15,899 CDN
ENGINES
Engine Type 3-Cylinder Diesel
Displacement 904cc – 24hp
Fuel System Indirect Injection
Cooling Liquid

DRIVETRAIN
Transmission/Final Drive Automatic PVT H/L/N/R; Shaft
Drive System On-Demand True AWD/2WD/ VersaTrac Turf Mode
Engine Braking System/ Active Descent Control Not Equipped

SUSPENSION
Front Suspension Dual A-Arm 9.6″ (24.4 cm) Travel
Rear Suspension Dual A-Arm, IRS 9″ (22.9 cm) Travel

BRAKES
Front/Rear Brakes 4-Wheel Hydraulic Disc with Dual-Bore Front and Rear Calipers
Parking Brake Hand-Actuated

TIRES/WHEELS
Front Tires / Model 26 x 9-12; PXT
Rear Tires / Model 26 x 11-12; PXT
Wheels Stamped Steel

DIMENSIONS
Wheelbase 108″ (274.3 cm)
Dry Weight 1,660 lb (755 kg)
Overall Vehicle Size (LxWxH) 145 x 60 x 76″ (368 x 152 x 193 cm)
Ground Clearance 11.5″ (29 cm)

CAPACITIES
Fuel Capacity 9 gal (34.1 L)
Bed Box Dimensions (LxWxH) 36.5 x 54 x 11.5″ (93 x 137 x 29 cm)
Box Capacity N.A./1,000 lb (453.6 kg)
Payload Capacity 1,750 lb (793.8 kg)
Hitch Towing Rating 2,000 lb (907.2 kg)
Hitch/Type Standard/2″ Receiver

FEATURES
Cargo System Lock & Ride
Lighting 55W low/ 60W high, LED Tail
Electronic Power Steering Not Equipped
Instrumentation Digital Gauge, Speedometer, Odometer, Tachometer, Tripmeter, Hour Meter, Clock, Gear Indicator, Fuel Gauge, Hi-Temp/Low-Batt Lights, DC Outlets (3)