You are here: Index — 82′ XJ650XJ
2007 Suzuki V-strom 650 (DL650)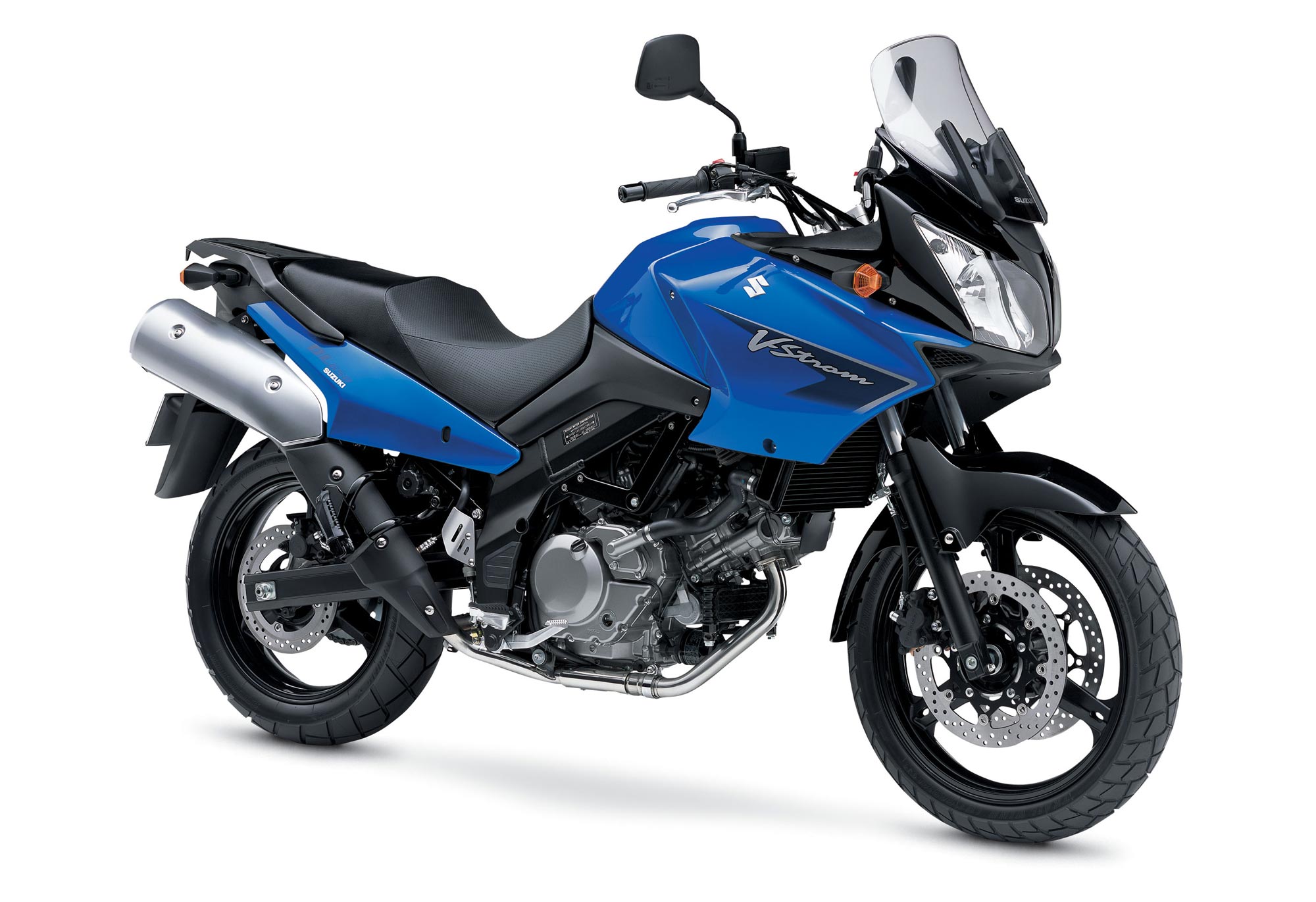 "Chesterfield"
SUZUKI V-STROM 650 (DL650)
2004 – 2007+
645cc four-stroke, liquid cooled, fuel injected, 90° V-twin, DOHC, 8-valves
Horse Power: 64 HP @ 8500 RPM
Torque: 48 ft lbs @ 7400 RPM
Top Speed: 120mph /..193km/h
1/4 Mile: 12.52 @ 101 mph (162.5kmh) – 0-60mph: 3.98sec
Fuel Milage (avg): 50+ mpg – Dry Weight: 194kg (427 lbs)

---
My Bike:
Intro: Suzuki's Official Introduction
History: My bike's history
Reviews: To come

DL650 Information:
Reviews/Information: To come
Parts and Accessories: Lots of stuff
Links: Even more stuff


Photos:
First Photos: When I got the bike
Second Stage: To Come
---
If you're looking for adventure, here's the machine to help you find it – the V-Strom 650. It combines the versatile performance of the V-Strom 1000 with exciting middleweight agility.
With its height-adjustable aerodynamic windshield and spacious riding position, the V-Strom 650 is designed for smooth, comfortable performance on the highway. In addition, it has an extra-large fuel tank for extended riding. It's equally at home around town, thanks to its low seat height, light weight and overall crisp handling. And the V-Strom's V-twin engine adds excitement to every ride, offering a wide powerband and strong acceleration in every gear.
What really sets the V-Strom apart from other street bikes, of course, is its unmatched versatility. Its lightweight, agile handling inspires confidence, while its smooth suspension front and rear performs exceptionally well in almost any situation.
It's time to get in on the adventure – with the 2007 Suzuki V-Strom 650.
FEATURES:
New Features for 2007
– SV650-based 645cc 90 degree V-twin, DOHC 8-valve, liquid-cooled engine with new dual spark plug heads for improved combustion and reduced emissions

Engine Features
– Electronic fuel injection features the Suzuki Dual Throttle Valve System (SDTV) – maintains optimum air velocity in the intake tract for smooth low-to-mid rpm throttle response
– Auto Fast Idling System (AFIS), automatically sets throttle valve opening during cold engine starts by monitoring coolant temperature
– Digital ignition system provides optimum ignition timing with separate maps for each cylinder
– Lightweight shim-under-bucket valve system operates 31mm intake and 25.5mm exhaust valves, plus valve timing with emphasis on low-rpm power
– SCEM (Suzuki Composite Electro-chemical Material) plated cylinders minimize cylinder size and improve heat dissipation
– Smooth shifting 6-speed transmission with cable operated clutch – final drive ratio lowered from SV650 for improved low rpm performance
– High-efficiency liquid cooling system for optimum engine operating temperature – includes compact oil cooler
– Plastic outer clutch cover and engine sprocket cover for reduced weight and noise
– High-mounted stainless steel exhaust system with aluminum muffler tuned to enhance engine torque and low-to-midrange performance
– PAIR – air injection system reduces CO and HC emissions – California model equipped with catalyst in exhaust to further reduce emissions
Chassis Features
– Black-painted frame and swingarm for stylish appearance
– Slim and compact front fairing for maximum wind protection, plus large comfortable seat – fairing includes large multi-reflector 60/55W headlights
– Compact step-motor speedometer and tachometer with LED illumination, plus LCD display for twin tripmeters, odometer temperature gauge, fuel gauge and digital clock
– Height-adjustable windshield for maximum wind protection and comfort – can be manually adjusted to three positions in a 50mm vertical range
– Large rear luggage rack with rubber-padded platform to help keep bags and luggage in place
– Aluminum twin-spar frame and aluminum swingarm are lightweight, compact and rigid – bolt-on sub-frame simplifies maintenance
– Preload-adjustable 43mm front fork for a comfortable ride under all riding conditions
– Link-type rear suspension features a single shock absorber with adjustable rebound damping and a knob-operated hydraulic preload adjuster for easy adjustment
– Dual front disc brakes with large 310mm rotors and twin-piston calipers, plus single-disc rear brake with 260mm rotor and single-piston caliper
– Lightweight cast aluminum wheels – F: 2.50 x 19 with 110/80R-19 radial tire, R: 4.0 x 17 with 150/70R-17 rear tire
– Large 5.8 gallon fuel tank for long-range operation
SPECIFICATIONS:
Engine: 645cc, four-stroke, liquid cooled, 90 degree V-twin, DOHC, 8-valves
Bore Stroke: 81.0 x 62.6mm
Compression Ratio: 11.5:1
Fuel System: Fuel Injection
Lubrication: Wet sump
Ignition: Digital/Transistorized
Transmission: 6-speed
Final Drive: #525 chain
Overall Length: 2290mm (90.2 in.)
Overall Width: 840mm (33.1 in.)
Overall Height: 1390mm (54.7 in.)
Seat Height: 820mm (32.3 in.)
Ground Clearance: 165mm (6.5 in.)
Wheelbase: 1555mm (61.2 in.)
Dry Weight: 194kg (427 lbs.)
Suspension Front: Telescopic, oil damped, adjustable preload
Suspension Rear: Link-type, adjustable spring preload and rebound damping
Brakes Front: Dual hydraulic disc
Brakes Rear: Single hydraulic disc
Tires Front: 110/80R-19
Tires Rear: 150/70R-17
Fuel Tank Capacity: 22 liter (5.8 gal.)
Color: Blue, Gray, Red
---
April 5th, 2007: It's ordered, but no Blue ones in stock. Purchased from Mountain Toys in Cochrane, Alberta. Great dealership and caring staff. Gave me the best price I could find in Alberta to boot!
April 12th, 2007: Found and shipped a Blue one, being built. On a side note I've always wanted to call a bike Road Runner in honour of my dad's 1968/69 Plymouth Road Runner he used to own, let's see if this bike likes the name…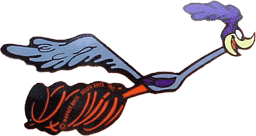 Meep Meep
Click here to hear the theme song!
---
First Photos: When I got the bike
The day I got the bike (below photos)
The following photos are of my actual bike the day I got my new bike. (Wash, wax, polish and shine came later).
Photos to come soon.
---
AMSOil SMF 109
Bike Master 314-0025
Champion PH7016
Cycle Power 314-1919
Emgo 10-55662
Emgo 10-55660
Fram PH6018 (Application Chart, 2)
Hi-Flo HF138
J.C.Whitney ZX063166P
K&N 138
NAPA Gold 1359 (at UAP/NAPA) (Application Chart)
WIX 1359 (at UAP/NAPA) (Application Chart)
Parts Unlimited
Per-Form J-509
ProPart 01-0029
Purolator ML16818
STP SMO-18
Suzuki 16510-03G00-X07
VESRAH vsf-3009
Lenses for 2007 Suzuki V-Strom 650 (DL650)
Emgo: 59-21440 (Turn signal lenses)
Emgo: 62-84767L (All new Clear Taillights with red LED lights) Replaces OEM: 35720-06G30. Suzuki DL650 '03-'06 (2007 too new?)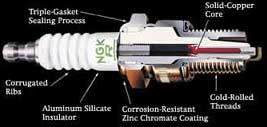 2004+ Suzuki DL650
Spark Plug ….. Part No. ….. Stock No. ….. Plug Gap
Standard ….. …..CR8EK ….. ….3478 ….. ….. …. .026
Iridium . . . . v .. CR8EIX … .. ..4218 ….. ….. …...026

Tires:
Tires Front: 110/80R-19
Tires Rear: 150/70R-17
Some of the tires available for the DL650 and DL1000 (same sized tires for both models)
Front Tire Choices in 110/80R-19
Avon AV45 Azaro-ST 110/80R-19
Avon Distanzia AM43 110/80R19 59H
Bridgestone BT020 front 110/80ZR-19 (note:discontinued)
Bridgestone BW501 Battlewing 110/80VR-19
Bridgestone TW101 Trailwing 110/80R-19 59H
Bridgestone TW101 Trailwing 110/80R-19 59V
Bridgestone G515 110/80-19M/C
Continental TKC80 110/80BQ-19
*Contintental Road Attack 110/80R-19
°*Dunlop D607 110/80HR-19
°*Dunlop D607 110/80VR-19
Maxxis Presa Detour 110/80R19 59H/TL
*Michelin Pilot Road 110/80VR-19
°Michelin Anakee 110/80HR-19
°Michelin Anakee 110/80VR-19
Michelin T66 110/80R-19
Michelin Karoo 110/80R-19 Steel Radial
Michelin Karoo "T" 110/80R-19
°Metzeler Tourance 110/80VR-19
**Metzeler Z6 Roadtec 110/80R-19M/CTL 59V
°Metzeler Tourance 110/80VR-19
Pirelli Scorpion 110/80R-19TL 59H

Rear Tire Choices in 150/70R-17
Avon Distanzia AM44 150/70R17 69H
Avon Distanzia AM44 150/70R17 69V
*Continental Road Attack 150/70ZR-17
Continental TKC80 150/70BQ-17
Bridgestone TW152 Trailwing 150/70R-17 69V
Bridgestone TW152 Trailwing 150/70R-17 69H
Bridgestone BW502 Battlewing 150/70VR-17 69V
Bridgestone BT020 150/70ZR-17 (note:discontinued)
Bridgestone BT021 150/70ZR17 69W
Bridgestone M402 110/80-19
Bridgestone M602 110/80-19
Bridgestone BT45 150/70-17 69V (bias-ply)
Bridgestone BT45 150/70-17 69H (bias-ply)
°*Dunlop D607 150/70VR-17
°*Dunlop D607 150/70HR-17
**Maxxis M6029 Supermaxx 150/70ZR17 69W TL
Maxxis Presa Detour 150/70R17 69H/TL
**Metzeler Z6 Roadtec 150/70R17M/CTL 69V
**Metzeler Z6 Roadtec 150/70ZR17M/CTL(69W)
*Michelin Pilot Road 150/70ZR-17
°Michelin Anakee 150/70HR-17
°Michelin Anakee 150/70VR-17
Michelin T66 150/70R-17 TL
Metzeler Karoo 150/70R-17 Steel Radial
Metzeler Karoo "T" 150/70R-17
°Metzeler Tourance 150/70VR-17
Pirelli Scorpion 150/70R-17TL 69H
° Favourite dual-sport tires among Vstrom owners (80% road use and 20% trail use).
*The Pilot Road (6-8k miles, tend to wear fast, street), Dunlop D607 (dual-sport/street) and Conti Attack (street), Roadtec Z6(sport-touring) are the best street tires for the dry in reviews out there.
** Worth looking into for a pure street only tire.

Yuasa Battery Type: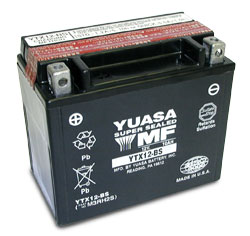 Battery Family: Maintenance Free
Battery Type: YTX12-BS
Voltage: 12
Capacity: 10
Dimensions: 6″ x 3.4375″ x 5.125″
Weight: 7.5lbs.
Metric Dimensions: 150mm x 87mm x 130mm
Metric Weight: 3.4kg
Polarity:
Acid Volume: 0.6
Amps: 1.2
C.C.A.: 180

Brake Pads and Shoes:

The V-Strom uses the same front brake pads as the Kawasaki ZR-750, GPZ-1100, VN1500 Nomad, and the Suzuki 600 Bandit, 600 Katana, SV650, 750 Katana.
The rear brake pad is the same as the Buell Blast, XB9, and the Triumph Daytona 955i, TT600, Daytona 600.
Brakes for V-Strom

| | | | | |
| --- | --- | --- | --- | --- |
| Manufacturer | Front Left | Front Right | Rear | comments |
| OEM | 59102-33830 | 59302-33820 | 69100-06820 |   |
| Dunlop | SDP323HH+ | SDP322HH+ | DP115 | Scintered |
| Dunlop | DP322 | DP323 | DP115 | non-scintered |
| EBC | FA231HH | FA229HH | FA174HH | scintered |
| EBC | FA231 | FA229 | FA174 | non-scintered |
| Ferodo | FDB2048 | FDB2049 | FDB531 |   |
| Lucas | MCB681 | MCB681 | MCB634 | LF for low friction, SV for scintered, SRQ for high friction |
| SBS | 704 | 705 | 614 |   |
| Vesrah | VD352 | VD435 | VD147 |   |
Gas milage:
Pre-2006* VStrom 650 Gas mileage and Range**

| | | |
| --- | --- | --- |
| Indicated speed – Miles & Kilometers | MPG & km/l | Range in Miles & Kilometers |
| 45 / 72 | 70 / 29.76 | 400 / 644 |
| 55 / 89 | 57 / 24.23 | 330 / 531 |
| 65 / 105 | 48 / 20.41 | 275 / 442 |
| 75 / 121 | 42 / 17.86 | 240 / 386 |
| 85 / 137 | 37 / 15.73 | 215 / 346 |
| 95 / 153 | 34 / 14.45 | 195 / 314 |
| 100 / 161 | 32 / 13.6 | 185 / 298 |
* 2007+ DL650 V-Strom 650's engine has been improved for combustion and fuel mileage/effeciency (eg. 2 spark plugs per cyliner) so expect the same if not even better numbers. **Thanks to Mark Lawrence.


Lighting:
OEM Spec: 12V 60/55W H4
Great the best H4 (also called: 9003) bulbs you can afford. High Performance Headlight Test
Sylvania Silverstar
H4 SilverStar Headlight
High Performance Halogen Headlight – Dual filament for both high beam and low beam – For Motorcycle Use – part number: H4ST
Watts: Low 55; High 60
Lumins: Low 910 +/- 10%; High 1500 +/- 10%
Color Temp: 4000K

Sylvania Halogen Xtravision (review)
9003 XtraVision Headlight
High Performance Halogen Headlight – Dual filament for both high beam and low beam – part number: 9003XV

Watts: Low 55; High 60
Lumins: Low 910 +/- 10%; High 1500 +/- 10%
Color Temp: 3200K


Shocks:
Öhlins shock absorber: #SU 201, Type 46PRCS, Length 345mm, Stroke 75.5mm.Fully adjustable compression, rebound and hydraulic pre-load adjuster.

Works Performance shock absorber: Fully adjustable, optional remote hydraulic pre-load adjustment.

Hyperpro shock absorber: Standard shock is rebound adjustable. Reservoir shock has high and low speed compression damping adjustment and rebound adjustment.Both have optional remote hydraulic pre-load adjustment.
SU10-007R $500 / SU10-107R


Touratech fork springs: #040-0463
 
Öhlins fork springs: #08688-90, Length 448mm.
 
Hyperpro springs: Forks: SP-SU10-SSA004, $160. Shock: SP-SU10-SSB004, $110.Both: SP-SU10-SSC004
 
Racetech fork springs: FRSP S373210, available .85, .90, .95, 1.0kg. Stock is .76kg.
Engine Motor oil:
Shell Rotella-T 15w40 and Shell Rotella-T 15w40 with Triple Protection
I've read for years this oil works really well in motorcycles, so I'm going to give it a shot in my new bike. Even Shell claims it's good for bikes too. "Many gasoline engines, especially the hard-working engines of pickup trucks, sport-utility vehicles (SUVs), minivans and motorcycles"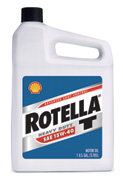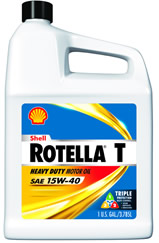 Motormaster 4-Stoke (Canadian Tire) 20w-50 & 10w-40
Motomaster 4 Stroke Motorcycle Oil – (from Shell Canada) Shell brand oil. Formulated to meet JASO T903 MA quality (a motorcycle spec). As well, since they are formulated for gasoline engines, they also meet API SJ (typically known as a 'car' spec).
CLICK to go to our Maintenance Section for much more information
Information
How-To: Changing your Motorcycle's Oil and Oil Fiter yourself
Kelly's Motorcycle Blue Book (motorcycle values)
Red Book (motorcycle values)
Conversions (HP, Torque, fuel, metric, imperial etc)

Parts
Progressive Suspension USA Home Page Application Chart
Wix Oil Filters (HIGHLY recommended) Motorcycle Application Chart
Late Evening Reads
Motorcycle oil filters exposed!
Engine Oil Filter Study
Oil Filter Alternatives – Honda Motorcycles
Winter Maintenance Series-Part One: Winter Preparation
Torque vs. Horsepower (excellent article)
DL650 V-Strom websites on the 'net
To Come