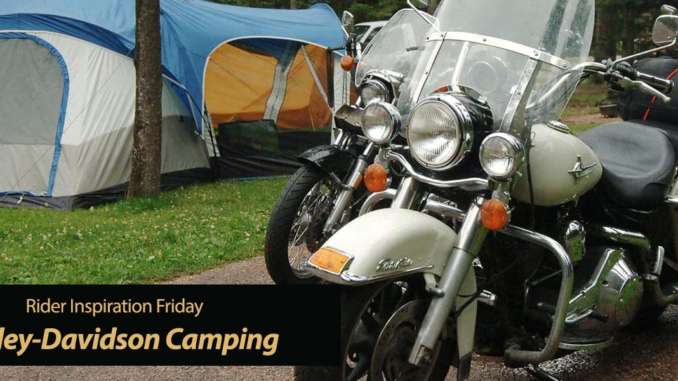 To help those planning a voyage, we've compiled a list of Harley-Davidson's Must-Know 12 Motorcycle Camping Tips all in one place! Motorcycling and camping both allow us the freedom to explore and to experience the great outdoors and nature directly – but riding and camping takes a little more planning than just turning up at a hotel or motel. This type of trip takes serious preparation.
You can camp on any motorcycle – of course, it is easier on a full dresser but perfectly possible on any Harley – you'll just need to consider your luggage requirements and packing methods more carefully. Don't forget to look at our 2019 Harley-Davidson motorcycle model guide for ideas too.
1. Pack safe. Keep the center of gravity of your bike in mind and make sure the heavy items are low down, below the COV of your bike. Hard luggage is nice to have but not essential – soft luggage or throw-over panniers can be just as effective (lockability is nice though). Even up the balance on each side of the bike – don't put all the heavy stuff in one saddlebag! Consider a sissy bar or backrest for additional storage – sissy bar bags hold a lot of space, but do catch wind and will slow you down, and reduce your fuel mileage. But they are handy to carry a lot of space, especially two-up. If you are traveling solo, pack your gear so it acts as a backrest to support your lower back.
2. Make sure nothing is touching the exhausts. Baggage can't shift in transit – remember, if anything falls off it will be while you are in motion. Use the most effective ratchet straps you can find, and use bungees or cargo nets to secure the load and carry additional items on top for easy access. Don't shove everything you think you'll need into a backpack, and remember it is inadvisable to strap materials to your handlebars, no matter what a romantic image that evokes – both will affect handling, and not in a good way.
3. Pack light. Space is limited so be efficient and don't fill up every available space. Seasoned motorcycle campers overwhelmingly pack light and trim luggage down to the minimum. Don't forget you can buy stuff along the way.
4. Pack efficiently. Make sure you've worked out what you really need, and pack accordingly. Pack your tent and sleeping bag last so they are first things you unpack at camp site, and make sure the things you'll need on the ride – sunglasses, sunscreen, waterproofs and maps – are easily accessible.
5. A tent. Unless you are planning to really get back to basics and use a bivouac or tarp tied to your bike to sleep under, a decent tent is essential. Modern self-supporting tents are light, pack down small and are easy to set up. Make sure you get one with a waterproof floor or groundsheet and take metal stakes to fix it down and a driver. Pick the size of tent according to your needs – even if you are travelling solo, a two or even three-man tent will give you the space you need to hold your clothes and luggage as well as you, and won't take up much more space than a one-man tent. Vestibules allow you to strip off wet rain gear and store wet luggage without getting the inside of your tent wet. Make sure you have a waterproof fly- sheet for wet nights and it is a good idea to try setting up the tent in the store or at home rather than working out how to set it up in the dark at your first camp site.
6. Sleeping bags are available in all grades so select one for the range of temperatures you are likely to experience on the trip to make sure you are not spending the nights too hot or too cold. Down insulation is more efficient and packs down smaller than synthetic fillings.  Sleeping pads are considered essential by many to ensure a comfortable night's sleep – inflatable versions are the most effective for insulation and packing size, or use a thin foam pad. Consider using compression bags to hold your sleeping bag, tent and pad to make the most effective use of space.
7. Of course, you'll need to bring clothing. Again, it's a space issue, so just bring your basics, taking into account the climate you'll be experiencing. If you are traveling between significant temperature differences, be smart and bring items that can be added to, not replaced, so bring extra layers that can be put on top of your riding clothes to resist the cold. Make sure your clothes and essentials are in a rain-proof bag – the last thing you want is to arrive at your destination and find your packed clothes soaking wet. Make sure you pack a pair of camp shoes so you can take off your riding boots at the end of the ride (and dry them if needed) and consider some lightweight shower shoes. A swimsuit takes up no room so make sure you pack that, and a microfiber towel is an essential.
8. Decide if you need to take cooking gear and food, or if you plan on eating out – these items can take up a lot of space if you aren't going to need them. If you decide you are going to be cooking then choose a cooking stove – they can run on a variety of fuels from propane to solid fuel or gasoline (which of course you will always have in your fuel tank). Choose nesting cookware and durable plates and cutlery – you don't want to be trying to eat with a plastic spork – and make sure you have some dishwashing materials. Food and water are easily replenished so don't go overboard  – boil-in-bag items and survival rations are easy to cook on a small camp stove. For breakfast take instant oatmeal and powdered-milk mix. Pack instant coffee, condiments and spices in labelled Ziploc bags to save space.
9. If your bike doesn't have a charger point for your mobile phone and SatNav, consider having one fitted, or take a separate solar charger. Make sure you pack, ready to hand, a knife, flashlight, batteries, duct tape, zip ties, a lighter or matches, essential tools for your bike, a jiffy-stand coaster, a good multi-tool, security chain or lock for your bike and consider a length of tow rope for emergencies. Remember to take soap or shower gel (spare motel sachets are great for this) toilet paper (remove the cardboard tube to save space), spare Ziploc bags and a large garbage bag, paper towels and a basic first-aid kit – make sure it contains bandages, essential medication, insect repellent and anti-allergens.
10. Before you set off, make sure your bike is serviced and in good condition. A day or two before departure do a trial run of packing and riding your bike – ideally an overnight trip if you can. You'll almost certainly over pack so it is a great opportunity to check and reassess what you are taking, and to ensure everything is efficiently packed and you know where it is and how to get at it. Of course, if someone with you is travelling by car, put the campsite equipment in there and only carry essentials – it also means you can take more stuff you will find useful, such as camp chairs, extra food or a cool box.
11. When you are on your trip, don't leave it too late in the day to find a site – when you are tired, it's easy to make bad decisions and leaving it too late will increase your stress levels and make mistakes more likely to happen. When you've found the site, choose the best area – sheltered and flat, not sloping or rocky, and not low-lying so you avoid pooling water if it rains, or falling cold air if the temperature drops. Be friendly with other campers, and when you leave make sure you leave no trace you have been there – kill any fire you may have made, and pick up any trash and clear it away.
12. Finally, when you are back home, make a post-trip evaluation of your packing – what did you not use, what did you not take that you needed – and make a note of it, so next trip you will be operating at maximum efficiency, leaving you free to enjoy the ride.
We hope you enjoyed our Harley-Davidson's Must-Know 12 Motorcycle Camping Tips and now, it's time to start planning that next trip!
Total Motorcycle would like to thank Harley-Davidson USA for bringing us this week's Harley-Davidson's Must-Know 12 Motorcycle Camping Tips Rider Inspiration story to get riders out there, enjoy their bikes, the fresh air and meeting fellow riders!