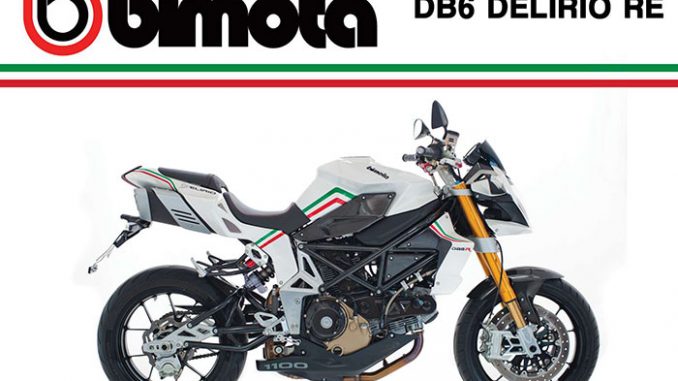 Click photos to enlarge. Our big, clean bike pics make great desktop wallpaper.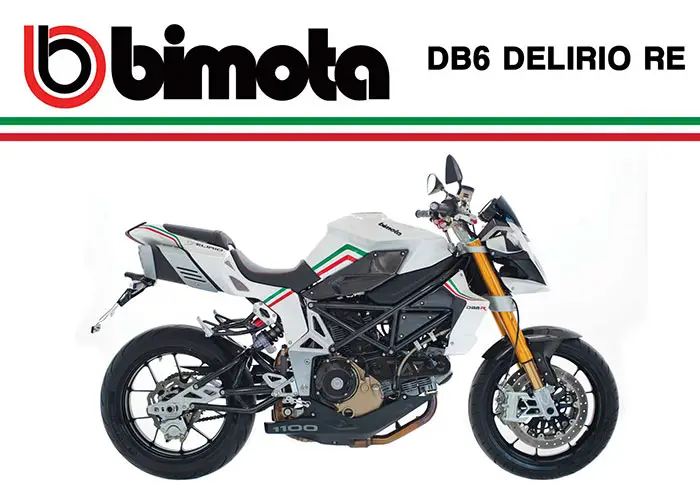 2013 Bimota DB6, DB6 Delirio E, DB6 Delirio RE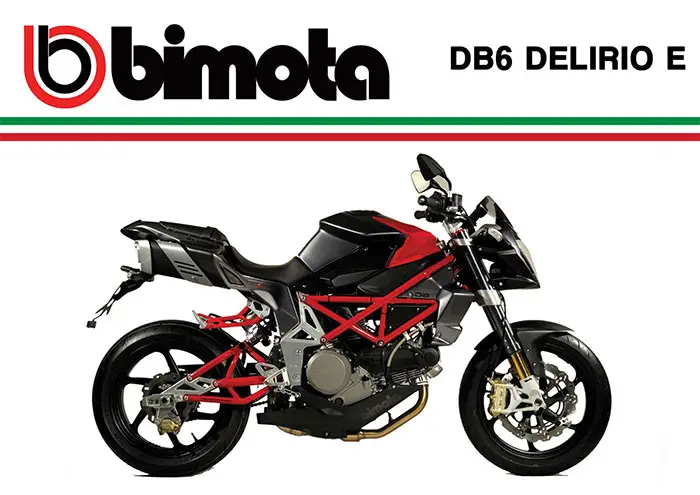 2013 Bimota DB6, DB6 Delirio E, DB6 Delirio RE
2013 Bimota DB6, DB6 Delirio E, DB6 Delirio RE Review

2013 Bimota DB6, DB6 Delirio E, DB6 Delirio RE
Extreme manageability

Precious and essential. Bimota DB6 is just the essence of a bike. One that can't go unnoticed and able to bring unique riding feedback.
Like its sister machine the DB5, modern chassis design brings perfect handling for all occasions.
It's a bike not only to look at, but to be at one with.
Perfect on the twisties and winding tracks where precision handling will allow any rider to reach the maximum level quickly.

2013 Bimota DB6, DB6 Delirio E, DB6 Delirio RE Features and Benefits
Look

The DB6 DELIRIO plays the perfect example of naked style. Straight lines for the bodywork leave the chassis and engine on display. We are talking about a minimalist bike.
The compactness and the front light reminisces the style of a fighter aircraft in attack mode.
Its aggressive look is completed by under seat silencers.
The DB6 DELIRIO is also offered as a RE version, where its look is defined by the Italian flag layered along the bike and a host of tweaks increase the aggressiveness of the bike.

Technology

Equipped with a Ducati Desmo 90° twin cylinder engine, 1100 cc and max power 100hp/7500rpm.
The trellis frame and the structure made of chrome molybdenum steel are complemented by alloy plates machined from solid.
The 50mm fork gives great performance for holding a line and allowing a quick change of direction; same story for the swing arm and its fully-adjustable monoshock. Lastly, she stands on OZ aluminium forged wheels.
Bimota also presented the R version that differs from the DB6E (besides the look) with the use of 18mm radial calipers and a dry clutch, plus more use of carbon to create a lighter weight.

---
2013 Bimota DB6, DB6 Delirio E, DB6 Delirio RE – Specifications/Technical Details
MSRP Price: See Dealer for Pricing

Model Bimota DB6 DELIRIO E (DB6 DELIRIO RE)
Valves 2
Engine 90°L twin cylider, 4 strokes
Capacity 1078cc
Bore x stroke 94×71,5mm
Compression Ratio 10,7:1
Fuel system electronic fuel injection by BIMOTA
Starter electric
Max power 98 hp/7500 rpm
Max torque 10,5 kgm/5500 rpm
Transmission Chain
Frame chrome-molibdenum steel
Front suspension 50mm upside-down forks
Rear suspension fully adjustable spring's-preload monoshock
Front brakes 2x320mm disc, 4 Brembo piston calipers
Rear brakes single 220mm disc 2 piston calipers
Dry-weight 170 kg. (168 kg. RE)
Fuel capacity 16lt
Top speed 228 km/h
Front tyre 120/70-17
Rear tyre 180/55-17
Overall lenght 2045mm
Overall width 830mm
Overall height 1110mm
Seat height 820mm
Wheelbase 1430mm

Bimota S.r.l. si riserva il diritto di modificare ogni caratteristica tecnica, di equipaggiamenti e colori senza preavviso. / Bimota S.r.l. reserves the right to make any kind of modifications to the technical charateristics, equipments and outfits without prior notice.