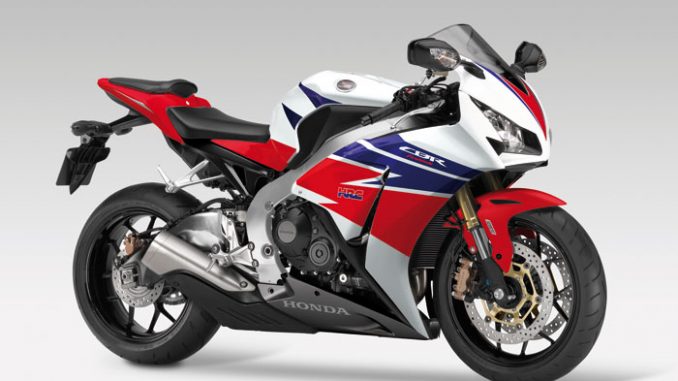 You are here: TMW — 2013 Motorcycle Models — Honda — 2013 Honda CBR1000RR Fireblade Review
Click photos to enlarge. Our big, clean bike pics make great desktop wallpaper.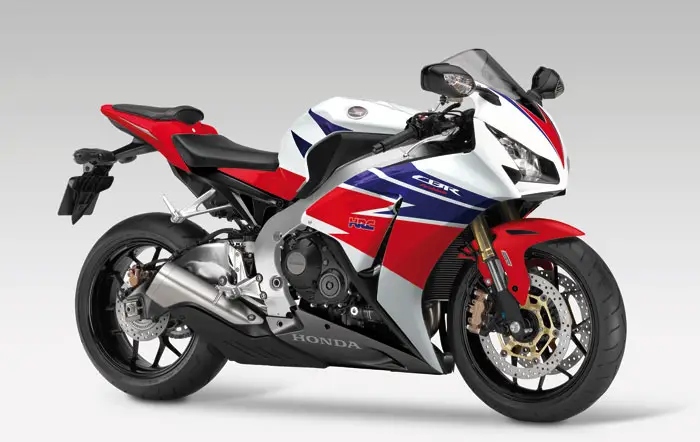 2013 Honda CBR1000RR Fireblade



2013 Honda CBR1000RR Fireblade Review

2013 Honda CBR1000RR Fireblade
In 2013, the CBR1000RR will be available in two new colour versions: Tricolour and Repsol.
The 2012 CBR1000RR built on the legacy of "total control" that had shaped its predecessors for 20 years since the introduction of its original ground-breaking forerunner, the CBR900RR, at the EICMA show in 1991. Since then, successive evolutions of the machine have layered advancement upon advancement, while retaining its defining strength of a perfect balance between power and control.
Under the overall development concept of "natural evolution of Super Sports", the 2012 CBR1000RR development team concentrated their efforts on the chassis to enhance riding enjoyment even further. In particular new wheels and new front and rear suspension systems were introduced for even better handling, traction and braking performance. The advanced Balance Free Rear Cushion rear suspension was a world-first for a production motorcycle.
The team also created a new, even more aggressive styling to better communicate the dynamism and sheer speed of the new CBR1000RR. In addition, the already comprehensive instrument panel was updated with additional functionality making the bike more user-friendly.

2013 Honda CBR1000RR Fireblade Key Features
Styling
Dynamic styling package
The nose, layered main fairing and tail section create an aggressive and a dynamic look.
Suspension
Balance Free Rear Cushion
The advanced Showa rear shock system (offered for the first time on a production motorcycle on the 2012 CBR1000RR) uses a double-tube design to ensure smoother and more accurate response, superior damping and improved traction.
Big Piston Front Fork
The CBR1000RR also features inverted 43mm telescopic forks with Showa's Big Piston technology. With a unique design to reduce internal pressures, the Big Piston Front Fork offers improved damping, increased front tyre grip and better stability under braking.
Wheels
12-spoke wheels
Stunning 12-spoke cast aluminium wheels provide consistent rigidity to work with the forks and deliver improved handling.
Instrument panel
Enhanced instrumentation LCD
Includes a lap timer, gear position indicator and tachometer with 4 modes of display.
Clutch
Assisted slipper clutch
Reduces the engine back-torque transmitted to the rear wheel when shifting down, increasing chassis stability under deceleration and on corner entry.
Steering
Second generation HESD steering damper
Essential on such a light, compact and yet powerful machine, the Honda Electronic Steering Damper delivers both high-speed stability and light, responsive low-speed steering.
Brakes
Optional Combined ABS
The Fireblade can be experienced with Honda's advanced electronically-controlled Combined ABS braking system, which offers all the reassurance of Honda's Combined Brake System and antilock braking.
Engine
PGM-DSFI settings
The CBR1000RR has a hugely powerful 999cc inline-4 engine; the fuel injection settings make it smooth and easy to use, particularly at smaller throttle openings.

2013 Honda CBR1000RR Fireblade Features and Benefits

Styling

Embodying speed and dynamism
The previous CBR1000RR was designed around the keynote themes of 'compact dimensions', 'lightweight' and 'mass centralisation'. For 2012, it was decided that the styling should underline the sheer speed and dynamic potential of the CBR1000RR. Some styling keys remain – for example, the familiar vertical slit in the fairing side panels was retained, providing visual tension. The result is a more graceful profile that draws the eye from the sharper nose, and revised air intakes, to a more elegant tail. The overall effect is a more dynamic and faster-looking machine, one whose strongly-defined lines leave no doubt as to its performance potential.
Aerodynamically functional layered fairing
The CBR1000RR incorporates the layered fairing concept resulting in improved functionality. The fairing creates a large pocket of calm air around the rider, improving comfort, while also helping draw air through the cooling system. These intricately worked surfaces also add to the machine's aggressive looks. An integrated chin spoiler in the nose also reduces aerodynamic lift at speed, improving handling.
Suspension
Unique Balance Free Rear Cushion
The main objectives for further developing the CBR1000RR's suspension set-up were a smoother suspension action, improved rider feel and increased grip and traction. The rear suspension system uses the Unit Pro-Link configuration and introduces the first Balance Free Rear Cushion produced by Showa on a production motorcycle.
Developed in conjunction with world-leading suspension specialists Showa, instead of the conventional single-tube layout, the Balance Free Rear Cushion uses a double-tube design: the damper case and an internal cylinder. The damper piston features no valves. Instead the damping force is generated as displaced oil passes through a separate damping component.
In the conventional structure, the compression-side damping force was generated in two places with the main and sub damping valves, but elimination of the sub valve and concentration in one place allows pressure changes within the cushion to be controlled even more smoothly. And because there is no small amount of oil being used at high pressures, damping force response is improved and damping force can function smoothly during load input. Moreover, damping force can be generated smoothly when switching from tension to compression due to smooth pressure changes.
The Balance Free Rear Cushion delivers more consistent damping over the duration of a ride, plus improved shock absorption and therefore greater traction since contact is more consistently maintained between the rear tyre and the road or track surface. This technology has been proven in both the prestigious Suzuka 8 Hour race and the MFJ Superbike All Japan Road Race Championship. Indeed a CBR1000RR Fireblade fitted with a Showa Balance Free Rear Cushion won the 2010 Japanese Superbike championship, underlining the advantages of this advanced new suspension solution.
Easily accessed rear suspension adjusters
The combination of Honda's Unit Pro-Link rear suspension and the Showa Balance Free Rear Cushion brings more than simply improved rear suspension performance and increased traction. To allow road and track riders to more easily adjust the rear compression and rebound damping performance, the adjusters have been placed prominently on the top of the shock body, offset to the left. As a result the rear suspension can be more quickly adapted to suit different riding conditions and requirements.

Big Piston Front Fork
To complement the Balance Free Rear Cushion, the front suspension system comprises a pair of inverted 43mm telescopic forks with Showa's Big Piston Front Fork technology. The forks use a unique construction with a bigger damping volume to effectively reduce the hydraulic pressure generated as the forks compress and extend. The result is reduced play during the initial stroke and smoother damping, helping maximise tyre contact with the road or track, giving the rider improved handling, a reassuring feel from the front tyre and enhanced stability during hard braking.
Wheels
12-spoke cast aluminium wheels
The 2012 CBR1000RR featured new 12-spoke cast aluminium wheels which offer more consistent rigidity. Together with the new suspension, these wheels provide improved handling and feedback for the rider.

Frame
Aluminium frame with optimised rigidity balance
The CBR1000RR's four-piece aluminium frame combines all the most desirable attributes of a high-performance frame. It delicately balances the strength, rigidity and lightness required for both superb handling and a strong power-to-weight ratio. Wrapped tightly around the main components of the machine, the frame also contributes to the centralisation of mass, a guiding principle of Honda's racing and road-going bikes that contributes to both stability and responsive handling. At the rear of the frame the gull-wing swingarm is deliberately long. It works with the innovative Unit Pro-Link rear suspension, a configuration derived from Honda's 990cc RC211V MotoGP racer, to deliver outstanding traction and high levels of rider feedback.
Steering Damping
Second generation HESD Honda Electronic Steering Damper
Conventional hydraulic steering dampers increase high-speed stability but bring unfavourably heavy steering at low speeds. The CBR1000RR's HESD system monitors the bike's speed and tailors the damping force accordingly. It enhances stability at speed by minimising sudden steering angle changes while also leaving the steering light and uncorrupted at low speed.
Brakes
Unrivalled braking power
Since 2009 the CBR1000RR has been offered with optional electronically-controlled "Combined ABS" (C-ABS), a high performance antilock braking system which has been specifically developed for Super Sport machines. This revolutionary system does away with the pulsating effect associated with conventional motorcycle ABS technology, leaving the rider free to enjoy safe and powerful braking without the risk of locking a wheel, even on a racetrack. At the same time the Combined Braking System also continually optimises the front/rear distribution of the braking effort being applied.
Exhaustive testing on both road and track has shown that the C-ABS system allows the full use of the available braking power without wheel locking or pitching. Modifications to the amount of front braking activated when first applying the rear brake on the 2012 model created even more stable braking performance.
The powerful front brakes comprise a pair of radially-mounted four-piston calipers and a pair of floating 320mm discs. To reduce weight and ensure optimal rigidity, the monoblock calipers are machined from a single piece of aluminium.
Equipment
Full LCD Instrumentation
The CBR1000RR uses multi-function LCD instruments to communicate everything from gear position to coolant temperature and speed. The cockpit display is dominated by a digital bar-type linear tachometer that scrolls from left to right as the engine speed increases. Beneath this are the main numerical readouts: gear position, coolant temperature, speedometer, clock/lap time, trip/fuel efficiency/fuel consumption and odometer/numerical tachometer. At the bottom of the display are lights for such functions as headlight high beam, neutral and indicator function.
Customisable tachometer
Clear and easy to read in all light conditions, the tachometer has four display modes: Conventional, which uses black LCD segments to show current rpm; Reverse, which uses black LCD segments to show remaining rpm; Peak Hold, which indicates rpm in the conventional way and also leaves a tell-tale segment showing the peak rpm achieved; and Single Segment, which uses a single segment to show current engine speed. In addition, the odometer may be switched to display engine rpm numerically.
Lap timer
Four modes are available on the lap timer, an important tool for circuit riding. As well as the lap timer itself, the display can show fuel consumption, average fuel efficiency, travelled distance and total elapsed time. To assist debriefing after a session, lap time recall mode shows the fastest lap time and the lap on which it was set.
5-level shift indicator
To maximise performance and ensure gear shifting at the optimum engine rpm, the 5-level shift indicator display uses highly visible white LEDs, adjustable for brightness. The LEDs illuminate sequentially as the engine rpm rises, finally blinking at a chosen preset rpm (default is 13,000rpm but this can be set between 4,000rpm and 13,000rpm). The interval between sequential illumination can also be set at 0, 200 or 400rpm.

Engine
Compact, powerful and lightweight liquid-cooled DOHC inline 4-cylinder
The Fireblade has always used an inline 4-cylinder engine combining a high specific power output with the low weight and compact dimensions required for a compact, agile chassis. The engine is designed to achieve high engine speeds, with a bore of 76mm, a stroke of 55.1mm – giving a total displacement of 999cm3 – and a nickel-silicon carbide (Ni-SiC) surface treatment on the cylinder walls to reduce friction and ensure complete reliability, even in competition use. Lightweight engine internals contribute both to engine performance and handling, by helping reduce the machine's overall weight.
Precise control
The settings of the race-bred Programmed Dual Sequential Fuel Injection system (PGM-DSFI) were revised for 2012 to ensure even more precise fuelling and a usable power delivery at all times. Particular attention was paid to the PGM-DSFI settings at small throttle openings.
The CBR1000RR engineers focused on the engine's response at low speeds so that when riding winding country roads or when cornering at low speeds, the response will be delicate, predictable and progressive. By analysing throttle inputs and engine response in these conditions, the 2012 CBR1000RR achieved an improved level of control at throttle openings of up to 25%. At such openings the fuel injection has been set to deliver small changes in power and torque output. Then, as the throttle opening becomes larger, these changes in output become progressively greater. The result is an engine that responds with greater accuracy to the rider's inputs, giving a greater road-holding feel from the rear tyre, enhanced manoeuvrability, even on demanding sections of road or racetrack, and highly usable, linear acceleration.
Smooth, accessible performance
Despite its prodigious levels of power and torque, every effort has been made to ensure the engine functions as an integrated part of a balanced Super Sport riding experience. In 2010 the alternator flywheels were made bigger and crankshaft rigidity increased accordingly. These changes increased the inertial mass of the crankshaft by 6.87%, ensuring a smoother and more consistent power delivery together with improved throttle control. Refinements such as a move to an aluminium cylinder head sealing bolt, a thin-walled flange section for the exhaust pipe and a smaller fan motor were made at the same time to avoid an increase in overall weight.
Exhaust emissions
The exhaust system has been made to reduce the emission of harmful exhaust gases. A high-absorption catalyser material has been adopted within the exhaust, which together with the oxygen sensor, constantly tailors the fuelling for the most efficient combustion mixture ensures full EURO-3 compliance.
Assisted slipper clutch
The CBR1000RR is fitted with a slipper clutch of the same type as that used in the 800cc RC212V MotoGP racer. The design ensures full power transmission together with ultra-smooth gear shifting and a light lever feel. In the critical corner-entry phase, when the rider must brake, judge their cornering line and shift down the gearbox simultaneously, the slipper clutch decreases the burden by reducing the torque passed from the engine to the rear wheel, reducing the chance of rear tyre losing traction and therefore increasing stability and ensuring smooth clutch operation.

Colours
The 2013 CBR1000RR will be launched in five colours.
– Tricolour (NEW!)
– Repsol (NEW!)
– Pearl Sunbeam White
– Victory Red
– Graphite Black
Model history
In November 1991 Honda unveiled the CBR900RR – a machine that would revolutionise the Super Sport sector. Since the arrival of the first Superbike, the CB750, more than 20 years earlier, much had changed. Chassis rigidity, four cylinder engine performance and suspension sophistication had all evolved considerably but Super Sport machines had also grown heavy. A dedicated team at Honda, working under Tadao Baba, knew there was another way. Reduce a motorcycle's bulk and weight and you can achieve more speed with less power. Such thinking also enables you to build a bike with the braking and cornering performance to leave rivals breathless; a machine so pure in its responses that an experience akin to riding a purpose-built race bike can be made available in a production motorcycle. The launch of the CBR900RR Fireblade changed the Super Sport world forever.
The CBR900RR remained a high performance benchmark through the 1990s and into the first years of the 21st century. This was achieved through careful evolution, the relentless development of new technologies and an unwavering dedication to the "total control" concept that had made the original CBR900RR such a landmark machine. Engine capacity rose from 893cc through 919cc and 929cc to 954cc, the corresponding escalation in power output matched all the time by advances in frame, braking and suspension technology.
MotoGP's move to include 990cc four-stroke machines from 2002 and the changes to the World Superbike Championship regulations in 2004, raising displacement to 1000cc, both shaped the evolution of the Fireblade in the 21st century. The result was an all-new machine that elevated the Super Sport experience to new levels: the CBR1000RR Fireblade.
Launched in 2004, the CBR1000RR held nothing back. It was the result of a driving concept as pure as the one behind the first Fireblade: "the crown jewel of Honda Racing DNA, the strongest RR". The all-new 998cc engine delivered searing performance from a unit so light and compact it allowed the development team to realise another key objective: mass centralisation. The bike's weight was concentrated, increasing both stability and manoeuvrability. There was more. Unit Pro-Link rear suspension delivered excellent road holding. A centre-up exhaust system, with its underseat muffler, further optimised the machine's weight distribution. Minimalist fairings reduced aerodynamic drag for no loss of high-speed stability. And the first generation Honda Electronic Steering Damper (HESD) married secure high speed running with light, responsive steering at low speeds.

In 2008 an all-new CBR1000RR delivered still-greater Super Sport satisfaction. More compact, more powerful and more sophisticated than its predecessor, the new machine used the same thinking on mass centralisation that had shaped the previous model to further reduce handling inertia. The result was a 1000cc bike that didn't lose out to 600cc rivals on twisting roads or tight, technical race circuits. This generation of CBR1000RR also debuted important new technology. The assisted slipper clutch enabled smooth downshifts, increasing stability and rider enjoyment, while Honda's electronically-controlled "Combined ABS" system, launched on the CBR1000RR in 2009, was the first antilock braking system developed specifically for the unique deceleration of Super Sport motorcycles.
In 2012, 20 years after the launch of the first CBR900RR Fireblade, Honda evolved the large-capacity Super Sport concept once again to create a new CBR1000RR that continues the Fireblade's proud history.

Evolution of a legend
1992-1995, CBR900RR Fireblade (893cc)
Initially developed as 750cc machine, the first CBR900RR went on to combine 893cc power with an ultra-light chassis and aggressive geometry to create a revolution, one that would establish the Fireblade legend almost overnight.
1996-1999 CBR900RR Fireblade (919cc)
A significant evolution of the original machine, the more powerful 919cc (1mm larger bore) engine worked with a more sophisticated chassis to deliver even greater performance.
2000-2001 CBR900RR Fireblade (929cc)
The first Fireblade to use PGM-FI fuel injection technology, the 929cc Fireblade also boasted a completely new chassis. This mounted the swingarm to the rear of the engine cases to realise a lighter and more compact chassis package.
2002-2003 CBR900RR Fireblade (954cc)
Lighter and more powerful than the 929cc machine, the 954cc Fireblade also featured a more rigid chassis and swingarm, higher footpegs in order to reach greater lean angles and more aerodynamic bodywork. The result was astonishing performance on both road and track.
2004-2005 CBR1000RR Fireblade (998cc)
Inspired by Honda's 990cc RC212V MotoGP machine, the CBR1000RR debuted a raft of new technologies to move the Fireblade forward. Key features included a powerful 998cc engine, the first generation HESD electronic steering damper and a Unit Pro-Link rear suspension configuration.

2006-2007 CBR1000RR Fireblade (998cc)
Lighter, more powerful and better handling than the previous model thanks to improvements such as lighter swingarm, revised suspension settings and a new exhaust system, this generation CBR1000RR perfectly illustrates the Fireblade's relentless pursuit of perfection.

2008-2011 CBR1000RR (999cc)
An-all new styling package wrapped around a lighter die-cast frame and more powerful short-stroke engine. Taking mass centralisation to the next level, the 999cc CBR1000RR used an underslung silencer in place of the previous underseat configuration and an assisted slipper clutch, to improve stability under braking and during corner entry.
2012-2013 CBR1000RR (999cc)
The 2012 model further built on the heritage of 20 years of "total control". In 2013 the model is enhanced with two new colour versions: Tricolour and Repsol.
Optional equipment
The CBR1000RR Fireblade can be personalised with a range of Honda Genuine Accessories.
Hugger
A painted hugger protects the rear shock absorber from dirt splashes and also adds a high-class, sporty look to the CBR1000RR. The single-piece unit is available in bodywork colours to create a seamless sporting entity.
Carbon-fibre accessories
A range of carbon-fibre accessories will give your CBR1000RR the ultimate sports finish and underline the machine's rich racing heritage.
The carbon-fibre hugger is based on that used on the Repsol Honda RC212V in MotoGP and features a Honda Racing logo. An optimised number of carbon layers ensures the perfect balance of weight, handling and durability.
Similarly, at the front end, a carbon-fibre mudguard also reflects the CBR's racing pedigree with a Honda Racing logo, while its soft edges and clear coating exude class.
A set of quality carbon-fibre crankcase covers protects that famous powerplant with an advanced composite cover on the left and, on the right, also protecting the clutch cover, a guard featuring the Honda Racing logo.
Seat cowl
To add a more focused sporting look to the CBR1000RR, a rear seat cowl gives a sharp and aggressive finish. It replaces the standard pillion seat pad, yet still offers the same easy access to the underseat storage area. Available in 3 different colour versions and featuring the famous Honda Racing logo, it offers the classic performance image.
High windscreen
A black-tinted high windscreen – 27mm higher than the factory standard – gives the CBR1000RR an added performance edge, while complying fully with European homologation regulations. It also integrates perfectly with the machine and, even with its side stays, does not compromise visibility, drivability or manoeuvrability.
To underline the CBR1000RR's racing heritage, a Honda Racing logo is featured on the high screen.
Other CBR1000RR accessories:
" Averto alarm
" A series of tank pad and fuel filler cover sets
" A comfort seat E-cushion
" A rear maintenance stand
" 2 indoor cycle covers and an outdoor cover
" A tank bag
" A wheel sticker set
" A Honda OptiMate 5 battery optimiser
" A fairing scuff guard set
Honda Assurance
You can be sure that, like all Honda Genuine Accessories, those for the Honda CBR1000RR fit perfectly because they have been developed alongside the model. They are all subject to Honda's rigorous testing procedures to make sure they adhere to our exacting quality standards, which is why they're offered with a two-year Honda warranty.

---
2013 Honda CBR1000RR Fireblade – USA Specifications/Technical Details
US MSRP Price: See dealer for pricing in USD
Model may not be available.

---
2013 Honda CBR1000RR Fireblade – Canadian Specifications/Technical Details
Canada MSRP Price: TBA CDN
Model may not be available.
---
2013 Honda CBR1000RR Fireblade – UK Specifications/Technical Details
UK RRP: £TBA (Prices are recommended and inclusive of VAT @ 20% and delivery)
ENGINE
Type Liquid-cooled 4-stroke 16-valve DOHC inline-4
Displacement 999.8 cc
Bore x Stroke 76 x 55.1mm
Compression Ratio 12.3 : 1
Max. Power Output 131kW/12,000min-1 (95/1/EC)
F-Type Power Output Figure 78kW/11,000min-1 (95/1/EC)

Max. Torque 112Nm/8,500min-1 (95/1/EC)
F-Type Power Output Figure 86Nm/7,000min-1 (95/1/EC)

FUEL SYSTEM
Carburation PGM-DSFI electronic fuel injection
Throttle Bore 46mm
Aircleaner Dry, panel-type paper filter
Fuel Tank Capacity 17.7L
Fuel Consumption 5.57L/100km (62 miles) (WMTC mode)

ELECTRICAL SYSTEM
Ignition System Computer-controlled digital transistorised with electronic advance
Ignition Timing 3.2° BTDC (idle) ~ 45° BTDC (7,500min-1)
Sparkplug Type IMR9E-9HES (NGK); VUH27EC (DENSO)
Starter Electric
Battery Capacity 12V/6AH
Headlights 12V; 55W 1 (low) / 55W 2 (high)
DRIVETRAIN
Clutch Wet, multiplate with diaphragm spring
Clutch Operation Mechanical; cable-actuated
Transmission Type 6-speed
Primary Reduction 1.717 (79/46)

Gear Ratios 1 2.286 (32/14)
2 1.778 (32/18)
3 1.500 (33/22)
4 1.333 (32/24)
5 1.214 (34/28)
6 1.138 (33/29)
Final Reduction 2.625 (42/16)

Final Drive 530 'O'-ring sealed chain
FRAME
Type Diamond; die-cast aluminium twin-spar
CHASSIS
Dimensions (LxWxH) 2077mm x 685mm x 1135mm
Wheelbase 1,407mm
Caster Angle 23° 18′
Trail 96.3mm
Turning Radius 3.2m
Seat Height 820mm
Ground Clearance 130mm
Kerb Weight 200kg (F: 52.5%; R: 47.5%)
SUSPENSION
Type Front
Telescopic inverted fork with an inner tube diameter of 43 mm, and a Big Piston Front Fork with preload, compression and rebound adjustment, 120mm stroke
Rear
Unit Pro-Link with gas-charged HMAS damper featuring 10-step preload and stepless compression and rebound damping adjustment, 138.2mm stroke. Rear Balance Free Rear Cushion with preload, compression and rebound adjustment, 62mm stroke.
WHEELS
Type Front 12-spoke cast aluminium
Rear 12-spoke cast aluminium

Rim Size Front 17 x MT3.50
Rear 17 x MT6.00
Tyre Size Front 120/70-ZR17M/C
Rear 190/50ZR17M/C
Tyre Pressure Front 250 kPa
Rear 290 kPa

BRAKES
Type Front 320 x 4.5mm dual hydraulic disc with 4-piston calipers and sintered metal pads

Rear 220 x 5mm hydraulic disc with single-piston caliper and sintered metal pads

All specifications are provisional and subject to change without notice.
# Please note that the figures provided are results obtained by Honda under standardised testing conditions prescribed by WMTC. Tests are conducted on a rolling road using a standard version of the vehicle with only one rider and no additional optional equipment. Actual fuel consumption may vary depending on how you ride, how you maintain your vehicle, weather, road conditions, tire pressure, installation of accessories, cargo, rider and passenger weight, and other factors.

---
2013 Honda CBR1000RR Fireblade – Australia Specifications/Technical Details
Australia MSRP Price: $TBA AU
Model may not be available.