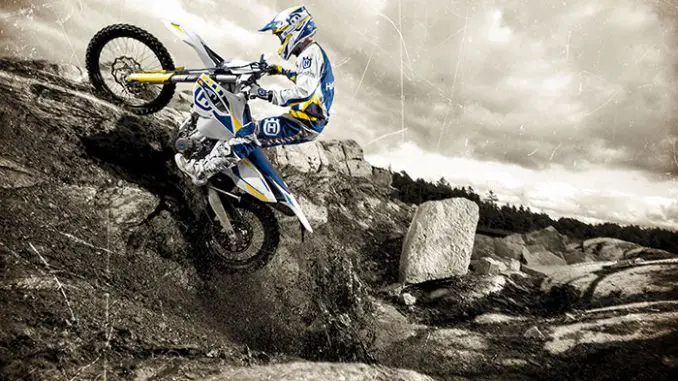 You are here: TMW — 2014 Motorcycle Models — Husqvarna — 2014 Husqvarna FE350 Review
Click photos to enlarge. Our big, clean bike pics make great desktop wallpaper.
2014 Husqvarna FE350 Review

2014 Husqvarna FE350 on Totalmotorcycle.com
Mind blowing pace at half the effort…
The ideal combination of maximum performance and light and agile handling, the FE 350 combines the best characteristics of the FE 250 and FE 450. Pros and amateurs alike are sure to appreciate the lightweight feeling of the FE 350 while tackling the most difficult terrain, thanks to the compact yet powerful engine, a stable and confidence inspiring chassis, a reliable and efficient electric starting system, top-of-the line standard equipment and cutting-edge technology.
Where do we come from?

In March 2013, Husqvarna entered the KTM family. Model Year 2014 marks a historic moment for Husqvarna, a return to its glorious origins, characterised by state-of-the-art technology and a blue, yellow and white colour scheme …
Husqvarna is the original name of a town in southern Sweden, where a metalworking business was founded in 1689 to produce muskets for the Swedish Army. Production of motorcycles began in 1903, making Husqvarna one of the world's oldest motorcycle
manufacturers with uninterrupted production. The first Husqvarna motorcycle completely developed and produced in Sweden was
launched in 1918. As early as the 1920s and 1930s, Husqvarna motorcycles were being built for the road, but were also entered
for prestigious racing events such as the Tourist Trophy.

Its commitment to international competitions made Husqvarna famous throughout Europe.

In the post-World War 2 years the Husqvarna motorcycle range was limited to lightweight two-stroke models, which, in modified
form, were also used in the offroad sports that were becoming popular in the mid-1950s.

In the years that followed numerous competition machines with two and four-stroke engines were developed; and between 1960 and 1963 the first five Motocross World Championship titles were won in the 500cc and 250cc classes. Among the high-profile Husqvarna riders in the successful era of the 1960s and 1970s were Torsten Hallman, Malcolm Smith and Hollywood film actor Steve McQueen.
Racing continued throughout the '80s and saw Gualtiero Brissoni win the European Enduro Championship for the first time for
Husqvarna in 1982 in the 250cc class, followed by authentic Swedish heroes like Sven Erik Jonsson and Thomas Gustavsson.

In 1983 Husqvarna marked yet another milestone with its 500 4-stroke model. The exceptionally light and easy-handling offroader
with all-round lubrication and air cooling became the forerunner of a generation of four-stroke motorcycles for offroad use. By 1977 the entire Husqvarna business had already become part of Sweden's Electrolux Group. Then, in 1987, the Husqvarna motorcycle division was sold to the Cagiva MV Agusta Group and the company headquarters and production transferred to Varese in Italy. In 2007, Husqvarna Motorcycles was acquired by the BMW Group.

What belonged together, belongs together!

After 25 years of independence, 2013 marks the date in which Husaberg returns to Husqvarna and forms the "new" Husqvarna –
excellent bikes with a unique story. A mixture of tradition, history, style and racing.

A quarter of a century is how long Husqvarna and Husaberg followed separate paths. Based at opposite ends of Europe, the
two brands were to trade paint on the most demanding offroad courses around the world, as well as in the marketplace.

On the one hand Husqvarna, with its centennial history, backed by enthusiastic Italian flair and sporting knowhow, went on to claim
over 60 World titles between motocross, enduro and supermoto.

On the other hand, Husaberg spawned from Husqvarna and followed a path of growing commercial success, backed by considerable sporting triumphs, with 20 titles and countless victories. Husaberg brings back to Husqvarna much more than just
technical know-how. As a young, strong and dependable brand, Husaberg's innovative approach to product development has been
matched only by its reputation for reliability and clear understanding of its consumers needs.

In recent years Husaberg grew to almost match Husqvarna.
Now, the two once competing brands come together. The Swedish origins of Husqvarna and Husaberg are to be reunited and based in Mattighofen, Austria, under the watchful eye of one of the most successful motorcycle manufacturers the world has ever seen.

110 years offroad

Husqvarna is one of the oldest motorcycle manufacturers in the world – pioneers of the motocross segment. The combination of tradition, a 110-year company history, added to state-of-the-art technology and devotion to detail offer a very special brand experience. The offroad brand with the most fascinating history, coupled with style and technical details. This makes Husqvarna one of the most serious contenders in the offroad market.

Husqvarna today is in the privileged position of being able to take advantage of one of the most technologically advanced manufacturing hubs in the motorcycle industry. The Mattighofen area is home to several companies that belong to the largest and most important motorcycle manufacturer in Europe. High-tech manufacturing facilities find their place alongside cutting-edge research and development centres. The highly automated production methods of group company WP ensure that frames, radiators, suspension and exhausts are produced to the highest quality standards. Two efficient and flexible engine assembly lines in Munderfing cater for all displacements and engine types, and follow just-in-time production processes, with tested engines being delivered on a daily basis to the main production facility in nearby Mattighofen, where four assembly lines pump out hundreds of motorcycles a day to exacting standards.

Husqvarna's revamped model strategy is focused on offroad, with over a dozen high-tech, class-leading motorcycles to tackle the enduro and motocross segments head-on. The competitive range of 2-stroke and 4-stroke enduro bikes are present in every category, from the light and super-agile TE 125 2-stroke to the full-on power of the FE 501 4-stroke. As pioneers of motocross, Model Year 2014 reflects Husqvarna's intentions of returning to the top of the category, with a vast selection of displacements and engine types ranging from the light and agile 85cc 2-stroke to the super-power of the TC 450. Sharp and modern bodywork is wrapped tightly around high-tech engines and chassis, while the white, yellow and blue colours highlight the amazing attributes of the MY 2014 Husqvarnas.

The push for success means that no stone will be left unturned, and for 2014 Husqvarna will be back in the main offroad competitions of the world. Factory teams in both the MX1 and MX2 categories, as well as the World Enduro Championship, are to carry the 110 years of Husqvarna heritage to the pinnacle of offroad motorsport.
2014 Husqvarna FE350 Totalmotorcycle.com Key Features

Torquey and easy to use 350 cc engine matched to a light and agile chassis form the perfect mix between a 250 and a 450

DDS clutch system and precise 6-speed gearbox make shifting easy and reliable

Rear link suspension absorbs big hits and small ruts with ease, guaranteeing consistent performance in all conditions
2014 Husqvarna FE350 Totalmotorcycle.com Features and Benefits
ENGINE
The power output in excess of 45 hp of the FE 350 is more than enough to put it level with the E2 competition, while being similar in size and weight to the FE 250 engine. The 350cc engine's smooth and easy to handle power delivery from low-down through to the 12,000 rpm limit, combined with an advanced engine management system and a slick 6-speed gearbox, ensure every rider can take full advantage of the FE 350's exceptional performance. High-tech production processes enable the engineers to design thinner engine case walls and keep weight to a minimum, while maintaining strength. A Vertex forged bridged-box-type piston, a large 88mm bore and a short stroke enhance revving and house large valves for better fuel flow. The cam timing and overall performance are tuned for Enduro style riding.

CRANK SHAFT
With a maximum power output that is on a par with the 450 competition, the most advanced crank shaft technology is required in order to maintain the high performance characteristics throughout the life of the FE 350's engine. The crank shaft and con rod are produced by industry leader Pankl to ensure durability and long service intervals. The plain big end bearing and the force-fitted bearing shells ensure that these apparently contrasting characteristics can be combined in a single engine. Traction is important in Enduro, so the FE 350 fits a heavier crank shaft compared to the FC 350 to improve traction and power delivery for Enduro riding.

ENGINE MANAGEMENT SYSTEM (EMS)
The FE 350's engine features a Keihin electronic fuel injection and 42mm throttle body for great throttle response and engine performance that is optimised for tough Enduro riding conditions. Energy to the electrical systems is supplied by a 196 W generator and integrated freewheel. The optional Husky Power map switch allows riders to select maps. It is also possible to download engine data with a laptop via a Setting Tool.

STARTER
A sign of the times is the electric starting system of the FE 350. Riders of all levels will appreciate the invaluable help of the electric start system when tired on that impossible climb or stuck in the mud.

FRAME
The lightweight and strong, chromium molybdenum construction of the FE 350's frame perfectly extracts the full potential of the 350cc engine's characteristics. Brilliantly capable in any terrain, the superb handling of the FE 350 has been achieved by designing the frame with precise longitudinal flex that helps absorb impacts from the rear wheel, working together with the suspension and giving the rider greater feedback. The torsional rigidity has been calibrated to maximise sharp handling, with lightning fast turn-in and exceptional stability.

SUBFRAME
State-of-the-art technology has been employed in the design and construction of the FE 350's rear subframe. The inherent characteristics of the polyamide material mean that the subframe flexes more than a traditional aluminium rear subframe. It feeds more information to the rider, as well as being more comfortable, but also flexes back into position after impact. The electronics, air box and grab handles are integrated into the design.


SWINGARM
Precise and controllable transfer of power to the ground in every condition has been achieved by designing a one-piece swingarm, eliminating welding points that can potentially create inconsistencies in handling and overall quality. Strong but light, the beautifully styled aluminium cast swingarm provides perfect stability and safety.

WHEELS AND BRAKES
Black DID rims and CNC machined hubs mated to silver anodised nipples add an aggressive and modern look to the newly designed Husqvarna Enduro range. World Championship level performance is guaranteed by Michelin Enduro Competition tyres. The wheels are kept firmly under control thanks to maximum feeling in extreme situations combined with amazing stopping power of the latest generation of Brembo brakes, featuring a new master cylinder and floating calipers. Ergonomically perfect controls allow the rider to accurately gauge braking power to the 260mm and 220mm wave discs at the front and rear respectively.


FRONT SUSPENSION
The WP 4CS closed cartridge 48mm front fork represents the pinnacle of suspension technology. The 4 chamber system unites the performance of a closed cartridge fork with the simplicity of an open cartridge fork and also has the benefit of additional weight reduction of the overall system. It provides a decisive advantage in terms of responsiveness constant damping precision and handling, while maintaining plushness and rider comfort. Matched with CNC machined black triple clamps, the 4CS forks ensure exceptional handling and feel of the front end. Riders of all performance levels can adapt the setup of the fork for different terrain and conditions by changing clicker settings with a simple twist of a dial, obtaining the best performance in terms of rebound and high/low speed compression damping settings.

REAR SUSPENSION
WP designed the high performance DCC (Dual Compression Control) rear shock with the aim of guaranteeing excellent damping characteristics to ensure maximum feedback as well as rider comfort. The shock is completely adjustable for rebound and high/low speed compression damping, allowing riders to tailor the behaviour according to conditions and preference.


REAR LINK
A rear linkage system was specially developed for the MY 2014 Husqvarna Enduro line-up. The linkage system absorbs big hits and rough terrain with ease, while maintaining optimal feeling and traction on smaller ruts and bumps. The versatile system is sure to meet the needs of riders of all levels, with a consistent, confidence-inspiring and light feeling chassis in every situation.

CNC MACHINED TRIPLE CLAMPS
The beautifully crafted triple clamps on the MY 2014 Enduro models have been developed to deliver maximum feedback to the rider under braking, in rough terrain and on jumps by allowing the fork tubes to flex in a controlled fashion. The rider receives accurate information on the behaviour of the front end and this increases rider confidence. The R&D department's efforts were focused on ensuring uniform clamping of the fork legs in order to distribute the forces evenly on the fork, maintaining the leg shape, and thus proper damping along the entire stroke.


BODYWORK
Form follows function in the newly designed bodywork of the FE 350. Whether riding at World Championship level or on a Sunday blast on your favourite trail, perfect interaction between man and machine results in superior control, performance and safety. The sharp styling and aggressive colour scheme highlight the race-winning potential of the 2014 Enduro range.

AIRBOX
The airbox is integrated in the composite rear subframe and is designed to allow quick and easy filter change in seconds without tools. All models fit a Twin Air filter as standard and have dedicated air intake snorkels.

FUEL TANK
The polythene fuel tanks fit perfectly within the tailor made bodywork and feature an easy opening bayonet-type filler cap. The FE 350 fuel tank has an integrated fuel pump.

EQUIPMENT
The standard equipment levels on the FE 350 are astonishing. Only top-of-the-line products will do, such as the Neken handlebar, handguards and electric starter. For the die hard enthusiasts, riding pleasure is further enhanced by a complete range of Husky Power accessories.

---
2014 Husqvarna FE350 – Totalmotorcycle.com International Specifications/Technical Details
US MSRP Price: $ See dealer for pricing in USD
Canada MSRP Price: $ See dealer for pricing in CDN

ENGINE
Design
Single-cylinder, 4-stroke, spark-ignition engine, liquid-cooled
Displacement
349.7 cm³
Bore
88 mm
Stroke
57.5 mm
Starting aid
Electric starter
Transmission
6-speed, claw shifted
Engine lubrication
Forced oil lubrication with 2 Eaton pumps
Primary ratio
24:73
Secondary gear ratio
14:52 (13:52)
Cooling system
Liquid cooling system, continuous circulation of cooling liquid with water pump
Clutch
Wet multi-disc clutch DDS / Brembo hydraulics
Ignition system
Contactless, controlled, fully electronic ignition system with digital ignition timing adjustment
CHASSIS
Frame
Central tube frame made of chrome molybdenum steel tubing
Forks
WP Suspension Up Side Down 4CS
Shock absorber
WP Monoshock with linkage
Suspension travel Front
300 mm
Suspension travel Rear
330 mm
Brake system Front
Disc brake with four-pot brake caliper
Brake system Rear
Disc brake with one-pot brake caliper, floating brake discs
Brake discs – diameter Front
260 mm
Brake discs – diameter Rear
220 mm
Chain
520 X-Ring
Steering head angle
63.5°
Wheel base
1,482±10 mm
Ground clearance (unloaded)
345 mm
Seat height (unloaded)
970 mm
Total fuel tank capacity approx.
9.5 l Unleaded premium fuel (95 RON)
Weight without fuel approx.
109.2 kg
Specifications, features and prices to change by manufacturer without notice. All information correct as of posted date.