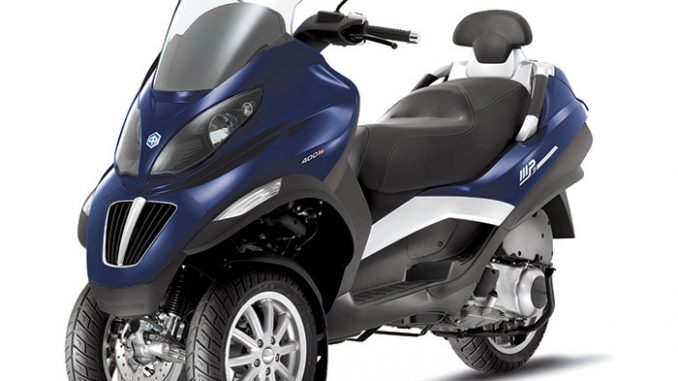 Click photos to enlarge. Our big, clean bike pics make great desktop wallpaper.
2014 Piaggio MP3 400 Review

2014 Piaggio MP3 400 on Totalmotorcycle.com
Luxurious ride; highway power…
A Unique and safe way to get to, from and everywhere in between.
The ultimate commuting scooter has grown to a 400cc displacement to offer unprecedented performance and safety. Fun, nimble and agile, the Piaggio MP3 400 handles curves with extraordinary safety and road holding that only the MP3 can manage, while providing all the power and distance range of a real touring maxi scooter.
The Piaggio MP3 is the only scooter on the market with two-wheel tilting front suspension technology, an innovative system which results in enhanced rider stability and safety. Its power, performance and ease of use make for a very entertaining ride. The ultimate commuting scooter is available in 250cc or 400cc displacements to offer unprecedented performance and safety.

2014 Piaggio MP3 400 Key Features

Ideal For Commuting, Weekend Getaways and Long-distance touring

• Single cylinder, four-stroke Piaggio Master engine
• Innovative parallelogram front suspension technology
• Electro-hydraulic suspension locking system
• 40-degree lean angle for ultimate maneuverability
• 3 steel disc brakes (requires 20% less braking distance)
• Sophisticated styling and plenty of storage
Max. Speed: 88 mph
Gas Mileage: 57-59 mpg
Displacement: 398.9 cc

Gas Tank: 3.2 gallons
Seat Height: 30.9″

---
2014 Piaggio MP3 400 – USA Specifications/Technical Details
US MSRP Price: $8,699 USD

ENGINE TYPE
Single-cylinder, MASTER, 4-stroke, 4-valve
CYLINDER CAPACITY
398.9 cc
BORE X STROKE
2.8″ x 2.4″
MAX POWER AT SHAFT
34 hp
MAX TORQUE
37 Nm at 5,000 rpm
MAX SPEED
88 mph
FUEL TANK CAPACITY
3.2
GAS MILEAGE
57-59 mpg
DISTRIBUTION
Cam head single shaft-SOHC
COOLING SYSTEM
Liquid
LUBRICATION
Wet sump, 850 cc capacity
IGNITION
Electronic inductive discharge
GEARS
'Twist 'n go' automatic CVT
CLUTCH
Automatic dry centrifuge with damper buffers
CHASSIS
Twin cradle made of high-strength steel tubes
FRONT SUSPENSION
Parallelogram supporting two steering tubes
REAR SUSPENSION
Two dual effect hydraulic shocks
FRONT BRAKE
Two stainless steel discs, 240 mm
REAR BRAKE
240 mm stainless steel disc
FRONT TIRE
120/70, 12″
REAR TIRE
140/70, 14″
LENGTH
85″
WIDTH
29.3″
WHEELBASE
61″
SEAT HEIGHT
30.9″
DRY WEIGHT
557
TYPE APPROVAL
EPA and CARB
COLORS
Midnight Blue, Gray
---
2014 Piaggio MP3 400 – Canadian Specifications/Technical Details
Canada MSRP Price: $NA
The 2014 Piaggio MP3 400 is not available in Canada.
---
2014 Piaggio MP3 400 – Totalmotorcycle.com European/UK Specifications/Technical Details
UK/European MSRP Price: £NA GBP (On The Road).
The 2013 Piaggio MP3 400 is not available in Europe.
Specifications, features and prices to change by manufacturer without notice. All information correct as of posted date.