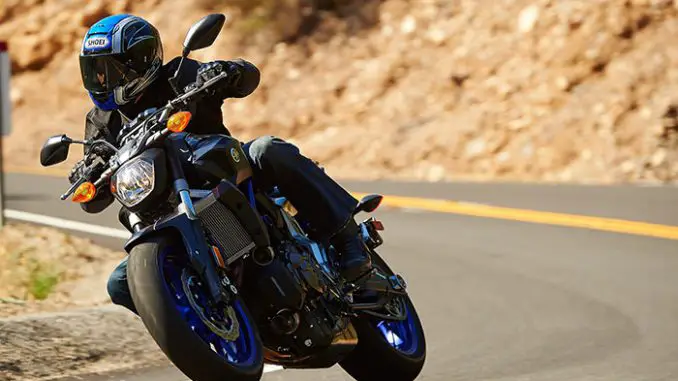 Click photos to enlarge. Our big, clean bike pics make great desktop wallpaper.
2015 Yamaha FZ-07 Review

2015 Yamaha FZ-07 on www.Totalmotorcycle.com
Conquer the road…
The newest member of the "FZ family", the all new 2015 FZ-07 is a motorcycle that brings fun, affordability and riding enjoyment back to the street. This versatile naked roadster offers deep engine torque and a comfortable riding position in a lightweight, easy to handle sports chassis. It's the perfect machine for both new and experienced riders alike who are looking for outstanding value.

It all starts here.
Introducing the ultimate naked sportibke under $7k. Huge thrills, exhilaration, fun and performance in a compact ultra-modern bike. Features a 689cc parallel twin, liquid cooled engine and incredibly light weight: just 397lbs wet. From the urban maze to the canyons, the all new 2015 Yamaha FZ-07 offers performance and value.
2015 Yamaha FZ-07 www.Totalmotorcycle.com Key Features
58 MPG
/// Power
All new, liquid-cooled, 689cc, inline twin has been designed to provide deep, powerful torque in the most frequently used rpm range (3,000 to 6,500 rpm). A single balancer shaft keeps things silky smooth, while the 6-speed transmission with overdrive 6th gear reduces engine rpms at highway speeds and enhances the engine's character.
/// Control
The 38mm Mikuni throttle body fuel injection system combines with the 270 degree "Crossplane Concept" CP2 crankshaft to provide easy to use linear throttle response, providing the rider with the ability to control the FZ-07 at will.

/// Style
From the compact "diamond type" frame to the single 60/55 watt headlight to the naked roadster bodywork, the FZ-07's styling highlights its super lightweight of only 180 kgs (397 lbs). The conventional handlebar design and upright riding position translates into all day riding comfort.
Liquid-cooled 689cc inline 2-cylinder 4-stroke

Crossplane philosophy design with 270-degree crank

Deep and powerful linear torque output

Outstanding fuel efficiency

Built for optimum riding enjoyment

Low dry weight of only 164kg

Slim and compact tubular backbone frame

Agile, manoeuvrable and easy to handle

Mass-forward design with sculpted bodywork

Lightweight 10-spoke cast aluminium wheels

Digital instrumentation with full LED display

Dual 282mm front discs with 4-pot calipers

2015 Yamaha FZ-07 www.Totalmotorcycle.com Features and Benefits

/// ENGINE
• All new, lightweight and compact 689cc, DOHC, 8-valves (4-valves/cyl), liquid-cooled, 20 degree inclined, inline-twin cylinder engine. The engine has been tuned to provide plenty of low to mid-range torque with very linear throttle response. This engine is not about big specification numbers; it produces 75 hp. and 50 ft. lbs. of torque and is designed to maximize riding fun in the real world.
• Downdraft style combustion chamber features 4-valves per cylinder and an 11.5:1 compression ratio for excellent torque output. Four valves per cylinder enhances the low to midrange torque.
• Intake valves are 31.5mm in diameter and exhaust valves are 26.5mm. The valve angle is set at 29 degrees (intake = 14 degrees & exhaust = 15 degrees) to keep the combustion chamber compact. The stainless steel valves feature an Isonite surface treatment and carburized tips for improved durability and wear resistance.
• Camshafts are designed to accentuate low to mid-range power in the most commonly used rpm range (3,000 to 6,500 rpm).
• Valve adjustment intervals are every 40,000 kms.
• Newly designed 270 degree crankshaft with an uneven firing is used. This design features the Crossplane Concept, which reduces inertial torque while emphasising linear torque development in response to the rider's throttle action. Throttle response is very linear and easy to control, providing an excellent level of "rider – machine communication". The CP Concept offers "ride ability that allows the rider to control the machine at will."
• A lightweight, gear driven "coupling force" balancer shaft is used to reduce engine vibration for excellent rider comfort.
•"Fracture split" connecting rods feature a nut less design. The lower end "cap" of the rod is made from the same piece of material as the upper portion; this design is known as "fracture splitting". This design provides excellent durability.
• Lightweight forged aluminum pistons provide fast engine response, reduced weight and reduced mechanical vibration.
• Direct plated cylinders are a "liner less" design with a ceramic coating sprayed directly on the aluminum block. This coating enhances the thin film of oil between the cylinder and piston which reduces friction and increases power. Other important benefits include; excellent heat dissipation for consistent power delivery and reduced weight since there are no liners.
• One-piece cylinder and upper crankcase assembly provides superior engine rigidity and reduces weight. The engine is a stressed member for increased chassis rigidity.
• Offset cylinder / crank design offsets the cylinder 7mm relative to the crankshaft (to the exhaust side) to reduce frictional losses between the pistons and the cylinder wall for improved power output and improved fuel economy.
• Automatic cam chain tensioner reduces mechanical engine noise and maintenance.
• Mikuni 38mm dual bore throttle body fuel injection system utilizes a throttle position sensor (TPS) and an idle speed control (ISC). The injectors feature 12 holes and 19.5 degree spray pattern.
• This is a closed loop fuel injection system, with an oxygen sensor that monitors the amount of oxygen in the spent exhaust gases and adjusts the fuel -air mixture via the ECU and FI system for maximum performance with minimum emissions. The benefits of fuel injection include choke-free starting, steady idling during warm up, excellent fuel economy, and reduced emissions. The system has been "tuned" to provide excellent "ride ability" due to the "linear" throttle control.
• Compact Electronic Control Unit (ECU) utilizes a powerful 32-bit processor for fast control of the injection, and ignition processes. The compact design reduces weight.
• New air box design features dual intakes to reduce intake noise while still providing an exciting intake sound that accentuates the exhaust note. A viscous paper type air filter is utilized.
• All new, compact 6-speed transmission "stacks" input/output shafts to centralize mass and to keep the overall engine size shorter front to back which allows the engineers the freedom to place the engine in the frame for optimum front to rear weight balance. The transmission ratios are specially designed to suit the character (torque & power) of the engine. The wide spread of torque and specially designed gear ratios means fewer gear changes. Sixth gear is an over drive gear to reduce engine rpms at highway speeds for a comfortable ride.
• Compact, wet-type, multi-plate clutch ensures consistent, positive engagement and a light lever pull.
• Stylish, compact, low mounted, 2 into 1 exhaust system utilizes a triple expansion muffler design with a 3-way honeycomb catalyzer to reduce harmful CO and HC exhaust emissions. The low mounted design centralizes mass for excellent handling and a light weight feeling.
• New, lightweight, vertical flow flat radiator design with ring type cooling fan provides maximum cooling efficiency while minimizing the "thickness" of the rad.
• Liquid-cooled oil cooler maintains stable lubricant temperatures for extended engine life.
• Maintenance-free transistor-controlled ignition (TCI) ensures fast starts and great performance at all rpms.
• High performance direct ignition coils (ignition coil is built into the spark plug cap) reduce weight and complexity.
• Easy access spin-on type oil filter and engine oil drain plug.
• Convenient oil level sight glass means fast, easy oil level inspection.
• AC Magneto produces 410 watts of power @ 5,000rpm

/// CHASSIS / SUSPENSION
• All new, lightweight, diamond-type, backbone high tensile steel frame provides an optimized rigidity balance for light, agile handling with excellent stability. The engine is a stressed member of the chassis, allowing a lighter, more compact main frame design.
• The riding position is one of the most important features of the FZ-07, offering a balance between sporty handling and excellent rider comfort thanks to its upright riding position.
• Key chassis geometry figures include: 1400mm (55.1″) wheelbase, 24.5 degrees of rake and 90mm of trail. The front to rear weight distribution is 49.2% front and 50.8% rear while the lean angle is 49 degrees, highlighting the sporty nature of the FZ-07. The chassis dimensions and shape have been designed to centralize mass and lower the centre of gravity to provide the rider with light, agile handling.
• Stylish, lightweight, high tensile steel "gull wing" type short design swingarm offers great rear wheel control.
• 41mm conventional style fork offers 130mm (5.1″) of wheel travel.
• Lightweight, aluminum upper and lower triple clamps. Fork pitch is 190mm (7.5″)
• Adjustable link-type Monocross rear suspension is a "progressive" design. The horizontally mounted rear shock can be adjusted for 9 settings of spring pre-load. This adjustment allows the rider to tailor pre-load settings to match rider weight or load. Rear wheel travel is 130mm or 5.1″
• Dual 282mm floating wave-style front discs are squeezed by ultra-rigid Advic, mono block, 4-piston calipers which provide outstanding stopping power and feel.
• 245mm wave-style rear disc is squeezed by a lightweight single piston slide-type Nissin caliper.
• Lightweight, cast-aluminum 10-spoke mag wheels reduce unsprung weight for great handling and suspension performance. The front wheel is an MT3.50-17 and is fitted with a 120/70ZR17 radial tire. The rear wheel is a MT5.50-17 fitted with a 180/55ZR17 radial tire.
• Conventional handlebar design combines with the upright riding position to provide excellent all day riding comfort. Conventional design means the bars can be changed if desired.
• 14-litre fuel tank offers a slim design with great knee grip. Slim design combines with the low seat height for a light, agile feel and increased rider confidence. The "reserve" portion of the tank is 2.7 litres (this is when the low fuel light will illuminate).
• Stylish, separate rider and passenger seats offer excellent comfort. Narrow design rider seat makes it easier to touch feet flat on the ground. Seat height is 805mm (31.7″). Rear seat can be removed and replaced by the optional Genuine Yamaha Accessory rear seat cowl if desired.
• New, compact, liquid crystal multi-function meter. Functions (all digital) include bar-style tachometer, digital speedometer, odometer, dual trip meters, fuel gauge, fuel reserve trip meter (counts kilometres since the fuel went on reserve), clock, gear indicator, instant & average fuel consumption, intake air temperature and coolant temperature. Plus a range of warning and indicator lights. Back lighting is adjustable.
• All new handlebar switch gear. Start function is integrated into the engine kill switch. Passing flash button is provided.
• Stylish, one piece, multi-reflector 60/55 watt halogen headlight highlights the naked roadster styling of the FZ-07.

/// DETAILS
• Premium sport touring tires
• Lightweight aluminum footrest mounting brackets and heel guards
• 5-position adjustable front brake lever
• Fold out under seat bungee cord fastner straps
• Brilliant LED rear tail light with unique running / brake light display
• Excessive lean angle engine kill switch. If unit is on its side the engine will shut down to prevent serious engine damage
• Lockable steering
• Durable 525 series "O"-ring-sealed drive chain
• New, stylish & sporty 1 piece chain guard and inner rear fender
• Lightweight, low-maintenance sealed battery
• Yamaha diagnostic tool connector is located under the seat. This system can significantly reduce diagnostic time in the event of a problem.

---
2015 Yamaha FZ-07 – www.Totalmotorcycle.com USA Specifications/Technical Details
US MSRP Price: MSRP* $6,990 (Liquid Graphite); $6,990 (Rapid Red); $6,990 (Pearl White) USD

Engine
Engine Type 689cc liquid-cooled DOHC 4-stroke: 8 valves
Bore x Stroke 80.0 x 68.6mm
Compression Ratio 11.5:1
Fuel Delivery Fuel Injection
Ignition TCI: Transistor Controlled Ignition
Transmission Constant mesh, 6-speed
Final Drive Chain

Chassis
Suspension / Front 41mm fork; 5.1-in travel
Suspension / Rear Single shock; adjustable preload; 5.1-in travel
Brakes / Front Dual hydraulic disc, 282mm
Brakes / Rear Hydraulic disc, 245mm
Tires / Front 120/70-ZR17
Tires / Rear 180/55-ZR17

Dimensions
L x W x H 82.1 x 29.3 x 42.9 in
Seat Height 31.7 in
Wheelbase 55.1 in
Rake (Caster Angle) 24°
Fuel Capacity 3.7 gal
Fuel Economy 58 mpg
Wet Weight 397 lb

Other
Warranty 1 Year (Limited Factory Warranty)

---
2015 Yamaha FZ-07 – www.Totalmotorcycle.com Canadian Specifications/Technical Details
Canada MSRP Price: $7,299 CDN
/// ENGINE

ENGINE
Liquid-cooled, DOHC, 8-valves (4-valves/cylinder), inline twin cylinder
DISPLACEMENT
689cc
BORE AND STROKE
80 x 68.6 mm
COMPRESSION RATIO
11.5:1
MAXIMUM TORQUE
6.9 kg-m (50 ft-lbs.) @ 6,500 rpm
FUEL DELIVERY
Mikuni 38 mm dual bore throttle body F.I.
ESTIMATED FUEL CONSUMPTION±
24 kpl / 68 mpg (Imp.)
LUBRICATION
Wet sump
IGNITION / STARTING
TCI / Electric
TRANSMISSION
6-speed
FINAL DRIVE
"O"-ring chain

/// CHASSIS
SUSPENSION (FRONT)
41mm fork
SUSPENSION (REAR)
Adjustable link Monocross
BRAKES (FRONT)
Dual 282mm discs / 4-piston calipers
BRAKES (REAR)
245mm disc / single piston caliper
TIRES (FRONT)
120/70ZR17
TIRES (REAR)
180/55ZR17

/// CRITICAL DATA
LENGTH
2,085mm (82.1″)
WIDTH
745mm (29.3″)
HEIGHT
1,090mm (42.9″)
WHEELBASE
1,400mm (55.1″)
RAKE / TRAIL
24.5° / 90mm
SEAT HEIGHT
805mm (31.7″)
FUEL CAPACITY
14 litres (3.1 imp. gallons)
WET WEIGHT
180 kg (397 lb.)
COLOUR(S)
Matte Metallic Gray
Bluish White
Vivid Red
---
2015 Yamaha MT-07 – www.Totalmotorcycle.com European/UK Specifications/Technical Details
UK/European MSRP Price: £See dealer for pricing in GBP (On The Road).
Engine
Engine type 2-Cylinder, liquid-cooled, 4-stroke, DOHC, 4-valves
Displacement 689 cm³
Bore x stroke 80.0 mm x 68.6 mm
Compression ratio 11.5 : 1
Maximum power 55.0 kW (74.8PS) @ 9,000 rpm
Limited power version 35.0 kW
Maximum Torque 68.0 Nm (6.9 kg-m) @ 6,500 rpm
Lubrication system Wet sump
Clutch Type Wet, Multiple Disc
Carburettor Fuel Injection
Ignition system TCI
Starter system Electric
Transmission system Constant Mesh, 6-speed
Final transmission Chain
Chassis
Frame Diamond
Front suspension system Telescopic forks
Front travel 130 mm
Caster Angle 24º 50
Trail 90 mm
Rear suspension system Swingarm, (Link type suspension)
Rear Travel 130 mm
Front brake Hydraulic dual disc, Ø 282 mm
Rear brake Hydraulic single disc, Ø 245 mm
Front tyre 120/70 ZR 17M/C(58W) (Tubeless)
Rear tyre 180/55 ZR 17M/C(73W) (Tubeless)
Dimensions
Overall length 2,085 mm
Overall width 745 mm
Overall height 1,090 mm
Seat height 805 mm
Wheel base 1,400 mm
Minimum ground clearance 140 mm
Wet weight (including full oil and fuel tank) 179 kg / ABS 182 kg
Fuel tank capacity 14 L
Oil tank capacity 3.0 L
Specifications and appearance are subject to change without prior notice.