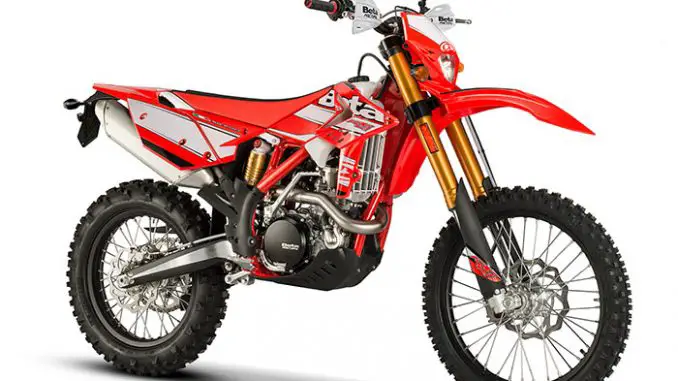 2016 Beta 430RS
2016 Beta 430RS Review

2016 Beta 430RS on www.Totalmotorcycle.com
American Beta…

Electronic Fuel Injection System:
Like the RR models, the RS Dual Sport range also benifits from the introduction of the electronic fuel injection system.
Beta's engineers have worked directly with Synerject to provide an EFI system that has proven to be tried and true. With its 42mm-diameter throttle body, the system ensures precise control of the fuel delivery under any condition, the air-fuel mixture is optimized at any altitude thanks to temperature and pressure gauges. Riders of all levels will enjoy spontaneous and linear engine response, thanks to the adoption of a stepper motor mounted on the throttle body, a precise minimum engine speed is guaranteed and engine braking is significantly reduced. This insures a smooth and predictable power delivery that is synonymous with Beta.
RS Engine Updates:
Many other new features have also been added to the 4 stroke engines, with the aim of further improving power delivery and exploiting the engine's full power.
The new intake ports on the 430 and 500 models have optimized flow for improved torque and power.
The exhaust cam of the 500 has a new profile that provides a more linear power delivery.
The oil pressure valve has a new spring that offers greater stability at high temperatures, reducing the pressure variations in the system.
The shift detent lever has a new aluminum roller that reduces the friction during gear changes and reduces wear on the gear starwheel which improves shifting action.
The new tri-phase 18 pole electric ignition supplies power of 200 watts ensuring quicker battery charging. New diodes also reduce voltage losses further improving the charging system.
Larger battery is fitted to improve starting while engine is hot.
New thermostat housing with four screws to improve durability.
Many of the engine's screws are now in 7075 aluminum rather than steel for a greater weight savings.
RS Chassis Updates:
Many other new features have been introduced to further enhance handling as well as ease of maintenance.
The skid plate is now made of plastic similar to the 2 stroke models. Made from the latest-generation polyamide that combines great impact resistance with extreme lightness, as well as offering greater protection against mud that can get in between the engine and the plate.
The frame derives directly from the 2015 Racing model, the two main connection tubes to the steering head increased and created with a rectangular section in a special 41xx steel. This improved frame is a direct result of comprehensive analysis and research and has allowed for the rigidity of the various axes to be optimized for greater stability and riding precision.
The new handlebar is lower providing improved weight transfer on corner entry and thus offering maximum control.
The air filter box has been improved in terms of its water drainage. Also new are the air box cover fasteners that provide a more secure and dependable system.
The front fork has been improved by increasing the size of the cartridge bleed hole to allow better oil flow during bottoming. Other changes include a longer spring guide to provide smoother action and lastly a more durable top-out spring has been installed.
Instrumentation has been updated indicating low fuel level and electronic fuel injection system diagnostics.
Special Dual Sport soft seat foam for a more comfortable ride.
Handguards are now standard equipment
New front brake hose that allows better viewing of the Voyager GPS unit.
The fuel tank is now translucent (from the 2015 Race Editions) allowing for a clear view of the fuel level in any situation.
Grips with the Beta logo embossed in.
The graphics retain the classic and distinctive Beta colors characterizing the Italian heritage. Even more stunning are the front fork tubes now with gold anodizing to match the rear shock reservoir.
2016 Beta 430RS www.Totalmotorcycle.com Key Features
• Electronic Fuel Injection
• 50-state street legal
• Full-featured dual sport
• Same engine and suspension updates as the RR models
• Voyager GPS unit with maps, engine temp, outside temp, trip meter, and much more
• New dual sport seat foam that is softer
• New plastic skid plate
• Larger battery for better hot starting
• New front brake hose allows better viewing of Voyager GPS unit
• Flag-style hand guards
• 200 watt high output stator
• More than 300 accessories available to "Make It Your Own"
2016 Beta 430RS www.Totalmotorcycle.com Features and Benefits

Voyager GPS Beta is the only manufacturer to offer GPS standard on their dual sport models. The Trial Tech Voyager offers riders a GPS system along with engine temperature, trip meters, and many other features. Riders can also download dual sport event routes.
Folding Mirrors Mirrors fold out of the way when riding off the public highways.
Hand Guards All RS models arrive with hand guards to keep the small branches and the wind away from rider's hands
Electronic Fuel Injection Beta's exclusive EFI system is more than five years in the making. Unique to the system is the ability for dealers to be able to offer two different engine braking settings.
---
2016 Beta 430RS – www.Totalmotorcycle.com Specifications/Technical Details
US MSRP Price: $9699 USD
Canada MSRP Price: $ See Dealer for pricing in CAD
Europe/UK MSRP Price: £ See Dealer for pricing in GBP (On The Road inc 20% Vat)
Engine Specs:
Type: Single cylinder, 4-valve, (titanium intake/steel exhaust) 4-stroke liquid cooled, electric start with back up kick starter and cooling fan kit.
Bore: 95mm
Stroke: 60.8mm
Displacement: 431 cc
Compression Ratio: 11.95:1
Ignition: DC-CDI with variable ignition timing, Kokusan. 200 watt output at 6000 RPM
Spark Plug NGK LKAR8A-9
Lubrication: Twin oil pumps with cartridge oil filter. Separate oil for engine and clutch .8 liter each
Fuel System: 42mm Electronic Fuel Injection
Clutch: Wet multi-disc
Primary Ratio: 31:73
Transmission: 6-speed
Final Drive: O-ring chain, DID
Chassis Specs:
Frame: Molybdenum steel with double cradle split above exhaust port. Quick Air filter access from the side.
Wheelbase: 58.1"
Seat Height: 36.6"
Ground Clearance: 12.6"
Footrest Height: 16.25"
Dry Weight: 244 lbs. dry
Electrical: Trail Tech Voyager GPS unit.
Fuel Tank Capacity: 2 US gallons
Front Suspension: 48 mm Sachs USD fork, adjustable compression and rebound, TFX technology.
Rear Suspension: Aluminum Body Sachs shock w/adjustable rebound and hi/low speed compression
Front Wheel Travel: 11.4"
Rear Wheel Travel: 11.4"
Final Gearing: 15t front, 48t rear
Front Brake: 260mm rotor
Rear Brake: 240mm rotor
Front/Rear Rim: 21" (Front) 18" (Rear)
Front/Rear Tire: Michelin Enduro, DOT approved
Warranty: 12 month Limited Warranty
MSRP: $9699.00
Manufacturer Specifications and appearance are subject to change without prior notice on Total Motorcycle (TMW).