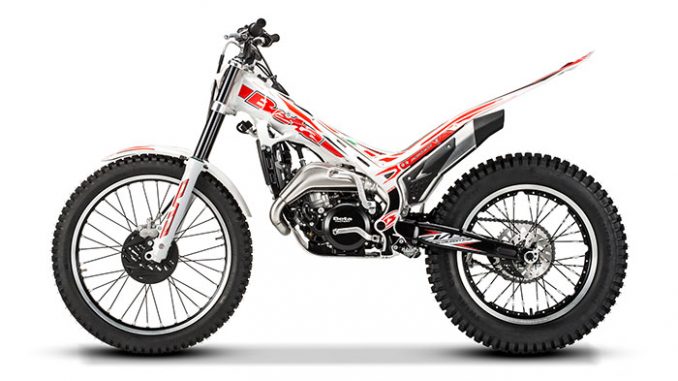 2016 Beta Evo 300 2-Stroke
2016 Beta Evo 300 2-Stroke Review

2016 Beta Evo 300 2-Stroke on www.Totalmotorcycle.com
Forever Improving…
The Beta R&D department has succeeded in improving a design which is in itself, has already been perfected, the EVO, a trial bike that has been the best seller for many years now has been improved once again. For the 2016 models, our Florentine engineers have focused their efforts on the engine, succeeding in the remarkable achievement of giving each of the engine sizes in the EVO range a distinctive personality, each one intended for a specific user.
2016 Beta Evo 300 2-Stroke www.Totalmotorcycle.com Key Features
Evo 250/300
• Legendary Beta power
• Dual Map ignition for wet or dry conditions
• Hard-coated fork tubes for less friction
• New silencer improves low end torque

Standard Evo
• Hydro-formed aluminum frame with fuel in the frame
• Reversed flywheel moves weight mass to the center of the bike providing more balance
• Tightest turning radius of all other brands
Engine
This is the pure-bred of the Evo range, the motorbike designed for experts as well as for the casual clubman rider. As always at Beta, development is never intended purely for power and performance but rather the aim is to always guarantee usability and rideability throughout the riding experience. "This is why we especially aimed to offer rounder and greater torque at low speeds, and thereby increase inertia and centering of the masses – declared Mr. Tozzi, engineer, of the R&D department – which, as we know, are crucial values for improving Trial riding performance".
The new engine crankpin now more rigid thereby increasing inertia and centering of the masses to provide yet more balance
New connecting rod for improved inertia and rigidity
New silencer, internally redesigned for considerably greater torque at low to medium speeds as well as a more silent operation
New combustion chamber, re-developed squish angle to improve response precision and engine output.
Frame
The Sachs single shock now features new valve settings to improve the rebound feel which has allowed the shock to work better in junction with the front fork. As the sport has evolved, this improvement is directly aimed at improving the feel while the bike is being ridden on the rear wheel.
Colours
The new colours are trendy, making the white painted aluminium frame really pop, combined with the mix of white, black and fluorescent red plastic parts and graphics.
2016 Beta Evo 300 2-Stroke www.Totalmotorcycle.com Features and Benefits

History
Betamotor has always been connected with the history and evolution of life on two wheels. The company was founded in Florence in 1904 under the name "Società  Giuseppe Bianchi", for building handmade bicycles. At the end of the 1940s, with the changes that had taken place in Italian society and the development of motorised transport, the company switched to motorcycle production. The simple expedient of attaching an engine with a roller transmission to one of its bicycles, a typical example of Italian creativity, resulted in the first motorbike produced by the Tuscan firm.
The two men who ran the company, Enzo Bianchi and Arrigo Tosi, joined their initials to form the brand-name Beta, and the company's bikes have been sold under this name ever since.
The CERVO 48 was the first model to be put on the market. It featured transmission by a rubberised roller acting directly on the rear tyre, alongside a chain for starting and final drive. In 1948, the company launched the CIGNO, which was powered by a single-cylinder 48cc motor. Its double cradle frame, telescopic forks and shock absorbers gave it a very sporty look.
In 1950, Beta entered the more demanding 125cc class with the production of the ITAL-JAP 125, fitted with pressed-steel girder forks and telescopic rear shocks.
Another model launched in the '50s was the M.T. 175: derived from competition bikes, the M.T. used a two-stroke single-cylinder engine capable of reaching 81 mph. A touring version was subsequently developed, the S.V 175.
A wide range of road bikes was produced in this period, with a tendency towards sportiness. The ASTRO 98, MERCURIO 150, FOLGORE 175 and ORIONE 200 are only some of the models fitted with single-cylinder four-stroke pushrod engines, delivering quite a respectable performance for the time. In the 1960s, Beta began in-house production of the motors which from then on would be fitted across the range. The development of new models went hand in hand with a commitment to competition: the '50s saw Beta's first successes in Hillclimbing, Motogiro and in the Milan-Taranto race, with its 175cc models.
In the '70s, with the emergence of the off-road sector, Beta began to specialise more and more in the production of off-road vehicles. This specialisation has always been accompanied by a matching commitment in the area of competition, the test-bench for excellence in the production of Beta motorcycles – initially in motocross and enduro, trial from the early '80s and Enduro since 2006. The close involvement with motorcycle racing led to the victory of 7 Trial Outdoor World Championships, 6 Trial Indoor World Championships, 7 European Championships and over 100 National Championships all around the World.
In 2004, the Beta marque returned to four-stroke enduro with a major investment both in product development and in its presence on the competition track. In this new field, Beta remains faithful to its mission, that is to inspire in motorcyclists a natural and instinctive riding style. Highly technical and sports-oriented the DNA of its bikes may be, but they still need to transmit optimum feel and deliver maximum fun.
In 2004 Beta presents the first 4-stroke engine designed and specifically dedicated to Trial, enlarging its range and making its brand becoming increasingly synonymous with the sport.
Year 2010 represents a milestone in the Beta's history: the birth of the 4-stroke engine enduro. This allows Beta to become completely independent in the production and gradually increase its presence in this market.
---
2016 Beta Evo 300 2-Stroke – www.Totalmotorcycle.com Specifications/Technical Details
US MSRP Price: $7899 USD
Canada MSRP Price: $ See Dealer for pricing in CAD
Europe/UK MSRP Price: £ See Dealer for pricing in GBP (On The Road inc 20% Vat)
Engine Specs:
Type: Single cylinder, 2-stroke, liquid-cooled w/ reed valve
Bore: 79mm
Stroke: 60.5mm
Displacement: 299 cc
Compression Ratio: 10:1
Ignition: 12-pole electronic 12 volt, 85 watt w/ dual-map switch (aggressive or soft settings) Spark Plug NGK BR7ES
Lubrication: Pre-mix (synthetic oil)
Carburetor: Keihin PWK 28mm
Clutch: Wet multi-disc w/ cush-drive basket
Transmission: 6-speed
Chassis Specs:
Frame: Aluminum beam, single wave Hydro-Formed w/built in fuel tank
Wheelbase: 51.4"
Seat Height: 26"
Ground Clearance: 12.2"
Footrest Height: 13.6"
Dry Weight: 146 lbs. dry
Fuel Tank Capacity: .75 US gallons
Front Suspension: 38mm Paioli including hard-coated tubes
Rear Suspension: Adjustable single shock, aluminum bodied, with nitrogen valve including linkage
Front Wheel Travel: 6.5"
Rear Wheel Travel: 7.1"
Final Gearing: 10t front, 42t rear
Front Brake: 185mm rotor w/ 4-piston caliper
Rear Brake: 160mm rotor w/ twin-piston caliper
Front/Rear Rim: 21" (Front) 18" (Rear)
Front/Rear Tire: Michelin Trial
Warranty: 6 month Limited Warranty
MSRP: $7899.00 *specifications subject to change without notice.
Manufacturer Specifications and appearance are subject to change without prior notice on Total Motorcycle (TMW).