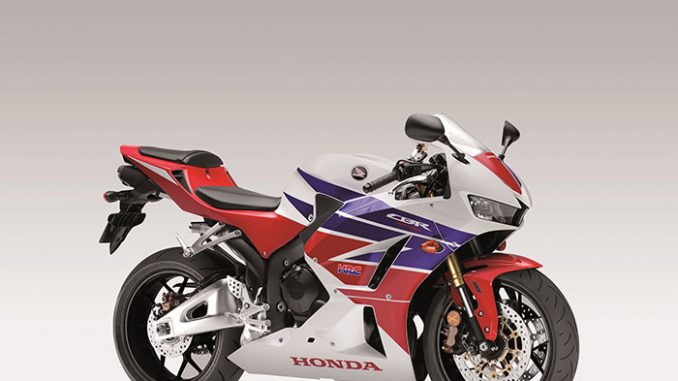 2016 Honda CBR600RR ABS
2016 Honda CBR600RR ABS Review

2016 Honda CBR600RR ABS on www.Totalmotorcycle.com
Head of it's Class…
Motorcycling has always been about that perfect bond between rider and machine. Of course there's the wind and the elements, but most of all it's about the balance, about how involved your entire body is with every aspect of riding. And when you find the perfect bike, it moves with you just like it was an extension of yourself.
The Honda CBR600RR ABS is that machine. Proven on the track, it fits like a glove, and is as responsive and instinctive as snapping your fingers. Happy to cut fast laps on a track day, it's comfortable enough to use as a weekday commuter or a weekend canyon bike.
First of all, there's its size: compact, light, a tribute to Honda's understanding of mass centralization, the four-cylinder engine revs like nothing you've ever ridden, unless you've ridden a MotoGP racer. The chassis (an aluminum twin-spar design) is the basis of the CBR600RR's laser-sharp handling. Brakes? You can choose between its conventional triple-disc setup or opt for a special version with Honda's revolutionary Combined Anti-Lock Braking System (C-ABS), the first ever on a production Supersport motorcycle. And it just plain looks right too, especially this year with a new Black/White option that looks like a tri-color Honda wing, but fades to grey.
Honda's new CBR600RR has moved the Super Sport game on. Its razor-sharp handling, pinpoint accuracy and incredible power delivery are certain to make a difference to your ride.
Raw power tamed in an instant – And if it looks fast, it's because it is fast!
The 599cc, liquid-cooled four-cylinder engine not only drives incredibly hard to its redline, but is also flexible, punching out strong mid-range torque. Its remapped Programmed Dual Sequential Fuel Injection system (PGM-DSFI) delivers even sharper throttle response and feel, while the IACV (Intake Air Control Valve) now works at all rpm, for much greater sensitivity and control. It's as if your right hand is directly hard-wired into this engine.
Racing DNA
In 2003, the Honda CBR600RR entered the World Super Sports arena and instantly changed the game.
Side on, right-facing black CBR600RR.
The CBR600RR has the look of a focused track machine.
It has been the Super Sports weapon of choice for 10 years, taking 7 World Championship titles and 9 Manufacturer's World titles. We take our learnings from the track and apply them to our production bikes, and the 2013 CBR600RR is no exception.

Racing lines

Beautifully clean, the CBR600RR's aerodynamic package is derived from Honda's MotoGP race machines, with clear references to the current RC213V. Its lines echo the design of the factory race machine. It not only reduces drag but also improves stability and provides excellent wind protection. Speed, distilled.

Race-Winning Heritage
With over 700 total MotoGP victories, Honda's winning heritage stands far above any other manufacturer, just as Honda's motorcycles stand out on the street. Our superior engineering and technology put our GP bikes in the winners' circle and give you the performance you need for the street.

Honda Electronic Steering Damper (HESD)
The compact HESD helps maintain predictable high-speed handling and low-speed maneuverability. Way more sophisticated than a simple fixed-rate damper, it's one of the keys to the CBR600RR's extraordinary handling.

Revolutionary Brakes
The CBR600RR's Combined Anti-Lock Braking System (C-ABS) is the first of its kind on a Supersport machine. Even the most critical motorcycle testers rave about how well they work. Find out what the experts have to say about this revolutionary feature.
2016 Honda CBR600RR ABS www.Totalmotorcycle.com Key Features
Engine & Drivetrain
Racy performance
Liquid-cooled DOHC 16-valve 599 cc inline-four engine features oversquare bore and stroke dimensions of 67 mm x 42.5 mm, which contributes to its high-revving, quick-accelerating nature. The lightweight forged-aluminum pistons incorporate special shot peening for added toughness, and oil jets beneath the pistons provide additional friction reduction and cooling.
Extreme redline
High-revving engine redlines at 15,000 rpm. The cylinder head features angled valve insets to improve airflow. Two springs per intake valve and one spring per exhaust valve, plus direct shim-under-bucket valve actuation, help to ensure optimum high-rpm valve operation and durability. A double-pivot cam-chain tensioner provides additional durability.
Strong spark
Iridium-tip sparkplugs improve fuel combustion and performance, and a non-resonance knock sensor maintains optimum spark advance while constantly monitoring combustion performance during mid- to high-speed operation.
Enhanced rideability & horsepower
The Dual Stage Fuel Injection (DSFI) system features 40 mm throttle bodies and two injectors per cylinder — one upper and one lower — controlled by an electronic control system (ECU) that senses rpm and throttle opening. The lower injectors enhance rideability while the upper injectors improve top-end horsepower. A two-stage ram-air system provides a high volume of cool air to the airbox for linear power delivery and incredible engine performance.
Optimum efficiency & power
Auto-enrichment system is integrated into the programmed fuel-injection (PGM-FI) module, eliminating the need for a manual choke. Denso 12-hole injectors deliver finely atomized fuel mixture for optimum combustion efficiency and power.
Smooth response
The Intake Air Control Valve (IACV) minimizes torque reaction and smoothes response to small throttle changes through gradual reductions of air and fuel intake when the throttle is opened and closed.
Maximum lightweight performance
Lightweight stainless steel four-into-one exhaust system features an inline-exhaust valve to control exhaust pressure for maximum performance. The routing of the exhaust system beneath the tail section helps to improve lean angle.
Sure shifting
The smooth-shifting close-ratio six-speed transmission is closely matched to the engine's powerband.

Chassis & Suspension
Light weight
Fine Die-Cast (FDC) aluminum frame uses four large castings for optimum rigidity and light weight.
High-tech front end
The Showa Big Piston fork features a large damping-oil volume to effectively reduce the hydraulic pressure generated as the fork legs compress and extend. The result is more precise action during the initial stroke and smoother damping action for improved handling, enhanced front-end feedback, and a more solid feel during hard braking.
Improved rideability out of corners
Unit Pro-Link rear suspension system is patterned after Honda's RC213V MotoGP racer. In this two-piece shock system, the upper shock mount is contained within the swingarm rather than the frame. With no top frame mount for the shock, this unique system reduces negative suspension energy from being transmitted into the frame, improving rear-end traction and enhancing cornering performance.
Enhanced stability
Small and light Honda Electronic Steering Damper (HESD) enhances stability by automatically adjusting damping pressure to suit the bike's speed.
Superior stopping power
Braking system features twin four-piston radial-mounted front calipers, dual 310 mm front discs and a single 220 mm rear disc for optimum stopping power. Vertical-piston master-cylinder system produces superior leverage ratio at the front brake lever for higher braking efficiency with excellent feel and controllability. This layout permits the use of a longer brake lever, which means more braking force with less effort from the rider.
For the ultimate braking performance
Optional Electronically Controlled Combined ABS – the first ABS system designed specifically for the unique demands of a sportbike – brings world-class stopping power and control to your fingertips.

Additional Features
Sleek design
MotoGP-inspired bodywork includes slim turn-signal indicators, twin headlights, and fairing vents designed to keep both you and the engine cool.
Comfort in all riding conditions
The CBR600RR's acclaimed ergonomics provide excellent everyday comfort while also allowing you to tuck in tight for sporty riding or racing.
Compact design
Centrally mounted fuel tank is positioned low in the frame, increasing mass centralization and allowing a more compact design.
Tank protection
Plastic tank shell cover protects tank and airbox.
Optimum light distribution
Line-beam headlights feature a three-piece reflector design utilizing two H7 bulbs for optimum light distribution and a unique compact design.
Information at a glance
Instrumentation is very compact and features an LCD panel with tachometer, odometer, twin tripmeters speedometer, fuel gauge and clock.
12-spoke aluminum wheels
Stylish 12-spoke aluminum-alloy wheels feature race-spec 3.5 x 17-inch front and 5.5 x 17-inch rear dimensions.
Maximum cooling efficiency
One-piece fan assembly for maximum cooling efficiency.
Designed convenience
Convenient features include a compact rear cowl storage compartment for U-type locking devices (lock not included) under the passenger seat, optional seat cowl, integrated ignition-switch/fork lock for added security, and convenient push-to-cancel turn-signal switch. Pivoting aerodynamic mirrors, maintenance-free battery and a one-year, unlimited mileage, freely transferable warranty top off the list.
2016 Honda CBR600RR ABS www.Totalmotorcycle.com Features and Benefits
Live for this moment
You can see the Honda RC213V MotoGP racer's DNA all over the new CBR600RR…
The aggressive fairing, twin line-beam headlights, minimalist tail unit and centre-up exhaust. But what makes the CBR600RR truly special is how it performs. When the twist of the throttle is timed to perfection and the engine screams in harmony with your soul. When all of the sounds of the world are nothing but a whisper on the wind around you. When machine and rider are one. Live for this moment.
A precise fit for a precise machine
Fine-tune your CBR600RR.
Looking for that extra something that will add more to the ride? To enhance your machine's appeal even further, there is a selection of Honda Genuine Accessories available to ensure your motorcycle suits your style and every need.
Strong, tough, carbon-fibre front fender provides a superior finish for a superior machine.
Designed to perform
A larger tinted, sport windscreen creates a quiet bubble around you when riding at higher speeds.
All Honda Genuine Accessories are built to our exact specification – ensuring a precision fit, superior function and integrated design.
The Honda Difference.
The CBR600RR is a perfect example of typical Honda industry-leading innovation. Combining tons of power, refined, responsive handling and light weight with amazing styling, it's equally at home carving your favorite canyon as it is collecting wins on World Supersport podiums. That's the CBR600RR—the ultimate middleweight sportbike experience.
Features & Options
•599cc liquid-cooled inline four-cylinder
•Honda Electronic Steering Damper
---
2016 Honda CBR600RR ABS – www.Totalmotorcycle.com USA Specifications/Technical Details
US MSRP Price: $12,490 USD

ENGINE
Engine Type 599cc Liquid-Cooled Inline Four-Cylinder The nose-mounted, two-stage ram air system force-feeds cool air into the engine for linear power delivery and incredible high-rpm performance.
Bore And Stroke 67mm x 42.5mm
Induction Dual Stage Fuel Injection (DSFI) with 40mm throttle bodies, Denso 12-hole injectors Dual-stage fuel injection ensures spot-on throttle response at higher revs with superb low-rpm metering and cleaner burning.
Ignition Computer-controlled digital transistorized with 3-D mapping Iridium-tip spark plugs help improve fuel combustion and performance, while a non-resonance knock sensor maintains optimum spark advance.
Compression Ratio 12.2:1
Valve Train DOHC; four valves per cylinder

DRIVE TRAIN
Transmission Close-ratio six-speed Track-bred transmission features a close-ratio six-speed gearbox engineered to match the engine?s high-revving powerband.
Final Drive #525 O-ring chain

CHASSIS / SUSPENSION / BRAKES
Front Suspension 41mm inverted Big Piston Fork with spring preload, rebound and compression damping adjustability; TBD inches travel
Rear Suspension Unit Pro-Link® HMAS™ single shock with spring preload, rebound and compression damping adjustability; 5.1 inches travel The exclusive, MotoGP-honed Unit Pro-Link rear suspension and featherweight aluminum frame combine to deliver ultra-responsive, scalpel-sharp cornering.
Front Brake Dual radial-mounted four-piston calipers with full-floating 310mm discs With its all-new, super-trick electronic Combined ABS, the CBR boasts the most advanced braking system on a production supersport machine.
Rear Brake Single-caliper 220mm disc With its all-new, super-trick electronic Combined ABS, the CBR boasts the most advanced braking system on a production supersport machine.
Front Tire 120/70ZR-17 radial
Rear Tire 180/55ZR-17 radial

DIMENSIONS
Rake 23.5° (Caster Angle)
Trail 97.7mm (3.9 inches)
Wheelbase 53.9 inches
Seat Height 32.3 inches
Curb Weight 410 pounds (Includes all standard equipment, required fluids and a full tank of fuel-ready to ride) At 410 pounds wet (i.e., full tank of fuel, engine oil, etc.), the standard-model CBR weighs in as one of the lightest middleweights going.
Fuel Capacity 4.8 gallons
Miles Per Gallon TBD*

OTHER
Model Id CBR600RR ABS
Emissions Meets current EPA standards. California version meets current CARB standards and may differ slightly due to emissions equipment.
Available Colors Black/White

FACTORY WARRANTY INFORMATION
One Year Transferable, unlimited-mileage limited warranty; extended coverage available with a Honda Protection Plan.
Note *Honda's fuel economy estimates are based on EPA exhaust emission measurement test procedures and are intended for comparison purposes only. Your actual mileage will vary depending on how you ride, how you maintain your vehicle, weather, road conditions, tire pressure, installation of accessories, cargo, rider and passenger weight, and other factors.
---
2016 Honda CBR600RR ABS – www.Totalmotorcycle.com Canadian Specifications/Technical Details
Canada MSRP Price: $13,599 CDN

Engine & Drivetrain

Engine Type
Liquid-cooled inline four cylinder

Displacement
599 cc

Bore & Stroke
67 mm x 42.5 mm

Compression Ratio
12.2:1

Valve Train
Chain-driven DOHC, 4 valves per cylinder

Fuel Delivery
Dual Stage Fuel Injection

Transmission
Close-ratio six-speed

Final Drive
#525 O-ring-sealed chain

Chassis & Suspension

Front Suspension
41 mm inverted Big Piston Fork with full adjustability; 110 mm (4.3 in.) travel

Rear Suspension
Unit Pro-Link HMAS single shock with full adjustability; 129 mm (5.1 in.) travel

Additional Information

Tires
Front: 120/70ZR – 17 radial Rear: 180/55ZR-17 radial

Brakes
Front: dual 310 mm discs with radial-mounted four-piston calipers Rear: 220 mm disc with single-piston caliper. (Electronically Controlled Combined ABS)

Seat Height
820 mm (32.3 in.)

Wheelbase
1,370 mm (53.9 in.)

Curb Weight
196 kg (432 lbs.) including required fluids and full tank of gas – ready to ride

Fuel Capacity
18 litres

Colour
Black / White

Warranty
12 months, unlimited mileage, freely transferable warranty
---
2016 Honda CBR600RR ABS – www.Totalmotorcycle.com European Specifications/Technical Details
Europe/UK MSRP Price: £ GBP (On The Road inc 20% Vat)
See Non-ABS version.
Specifications, features, illustrations and equipment shown are believed to be correct – however, accuracy cannot be guaranteed. Honda Canada Inc. reserves the right to make changes at any time, without notice or obligation, in colours, specifications, accessories, materials and models. Some vehicles are shown with optional equipment. Some vehicles shown are U.S. or European models. Canadian specifications and models may vary.
Manufacturer Specifications and appearance are subject to change without prior notice on Total Motorcycle (TMW).