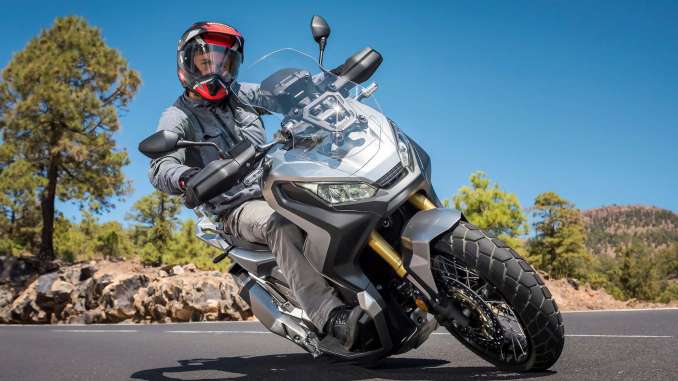 THE WORLD'S FIRST MOTORCYCLE SUV.
It's not often in the world of motorcycling that a fresh line of thinking emerges to create a new breed of machine. But Honda specializes in innovation, and the tradition continues with the X-ADV.
The process: consider the attributes of the average adventure-style motorcycle – great go-anywhere appeal, an upright riding position giving superb visibility and a remarkable all-round usefulness, work or play. Then regard the typical commuter; it might be a scooter or bike but it'll be easy to manage, nimble and loaded with convenience, efficiency and useful storage space.
Combine the two together, and something interesting emerges. The machine will have a tough, stylish SUV image. It will be fully at home navigating the urban sprawl and will be loaded with all of the premium features that enable easy life in the big city. And it'll have the engine power and chassis ability to inject every ride with the promise of adventure.
With styling created at Honda's R&D centre in Rome, the Honda X-ADV is the machine the engineers have built. Like nothing else that's come before, it outlines a new sense of two-wheeled independence, reinforcing a rider's innate desire to cut loose, to travel and enjoy new experiences. And it captures the essence of two-wheeled freedom in an exciting new form.
Mr Kenichi Misaki, Large Project Leader (LPL) 2018 Honda X-ADV
"Our development concept for the X-ADV was simple: 'Go Have Fun!' and we wanted to create a motorcycle that comes with an adventurous spirit as standard fitment. We also knew we needed the X-ADV to be truly usable as a tool to move around the city, and be full of utility and user-friendly features. And come the weekend it can be used to escape all of the daily routine, in a unique and uplifting new style."
Honda X-ADV – Go Have Fun!
With its stylish, rugged body and elevated stance the Honda X-ADV puts an off-road ready attitude and intent right out there. And the tough looks are matched to practicality; the frame has been designed to allow 21L of storage capacity under the seat. The X-ADV is also equipped with a 5-way adjustable screen, tapered aluminium handlebar, Africa Twin hand guards, Rally-style instrument display and centre stand. A Smart Key system delivers day-to-day convenience.
Long travel suspension front and rear absorbs the hits, backed up by rugged 17-inch/15-inch front and rear spoke wheels and block-pattern tyres. Dual radial-mount four-piston calipers provide ample braking power with ABS control.
Honda's Dual Clutch Transmission (DCT) is standard equipment and for X-ADV application selects lower gear ratios for smarter response in D mode; 3 levels of S mode are available with shift patterns to allow sportier riding. For 2018 a G switch has been fitted to enhance the off-road performance.
Perfectly matched to DCT, the X-ADV's 745cc twin cylinder engine puts out strong low-to-mid range torque, delivering attention-getting acceleration from very low rpm. It returns 27.9km/l (WMTC mode) and now features 2 Level Honda Selectable Torque Control (HSTC), which can also be turned off.
Also available for 2018 is a 35kW version allowing A2 licence holders to enjoy the X-ADV. This new version can easily be converted to a full power version at the appropriate time at a Honda dealer.
Merging the practicality of a scooter with the spirit of adventure the X-ADV has some exciting new features for 2018. Including a 3-stage Torque Control system and G mode – first used on the Africa Twin – for direct gear changes when you go off road giving improved engine feeling. Also, there'll be a 35-kilowatt version for A2 licence holders.
Honda's X-ADV mixes tough SUV style and convenience with long travel suspension plus strong performance from its 745cc twin-cylinder engine. Updated for 2018, the Dual Clutch Transmission (DCT) receives an off-road G switch, and the engine gets 2-Level Honda Selectable Torque Control (HSTC).
Styling & Equipment
Unique and rugged styling looks – and is – tough
Adjustable screen with 5 positions
21L underseat storage – enough for a full-face helmet
AC charging socket
CRF450 Rally-style instruments
All lighting LED plus Smart Key activation
The X-ADV's styling was conceived and developed by Honda's R&D team in Italy, to express the spirit of adventure in every design stroke. The craggy vertical line described by the front fairing combines sophistication with ruggedness. An upscale character line extends front to rear via the angled fairing and side covers. The silhouette is deliberately upright, with a short, condensed body style to further highlight the adventure look.
Commuting or touring, the X-ADV's screen adjusts without tools through 5 positions from low to high for greater wind and weather protection. The total height difference is 136mm, with an 11° rake between the highest and lowest points. All lighting is LED, and the slim twin headlights (divided by mesh grill), compact indicators and dual lens rear light add distinct on-road presence to the X-ADV.
A large square CRF450 Rally-style instrument display is cohesively laid out and shows all the information a rider needs around a large central digital speedo and circular tacho. The most visually checked information is sited up top in the line of sight, with everything else arranged in logical order on either side.
All engine-related warning lights are located along the bottom. A separate display, just above the aluminium off-road style taper handlebar shows status of the parking lock and indicators.
Tough plastic hand guards – the same design as used on the CRF1000L Africa Twin – deflect wind and rain on the road and protect the levers and hands from impact off-road. A shot-peened 2.5mm thick aluminium bash plate guards the X-ADV's underside.
The 21L underseat luggage space accepts a full-face adventure-style helmet and is illuminated with an integral LED; its textured surface delivers uniform illumination without glare. A 12V power socket is also located under the seat. A centre stand – with tilt sensor – is fitted as standard and allows the X-ADV to be parked on an incline without fear of toppling.
The X-ADV uses a Smart Key, which lives in the rider's pocket and does away with the need to use a key for ignition, fuel cap and seat. It has two switches: Smart function on/off and 'answer back', which flickers the indicators for identification from a distance.
With the Smart Key present one push of the knob-type main switch powers it up and makes it possible to turn, giving the rider control of the ignition/steering lock and, via two rocker switches, the fuel cap and seat. It also illuminates when pushed – or from the answer back function of the Smart Key – with a blue light. An immobiliser is fitted as standard and a clutch mechanism in the main switch stops the handlebars unlocking by force.
Available as options are two top boxes: the 45L will take two full-face helmets, comes in four colour options and is equipped with a backrest. The smaller 35L box features aluminium-look paint and will take one full-face helmet. A rear rack, front bars, leg/foot deflector shields and floor plates are also available.
The X-ADV is available in five paint options:
Candy Chromosphere Red – new for 2018
Digital Silver Metallic
Matt Bullet Silver
Pearl Glare White – a Tricolour image reminiscent of the Africa Twin
Grand Prix Red – reminiscent of the CRF off-road family look
2018 Honda X-ADV Totalmotorcycle.com Features and Benefits
Engine
40.3kW peak power/68Nm torque
35kW A2 licence version available
2 Level Honda Selectable Torque Control (HSTC) added for 2018
HSTC can also be turned OFF
Rpm cut raised by 900rpm to 7,500rpm
300km range possible from the 13.1L fuel tank
The X-ADV's 745cc, liquid-cooled SOHC 8-valve parallel twin-cylinder engine is designed to deliver low down punch from low rpm up through the mid-range. Combined with the DCT's lower ratios, it provides smart and instant acceleration both from standstill and 30km/h. Peak power is 40.3kW @ 6,250rpm with maximum torque of 68Nm @ 4,750rpm. For 2018, the rpm limit has been raised to 7,500rpm to allow natural use of the engine performance into a higher rpm range.
For A2 licence holders a 35kW version is now available, which can be easily converted to the full power version by a Honda dealer at the appropriate time. Equally, it will be possible to restrict the full power version to 35kW by a Honda dealer replacing the standard throttle body and remapping the ECU. In most riding situations the restriction of peak power is not noticeable and the 0-100m acceleration time is identical to the full power version.
Another addition to the X-ADV for 2018 is Honda Selectable Torque Control (HSTC). It features 2 Levels; Level 1 allows some rear wheel spin – on gravel or dirt for instance – while Level 2 provides confidence-inspiring traction on slippery roads. Level 2 is the default from 'ignition on', and a push of the button on the left handlebar changes the setting to Level 1. Pushing and holding the button turns HSTC off.
Bore and stroke is set at 77 x 80mm and this relatively long-stroke architecture (and specially shaped combustion chambers) combine with the high-inertial mass crankshaft to produce the large amounts of torque. Twin balancers counteract vibration from higher rpm inertia, refining the engine yet still allowing the distinct 'throb' delivered by its 270° firing order.
PGM-FI optimises the exact fuel/air ratio and ignition timing required for a complete and clean burn; the X-ADV engine is EURO4 compliant with CO2 emissions of 81g/km and fuel consumption of 27.5km/l (WMTC mode), providing an approximate 300km plus range from the 13.1L fuel tank.
Dual Clutch Transmission (DCT)
New G switch creates more direct gear change for improved rear wheel traction when off-road
Lower ratios for quick acceleration and response
S mode features 3 levels of performance to suit rider preference
Honda's DCT has found ever-growing popularity on every machine it's been fitted to, and is standard equipment on the X-ADV. The system uses two clutches: one for start-up and 1st, 3rd and 5th gears: the other for 2nd, 4th and 6th, with the mainshaft for each clutch located inside the other. Each clutch is independently controlled by its own electro-hydraulic circuit.
There are two automatic modes plus the MT mode for manual gear changes. Specifically for the X-ADV – and delivering acceleration to deal with the cut and thrust of busy traffic – standard automatic D mode selects lower ratios compared to other DCT-equipped machines.
The S mode (which shifts up and down at higher rpm than D mode for a sportier ride) offers three levels of performance to suit rider preference; each level is programmed with a progressively more aggressive response for the X-ADV. The selected level is stored, and acts as the default S mode for subsequent rides. It is also displayed on the dash.
The X-ADV's off-road functionality is now also enhanced by the G switch positioned on the right side of the instrument panel. A feature already enjoyed by Africa Twin riders, pushing the G switch in any riding mode improves traction and machine control by reducing the amount of clutch slip during gear changes.
Chassis
Tough tubular steel frame
41mm cartridge-style USD fork and Pro-Link swingarm
Radial mount four-piston front brake calipers, 296mm discs and ABS
120/70 R17 and 160/60 R15 front and rear tyres
The X-ADV uses a tubular steel frame that enables roomy underseat storage space married to a narrow 450mm wide rear seat unit. Rake and trail is set at 27°/104mm with wheelbase of 1590mm. A 39° steering angle (and turning radius of 2.8m) makes the X-ADV maneuverable in tight traffic. Long travel suspension –153.5mm up front and 150mm from the rear – is matched to 162mm of ground clearance. Wet weight is 238kg.
The 820mm seat height and wide handlebar set at 910mm ensure an upright riding position and high eye point, giving great visibility and control and the seat's contours allow for easy ground reach.
For handling rough terrain, the 41mm cartridge-type USD fork adjusts for spring preload and rebound damping. The spring preload adjustable rear shock is a single tube split pressure design and operates the aluminium swingarm – constructed from a machined-hollow cross member and U-shaped (in cross section) arms – through Pro-Link.
The 17-inch front wheel and 15-inch rear use stainless steel rust-resistant spokes and contribute to the X-ADV's ability to comfortably soak up rough terrain. Block-pattern tyres add to the ride quality and L-shape valve stems make checking air pressure easy. Tyres are sized 120/70 R17 and 160/60 R15 front and rear.
Dual radial-mount opposed four-piston calipers grip 296mm discs and work through ABS.
2018 Honda X-ADV – Totalmotorcycle.com USA Specifications/Technical Details
US MSRP Price: $ USD
2018 Honda X-ADV – Totalmotorcycle.com Canadian Specifications/Technical Details
Canada MSRP Price: $ CDN
2018 Honda X-ADV – Totalmotorcycle.com European Specifications/Technical Details
Europe/UK MSRP Price: £ GBP (On The Road inc 20% Vat)
| | |
| --- | --- |
| ENGINE | |
| Type | Liquid-cooled, L2, SOHC |
| Engine Displacement (cm³) | 745cc |
| No. of Valves per Cylinder | 4 |
| Bore ´ Stroke (mm) | 77 x 80 |
| Compression Ratio | 10.7:1 |
| Max. Power Output | 40.3kW @ 6,250rpm |
| Max. Torque | 68Nm @ 4,750rpm |
| Oil Capacity | 4.1L |
| FUEL SYSTEM | |
| Carburation | PGM-FI |
| Fuel Tank Capacity | 13.1L |
| Fuel Consumption | 27.5km/l |
| ELECTRICAL SYSTEM | |
| Starter | Electric |
| Battery Capacity | 12V-11.2AH |
| ACG Output | 420W @ 5,000rpm |
| DRIVETRAIN | |
| Clutch Type | Wet multiplate Hydraulic / Wet multiplate Hydraulic Dual clutch (DCT) |
| Transmission Type | 6-speed |
| Final Drive | Chain |
| FRAME | |
| Type | Steel Diamond |
| CHASSIS | |
| Dimensions (LxWxH) | 2245x910x1375 |
| Wheelbase | 1,590mm |
| Caster Angle | 27° |
| Trail | 104mm |
| Seat Height | 820mm |
| Ground Clearance | 162mm |
| Kerb Weight | 238kg |
| Turning radius | 2.8m |
| SUSPENSION | |
| Type Front | Adjustment |
| Type Rear | Prolink with Rear Shock Preload adjustment |
| WHEELS | |
| Rim Size Front | 17 inch |
| Rim Size Rear | 15 inch |
| Tyres Front | 120/70 R17 |
| Tyres Rear | 160/60 R15 |
| BRAKES | |
| ABS System Type | 2 Channel |
| INSTRUMENTS & ELECTRICS | |
| Instruments | Digital |
| Headlight | LED |
| Taillight | LED |
All specifications are provisional and subject to change without notice
** Please note that the figures provided are results obtained by Honda under standardised testing conditions prescribed by WMTC. Tests are conducted on a rolling road using a standard version of the vehicle with only one rider and no additional optional equipment. Actual fuel consumption may vary depending on how you ride, how you maintain your vehicle, weather, road conditions, tire pressure, installation of accessories, cargo, rider and passenger weight, and other factors.
Manufacturer Specifications and appearance are subject to change without prior notice on Total Motorcycle (TMW).