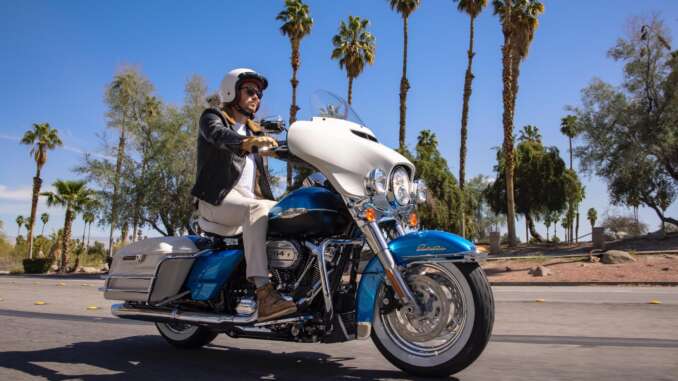 2021 Harley-Davidson Electra Glide Revival: MODERN 1969 CLASSIC.
Introducing the 2021 Harley-Davidson Electra Glide Revival…
Numbered Edition of 1,500
A modern reproduction of the 1969 classic. Loaded with premium technology including Reflex Defensive Rider Systems, Apple Car Play, and powered by a Milwaukee-Eight 114. This unmistakable silhouette recreates that moment in time with tri-tone paint and period correct badging.
NEW HARLEY-DAVIDSON® ICONS COLLECTION CELEBRATES AMERICAN MOTORCYCLE DESIGN
Icons Collection Debuts with Limited-Edition Electra Glide® Revival™ Model
Harley-Davidson today announced its new Icons Collection, an annual program offering very limited edition motorcycle models designed to elevate traditional forms and celebrate Americana, either by revisiting classic Harley-Davidson design themes or by exploring ideas that represent the future of motorcycle style.
The Icons Collection will present one or two models annually, with a single production run for each motorcycle model. Production of that model will never be resumed or repeated. Each Icons Collection motorcycle will be serialized, and the purchaser will receive a certificate of authenticity.
"With The Hardwire, we made a commitment to introduce a series of motorcycles that align with our strategy to increase desirability and to drive the legacy of Harley-Davidson," said Jochen Zeitz, chairman, president and CEO Harley-Davidson. "With that in mind, I am proud to introduce our new limited edition Icons Collection, a series of extraordinary adaptations of production motorcycles which look to our storied past and bright future."
The First of a New Collection
The Harley-Davidson® Icons Collection will debut with the introduction of the Electra Glide® Revival™ model, a retro-classic motorcycle for the nostalgist who longs to ride a bike with style both distinctive and timeless. Global production of the Electra Glide Revival model will be limited to a one-time build of 1,500 serialized examples, scheduled to reach authorized Harley-Davidson dealers in late April, with an MSRP of $29,199.
The look of the Electra Glide Revival model is inspired by the 1969 Electra Glide, the first Harley-Davidson motorcycle available with an accessory "batwing" fairing. The fairing became an iconic – and often imitated – Harley-Davidson styling cue, its shape an instant on-the-road identifier of many Harley-Davidson models and the foundational design of the fairing featured on current models. In 1969, the accessory fairing and saddlebags were only offered in white molded fiberglass, and the Electra Glide Revival replicates that look with a Birch White painted finish. The period-inspired tank medallion and Electra Glide script on the front fender complete the look. The Electra Glide Revival will be offered in a single color scheme inspired by the original 1969 colorway: The two-tone fuel tank in Hi-Fi Blue and Black Denim bisected with a Birch White stripe, with Hi-Fi Blue paint on the fenders and side panels.
"We live in a very dynamic time, each of us experiencing constant change," said Brad Richards, Harley-Davidson vice president of styling and design. "The Electra Glide Revival model is an oasis in this daily turbulence, a way to reconnect with the fundamental Harley-Davidson DNA that created Grand American Touring."
Design highlights of the Electra Glide Revival model include a solo saddle with a black-and-white cover and a chrome rail, mounted over an adjustable coil spring and shock absorber, also a nod to Harley-Davidson FL models from the 1960s and a functional feature that adds rider comfort. Chrome steel laced wheels and wide whitewall tires add to the nostalgic look, as do brilliant chrome on front fender rails and saddlebag rails, front fender skirt, Ventilator air cleaner cover, fork covers, and auxiliary lights. Old school cool never looked so good.
2021 Harley-Davidson Electra Glide Revival Totalmotorcycle.com Key Features
A modern reproduction of the 1969 classic.
Loaded with all of the current technology including Reflex™ Defensive Rider Systems, and Apple CarPlay®, and powered by the Milwaukee-Eight® 114 engine, this unmistakable silhouette recreates that moment in time with tri-tone paint and period correct badging. The first of our new and extremely limited Icons Collection, this is a numbered edition of 1,500 globally.
ICONIC RIDES FOR MODERN TIMES
The Icons Collection
An extraordinary series of motorcycles inspired by some of our most recognizable and sought-after models. Each Icon in the collection will celebrate H-D's signature colors, designs and parts — along with the latest technology. A limited collection, each model will be individually numbered and only produced once. A new Icon will debut annually, with no more than two bikes released in any given year.
2021 Harley-Davidson Electra Glide Revival Totalmotorcycle.com Features and Benefits
Milwaukee Eight® 114
The Electra Glide Revival model is powered by a Milwaukee-Eight 114 V-Twin engine which delivers inspiring performance and classic Harley-Davidson look-sound-feel.
Displacement: 114 cu in (1,868 cc)
Torque: 118 ft. lb. @ 3250 RPM
Four valve cylinder heads (two exhaust and two intake valves per head, eight total); increased airflow through the engine contributes to power output.
Dual spark plugs for more complete combustion of the air/fuel charge and maximized power and efficiency.
6-Speed Cruise Drive® transmission reduces engine RPM at highway speeds to enhance fuel economy and rider comfort.
The Electra Glide Revival offers classic style, but its design and technology is absolutely modern. The foundation of the Electra Glide Revival model is the single-spar Harley-Davidson Touring frame with a rigid backbone design to sustain the weight of luggage and to support current engine power. The entire chassis is designed for the long haul. A single knob hydraulically adjusts the pre-load of emulsion-technology rear shock absorbers for optimal ride and control. The 49mm forks with dual bending valve suspension technology deliver linear damping characteristics for a smooth ride.
The classic Bat Wing fairing features a tall clear windshield and a splitstream vent to help reduce rider head buffeting. Electronic cruise control holds a steady speed for comfort on long rides, while a halogen headlamp and incandescent auxiliary lamps provide outstanding illumination and maintain the nostalgic styling of the Revival model.
A Boom!™ Box GTS infotainment system with color touch screen powers two fairing-mount speakers and features advanced navigation and hand and voice commands (when paired with a compatible headset) plus Android Auto™ application and Apple CarPlay® software compatibility.
Also standard is the suite of Harley-Davidson RDRS Safety Enhancements, a collection of technology designed to match motorcycle performance to available traction during acceleration, deceleration and braking, including:
Cornering Enhanced Anti-Lock Brake System (C-ABS)
Cornering Enhanced Electronic Linked Braking (C-ELB)
Cornering Enhanced Traction Control System (C-TCS)
Drag-torque Slip Control System (DSCS)
Hill Hold Control (HHC)
2021 Harley-Davidson Electra Glide Revival – Totalmotorcycle.com  Specifications/Technical Details
US MSRP Price: $29,199 USD
Canada MSRP Price: $35,299 CDN
Europe/UK MSRP Price: £27,995 GBP (On The Road inc 20% Vat)
DIMENSIONS
Length 94.5 in. (2,400 mm)
Overall Width 37.8 in. (960 mm)
Overall Height 56.7 in. (1,440 mm)
Seat Height, Laden 29.6 in. (752 mm)
Seat Height, Unladen 30.9 in. (785 mm)
Static Ground Clearance 4.5 in. (115 mm)
Rake (steering head) (deg) 26
Fork Angle (deg) 29.25
Trail 6.8 in. (173 mm)
Wheelbase 64 in. (1,625 mm)
Tires, Type Dunlop® Harley-Davidson Series, bias wide whitewall
Tires, Front Model D402F
Tires, Front Specification MT90B16 72H
Tires, Rear Model D407T
Tires, Rear Specification 180/65B16 81H
Fuel Capacity 6 gal. (22.7 l)
Reserve Fuel Capacity, Fuel Injection (warning light) 1 gal. (3.8 l)
Oil Capacity (w/filter) 5.2 qt. (4.9 l)
Transmission Capacity 1 qt. (.95 l)
Primary Chain Case Capacity 1.1 qts. (1 l)
Coolant Capacity N/A
Weight, As Shipped 824 lb. (374 kg)
Weight, In Running Order 862 lb. (391 kg)
Gross Vehicle Weight Rating 1,360 lb. (617 kg)
Gross Axle Weight Rating, Front 500 lb. (227 kg)
Gross Axle Weight Rating, Rear 927 lb. (420 kg)
Luggage Capacity -Volume 2.3 cu ft (0.064 m3)
ENGINE
Engine Milwaukee-Eight™ 114
Valves Pushrod-operated, overhead valves with hydraulic, self-adjusting lifters; four valves per cylinder
Bore 4.016 in. (102 mm)
Stroke 4.5 in. (114 mm)
Displacement 114 cu in (1,868 cc)
Compression Ratio 10.5:1
Fuel System Electronic Sequential Port Fuel Injection (ESPFI)
Air Cleaner Paper, washable
Exhaust 2-1-2 dual exhaust with tapered mufflers
Lubrication System Pressurized, dry-sump with oil cooler
DRIVETRAIN
Primary Drive Chain, 34/46 ratio
Final Drive Belt, 32/68 ratio
Clutch Mechanically actuated 10 plate wet, Assist and Slip
Transmission 6-Speed Cruise Drive®
Gear Ratios 9.593
Gear Ratios 6.65
Gear Ratios 4.938
Gear Ratios 4
Gear Ratios 3.407
Gear Ratios 2.875
CHASSIS
Frame
Mild steel; tubular frame; two-piece stamped and welded backbone; cast and forged junctions; twin downtubes; bolt-on rear frame with forged fender
supports; MIG welded.
Swingarm Mild steel; two-piece drawn and welded section; forged junctions; MIG welded.
Front Fork 49mm Dual Bending Valve
Rear Shocks Premium Low Hand-Adjustable Rear Suspension
Wheels, Optional Style Type N/A
Wheels, Front Type Chrome Steel Laced w/ Custom Whitewall Tires
Wheels, Front Width 3 in. (76 mm)
Wheels, Front Height 17 in. (432 mm)
Wheels, Rear Type Chrome Steel Laced w/ Custom Whitewall Tires
Wheels, Rear Width 5 in. (127 mm)
Wheels, Rear Height 16 in. (406 mm)
Brakes, Caliper Type 32 mm, 4-piston fixed front and rear
Brakes, Rotor Type Dual floating rotors (front), fixed rotor (rear)
Brakes, Front Diameter 11.8 in. (300 mm)
Brakes, Front Thickness 0.2 in. (5.1 mm)
Brakes, Front is dual Yes
Brakes, Rear Diameter 11.8 in. (300 mm)
Brakes, Rear Thickness 0.28 in. (7.1 mm)
Brakes, Anti-Lock Braking System (ABS) Standard
Suspension Travel, Front 4.6 in. (117 mm)
Suspension Travel, Rear 2.15 in. (54.6 mm)
PERFORMANCE
Engine Torque Testing Method J1349
Engine Torque 118 ft-lb (160 Nm) 5
Engine Torque 3,250
Power 97 HP / 72 kW @ 5020 rpm
Lean Angle Testing Method J1168
Lean Angle, Right (deg.) 32
Lean Angle, Left (deg.) 31
Fuel Economy Testing Method Estimated City/Hwy
Fuel Economy 43 mpg (5.5 l/100 km)
ELECTRIC
Battery Sealed, maintenance-free, 12V, 28-amp/hour, 405 cca (per Battery CouncilInternational Rating)
Charging Three-phase, 48-amp system (600W @ 13V, 2000 rpm, 625W max power @ 13V)
Starting 1.6 kW electric with solenoid shift starter motor engagement
Lights (as per country regulation), Headlamp
Dual halogen headlight 55-watt 625 lumen low beam, 65-watt 1,570 lumen
high beam with switchable 26 watt 440 lumen halogen fog lights. Total of 986 lumen output at low beam with fog lights.
Lights (as per country regulation), Tail/Stop 8W/28W
Lights (as per country regulation), Front Signal Lights 8W/28W
Lights (as per country regulation), Indicator Lamps High beam, running lights, directional lights, low oil pressure, neutral, engine
diagnostics, battery, cruise control, accessory, security system, gear 7
Lights, Rear Turn Signals 8W/28W
Gauges Gauges styled to complement each vehicle. Display features odometer, trip A, trip B, range to empty and gear indicator; and larger tell-tale indicators.
Auxiliary Lamps Two @ 30W each (except where prohibited by law)
Electric Power Outlet Electric power accessory port in fairing
GPS System Boom!™ Box 6.5GT audio system with GPS and touchscreen
Reverse Gear N/A
WARRANTY AND SERVICE
Warranty 24 months (unlimited mileage)
Service Interval First 1,000 miles (1,600 km), every 5,000 miles (8,000 km) thereafter
FOOTNOTES
Vehicles depicted may differ from vehicles manufactured and delivered. Specifications and prices listed may differ from specifications and prices of vehicles manufactured and delivered. All product descriptions (including depictions, specifications, dimensions, measurements, ratings and competitive comparisons) are based on available information at the time of publication. Although such descriptions are believed correct, errors and changes can occur and complete accuracy cannot be guaranteed. Harley-Davidson may make changes at any time to prices and specifications, and may change or discontinue models, without notice and without incurring any obligation. Attention: Vehicles in the configurations shown and many of the accessories described in this catalog may not be available for sale or use in some locations. Please check with your dealer for complete product details and the latest information. All models feature 6-speed transmission (VRSC™ models and Sportster® models are 5-speed) and carbon fiber belt final drive; multi-plate clutch with diaphragm spring in oil bath; and 2-year unlimited mileage warranty.
Manufacturer Specifications and appearance are subject to change without prior notice on Total Motorcycle (TMW).