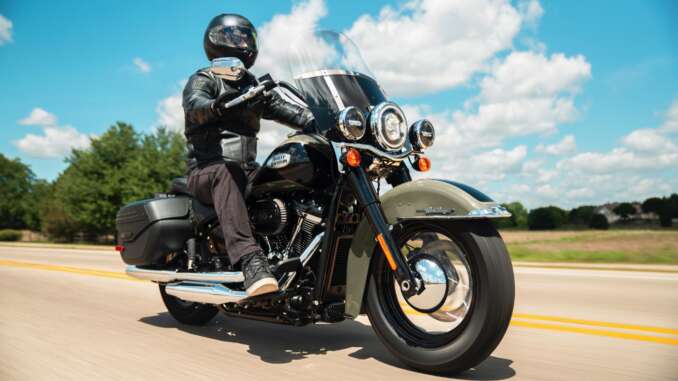 2021 Harley-Davidson Heritage Classic 114: NOSTALGIA AND HERITAGE MIXED.
Introducing the 2021 Harley-Davidson Heritage Classic 114…
The refined finishes, modern edge and reinvigorated ride of the Heritage Classic model take nostalgia ripping into the here and now. The Heritage Classic comes in two finishes from the factory. Make noise with the Milwaukee-Eight 107 with classic chrome style from the engine to the steel laced wheels or the 114 that comes with blacked-out finishes.
All-American vintage style with modern performance; locking vinyl-covered saddlebags, detachable windscreen, chrome steel laced wheels and front hub covers; choice of Milwaukee-Eight 107 engine with chrome styling or Milwaukee-Eight 114 engine with dark styling.
Touring – Go the distance and discover the wide-open world in the most epic way possible.
The quintessential American cruiser. Showstopping vintage details and pure rock and roll style.
2021 Harley-Davidson Heritage Classic 114 Totalmotorcycle.com Key Features
THIS IS THE RIGHT BIKE FOR
Riders ready to chase excitement across state lines
Highway riding with full fenders and detachable windscreen
Milwaukee-Eight® 107 or 114 V-Twin engine and steel laced wheels
Upright riding position
Floorboards
Passenger seat
Saddlebags
Fork mounted fairing
NEW Softail Performance Accessories
 Screamin' Eagle Softail Models High-Flow Exhaust System
The Screamin' Eagle High-Flow Exhaust for Softail models provides bolt-on performance and is optimized for use with Screamin' Eagle Milwaukee-Eight 128/131 Stage IV Kits or the Screamin' Eagle 131 Crate Engine in Softail models. It helps extract maximum horsepower and torque and further boosts performance by reducing exhaust system weight by more than 20 percent compared to the Original Equipment exhaust system. The system is offered in durable Satin Black or Stainless finishes. Designed by Harley-Davidson engineers as part of a Screamin' Eagle system, header length is properly tuned, back pressure is ideal, and restriction is minimized.
Replaces the stock head pipe and mufflers with large-diameter, free-flowing head pipes and matching muffler.
Mandrel-bent and TIG welded stainless steel headers are meticulously assembled with race shop precision for perfect fitment on the motorcycle.
2-into-1 full exhaust system reduces weight and provides serious performance look.
Pre-tapped for stock or wide-band O2 sensors for easy, emissions-compliant installation.
Use the Screamin' Eagle Street Performance Tuner to tune ECM specifically to match performance upgrades.
Fits 2018-later Softail models (except FXDR 114, Fat Boy/114 and Breakout/114). Compliant 49-State, Canada, Australia, and New Zealand. Also fits 2018-20 Softail models sold in Mexico.
Screamin' Eagle Softail Model Milwaukee-Eight Engine Stage III Kits
This Stage III kit has been developed for the Softail motorcycle rider looking for a solid "seat of the pants" increase they can feel every time they roll on the throttle. The bump-up in displacement and compression deliver a significant increase in torque and power over stock.
The Stage III 107CI to 119CI upgrade delivers up to 23 percent more horsepower and 17 percent more torque compared to the Original Equipment engine configuration. The 114CI to 122CI upgrade increases power by up to 15 percent and torque by 13 percent when compared to the Original Equipment engine configuration. The kits are eligible for Custom Coverage under the motorcycle's factory 24-month vehicle limited warranty when dealer-installed by an authorized H-D Dealer within 60 days of vehicle purchase and is otherwise backed by a 12-month limited warranty.
Screamin' Eagle Milwaukee-Eight Engine Stage III 107CI to 119CI Kit – Black Highlighted or Black Non-Highlighted
Screamin' Eagle Milwaukee-Eight Engine Stage III 114CI to 122CI Kit – Black Highlighted
Kits include the following Screamin' Eagle components:
Screamin' Eagle 4.155 Big Bore Bolt-On Cylinders
Screamin' Eagle Forged 11.0:1 High-Compression Pistons and Rings
Screamin' Eagle SE8-447 Torque Cam
Screamin' Eagle High Capacity Tappets
Screamin' Eagle High Performance Cam Bearing
Screamin' Eagle Stage III Timer Cover & Insert
Multi-layer coated Head Gaskets
Cylinder Base and Cam Cover Gaskets
Most necessary gaskets and seals
Kit Features
Factory engineered by Harley-Davidson as a complete performance system.
Delivers increased throttle response throughout the entire RPM range.
Produces flexible roll-on passing power, reducing the need to downshift.
Delivers excellent stop-light to freeway speed on-ramp acceleration.
Patented Big Bore cylinder design permits installation without removing the engine from the motorcycle, saving installation time and cost.
49-State U.S. EPA compliant. Refer to www.H-D.com/Shop for status.
Additional 2021 Softail Models
 Softail Standard: The essential Harley-Davidson cruiser experience: A lean Bobber profile steeped in attitude; classic Vivid Black paint highlighted with gleaming chrome and polished finishes; the most-attainable entry point to Harley-Davidson Big Twin ownership.
 Low Rider S: High bars and horsepower define this performance-first cruiser; premium suspension components are tuned for aggressive riding stoked by the power of a Milwaukee-Eight 114 engine; styling cues inspired by the coastal build scene.
 Softail Slim: A stripped-down, low-slung bobber brings old-school styling into the modern era; black steel laced wheels, tuck-and-roll seat cover, Hollywood handlebar, bobbed fenders.
 Sport Glide™: Power, performance, and versatility; an aggressive factory-custom cruiser outfitted with a detachable fairing and rigid clamshell saddlebags; ideally suited for light touring, cruising or commuting.
 Fat Bob 114: A burly street-eating muscle machine; inverted race-style forks, dual front disc brakes, 2-1-2 performance exhaust, Milwaukee-Eight 114 power; a cruiser that thinks it's a sport bike.
 Heritage Classic: All-American vintage style with modern performance; locking vinyl-covered saddlebags, detachable windscreen, chrome steel laced wheels and front hub covers; choice of Milwaukee-Eight 107 engine with chrome styling or Milwaukee-Eight 114 engine with dark styling.
Note: The Low Rider, Deluxe and FXDR™ 114 models will not be produced for 2021; the Breakout 114 will be available only in some international markets.
2021 Harley-Davidson Heritage Classic 114 Totalmotorcycle.com Features and Benefits
MILWAUKEE-EIGHT® BIG TWIN ENGINE
A powerful, cool-running engine with crisp throttle response and a pure, soul-satisfying rumble.
SOFTAIL® FRAME
The frame retains the classic Softail® lines, but its lightweight design and stiffness translate to a responsive ride unlike anything you've felt before.
A DARK CLASSIC WITH MODERN EDGE
Dripping with gangster-era style and vintage details. If Bonnie and Clyde rode a Harley® motorcycle, this would be the one.
SIGNATURE LED FORWARD LIGHTING
Darkness-defying lighting that gives you great visibility at night.
LOCKABLE AND SEALED SADDLEBAGS
A sleek look on the outside and roomy on the inside with enough space to stash your riding essentials. The lids open with one touch.
DETACHABLE WINDSCREEN
Go from touring to cruising in a heartbeat. Leave the screen on for a clean envelope of air over the long haul. Or remove it in seconds for a completely new look and ride.
HIGH PERFORMANCE REAR MONO SHOCK
Easily adjustable mono-shock rear suspension allows for dynamic cornering capability while preserving the hardtail look.
One look at the Low Rider S is all it takes to see how far the Softail family has come. It's the latest in a new revolution of custom motorcycles we launched in 2018. With every Softail, you get a lighter frame, responsive new suspension, and the power of the Milwaukee-Eight v-twin engine. In keeping with the custom tradition, each model has its own attitude and style. Ranging from the blacked-out nostalgia of the Heritage Classic to the futuristic edge of the Fat Bob models. Find the one that fits your style. You're in for one hell of a ride.
2021 Harley-Davidson Heritage Classic 114 – Totalmotorcycle.com  Specifications/Technical Details
US MSRP Price: $ 20449 to 21199 USD
Canada MSRP Price: $ 25799 to 26649 CDN
Europe/UK MSRP Price: £ 20995 to 21745GBP (On The Road inc 20% Vat)
USA PRICING
VIVID BLACK
$20,449
COLOR
$20,849
TWO-TONE
$21,199
ABS OPTION
Standard
SECURITY OPTION
Standard
CRUISE CONTROL OPTION
Standard
CALIFORNIA EMISSIONS
$200
FREIGHT
$390
Canadian PRICING
VIVID BLACK
$25,799
COLOUR
$26,249
TWO-TONE
$26,649
ABS OPTION
Standard
SECURITY OPTION
Standard
CRUISE CONTROL OPTION
Standard
UK PRICING
VIVID BLACK
£20,995
COLOUR
£21,345
TWO-TONE
£21,745
ABS OPTION
Standard
SECURITY OPTION
Standard
Model

FLHCS Heritage Classic 114
Notes
Dimensions
Length
95.1 in. (2,415 mm)
Overall Width
36.6 in. (930 mm)
Overall Height
53.9 in. (1,370 mm)
Seat Height, Laden
26.3 in. (668 mm)
2
Seat Height, Unladen
26.8 in. (680 mm)
Ground Clearance
4.7 in. (120 mm)
Rake (steering head) (deg)
30
Fork Angle (deg)
30
Trail
5.5 in. (140 mm)
Wheelbase
64.2 in. (1,630 mm)
Tires, Type
Dunlop® Harley-Davidson Series, bias blackwall front and rear
Tires, Front Model
D401F
Tires, Front Specification
130/90B16,73H,BW
Tires, Rear Model
D401T
Tires, Rear Specification
150/80B16,77H,BW
Fuel Capacity
5 gal. (18.9 l)
Reserve Fuel Capacity, Fuel Injection (warning light)
1 gal. (3.8 l)
Oil Capacity (w/filter)
5 qt. (4.7 l)
Transmission Capacity
1 qt. (.95 l )
Primary Chain Case Capacity
1.25 qt. (1.18 l )
Coolant Capacity
N/A
Weight, As Shipped
697 lb. (316 kg)
Weight, In Running Order
728 lb. (330 kg)
Gross Vehicle Weight Rating
1,160 lb. (526 kg)
Gross Axle Weight Rating, Front
450 lb. (204 kg)
Gross Axle Weight Rating, Rear
730 lb. (331 kg)
Luggage Capacity -Volume
1.5 cu ft (0.043 m3)
Engine
Engine
Milwaukee-Eight® 114
Valves
Pushrod-operated, overhead valves
with hydraulic, self-adjusting lifters;
four valves per cylinder
Bore
4.016 in. (102 mm)
Stroke
4.5 in. (114 mm)
Displacement
114 cu in (1,868 cc)
Compression Ratio
10.5:1
Fuel System
Electronic Sequential Port Fuel Injection (ESPFI)
3
Air Cleaner
Ventilator intake with fiberglass media, washable exposed element with rain sock
Exhaust
2-into-2 shorty dual; catalyst in muffler
Lubrication System
Pressurized, dry-sump with oil cooler
Drivetrain
Primary Drive
Chain, 34/46 ratio
Final Drive
Belt, 32/66 ratio
Clutch
Mechanical, 10 plate wet, assist & conventional
Transmission
6-Speed Cruise Drive®
Gear Ratios (overall) 1st
9.311
Gear Ratios (overall) 2nd
6.454
Gear Ratios (overall) 3rd
4.793
Gear Ratios (overall) 4th
3.882
Gear Ratios (overall) 5th
3.307
Gear Ratios (overall) 6th
2.79
Chassis
Frame
Mild steel, tubular frame; rectangular section backbone; stamped, cast, and forged junctions; MIG welded; aluminum forged fender supports
Swingarm
Mild steel, tubular sections, stamped x-member, forged axle junctions; MIG welded; removable belt spacer
Front Fork
Dual-bending valve 49 mm telescopic with aluminum fork triple clamps; dual rate spring; "beer can" covers
Rear Shocks
Hidden, free piston, coil-over monoshock; 56mm stroke; hydraulic preload adjustment
Wheels, Front Type
Gloss Black, Steel Laced
4
Wheels, Front Width
3 in. (76 mm)
Wheels, Front Height
16 in. (406 mm)
Wheels, Rear Type
Gloss Black, Steel Laced
4
Wheels, Rear Width
3 in. (76 mm)
Wheels, Rear Height
16 in. (406 mm)
Brakes, Caliper Type
4-piston fixed front and 2-piston floating rear
Brakes, Rotor Type
Solid, uniform expansion rotors
Brakes, Front Diameter
11.8 in. (300 mm)
Brakes, Front Thickness
0.2 in. (5 mm)
Brakes, Front is dual
No
Brakes, Rear Diameter
11.5 in. (292 mm)
Brakes, Rear Thickness
0.23 in. (5.8 mm)
Brakes, Anti-Lock Braking System (ABS)
Standard
Suspension Travel, Front
5.1 in. (130 mm)
Suspension Travel, Rear
4.4 in. (112 mm)
Performance
Engine Torque Testing Method
J1349
Engine Torque
119 ft-lb (161 Nm)
5
Engine Torque (rpm)
3,000
Lean Angle Testing Method
J1168
Lean Angle, Right (deg.)
27.3
Lean Angle, Left (deg.)
28.5
Fuel Economy Testing Method
Estimated City/Hwy
Fuel Economy
47 mpg (5 l/100 km)
6
Electric
Battery
Sealed, maintenance-free, absorbed glass mat (AGM) battery, 12V, 17.5Ah, 310 CCA at 0°F
Charging
Three-phase, 42 Amp system (390 Watts @13 Volts, 1000 rpm, 546 Watts max power @ 13 Volts, 2000 rpm)
Starting
1.6 kW electric with solenoid shift starter motor engagement
Lights (as per country regulation), Headlamp
All LED, low beam, high beam and signature position lamp
Lights (as per country regulation), Tail/Stop
Incandescent Zeppelin tail lamp
Lights (as per country regulation), Front Signal Lights
Incandescent bullets
Lights (as per country regulation), Indicator Lamps
High beam, turn signals, neutral, low oil pressure, engine diagnostics, auxilary lighting, cruise, ABS, security, low battery voltage, low fuel
7
Lights, Rear Turn Signals
Incandescent bullet light bar
Gauges
5-inch analog speedometer with digital gear, odometer, fuel level, clock, trip, range and tachometer indication
Auxiliary Lamps
LED fog
Electric Power Outlet
USB A-type; output 5V at 2.4A
GPS System
N/A
Reverse Gear
N/A
Warranty And Service
Warranty
24 months (unlimited mileage)
8
Service Interval
First 1,000 miles (1,600 km), every 5,000 miles (8,000 km) thereafter
9
Footnotes 1Vehicles depicted may differ from vehicles manufactured and delivered. Specifications and prices listed may differ from specifications and prices of vehicles manufactured and delivered. All product descriptions (including depictions, specifications, dimensions, measurements, ratings and competitive comparisons) are based on available information at the time of publication. Although such descriptions are believed correct, errors and changes can occur and complete accuracy cannot be guaranteed. Harley-Davidson may make changes at any time to prices and specifications, and may change or discontinue models, without notice and without incurring any obligation. Attention: Vehicles in the configurations shown and many of the accessories described in this catalog may not be available for sale or use in some locations. Please check with your dealer for complete product details and the latest information. All models feature 6-speed transmission (VRSC™ models and Sportster® models are 5-speed) and carbon fiber belt final drive; multi-plate clutch with diaphragm spring in oil bath; and 2-year unlimited mileage warranty. 2Measurement reflects 180 lb. (81.7 kg) operator weight. 3Recommended 91 octane or higher fuel (R+M)/2. 4Standard and optional wheels may vary by country and region. 5Values shown are nominal. Performance may vary by country and region. 6The combined fuel economy numbers were derived using a combination of estimated city and highway values. Fuel economy estimates are derived from US EPA exhaust emission certification data on a sample motorcycle from the corresponding family under ideal laboratory conditions. Your actual fuel economy will vary depending on your personal riding habits, road and driving conditions, vehicle condition and maintenance, tire pressure, vehicle configuration (parts and accessories), and vehicle loading (cargo, rider and passenger weight). Break-in mileage may vary. 7North America security system includes immobilizer; outside North America the security system includes immobilizer and siren. 8See motorcycle owner's manual for complete details. 9Inspections of certain systems and components are required at 2,500 mile (4,000 km) intervals. See Owner's Manual for full details.
Manufacturer Specifications and appearance are subject to change without prior notice on Total Motorcycle (TMW).