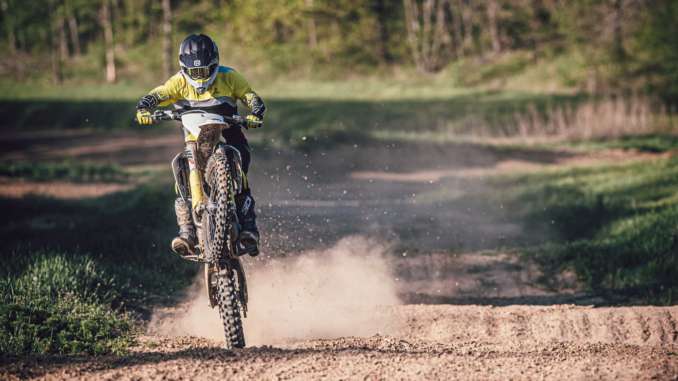 2021 Husqvarna FC450 : MASTERSTROKE.
Introducing the 2021 Husqvarna FC450…
The pinnacle of Husqvarna motocross, the FC 450 uses advanced engineering techniques to not only draw 63 hp from the 450cc motor, but also position the engine shaft arrangements at the ideal centre of gravity to vastly benefit handling and manoeuvrability. The addition of launch control means perfect acceleration off the line, while class-leading ergonomics and traction control keep the rider in full control.
The SOHC cylinder head is incredibly compact and lightweight using a short profile with the camshaft located as close to the centre of gravity as possible, significantly improving handling and agility. The lightweight valves are actuated via a rocker arm and feature timing specifically designed to deliver precise levels of torque and throttle response.
Mass centralisation – advanced handling and reliability
Performance – 63 hp at only 27.3 kg
For the FC 450, the new Husqvarna Motorcycles app allows to adjust engine settings according to a rider's personal preferences.
Among the list of several adjustment options the highlights are the two main Engine modes, Prime and Advanced which allow riders of all levels to fine-tune their engine's performance according to their riding requirements and track conditions. Both the Prime and Advanced mode give recommendations to support riders in choosing an appropriate EFI mapping. Depending on the mode, the rider can then adjust the Engine Brake, Throttle Response, Traction- and Launch Control.
Customisable EFI mapping – alter engine characteristics according to conditions and rider preference
Traction Control – optimal traction in all conditions
Launch Control – maximum traction for perfect starts
Husqvarna Motorcycles North America, Inc. is pleased to announce the launch of the new MY21 motocross range, highlighting nine true-performance minibikes and full-sized motorcycles, in addition to three cross-country machines that all deliver superior riding experiences. Featuring the latest technological advancements, all machines ensure uncompromised power-to-weight, leading ergonomics and aesthetics.
For 2021 Husqvarna Motorcycles has focused on further improving suspension performance and handling by adding new hardware to the WP XACT forks with AER technology including a new mid-valve damping system for increased rider comfort on landings, as well as reducing pressure peaks for consistent damping performance. Additionally, new low-friction linkage seals offer refined suspension response on the WP XACT shock.
Delivering minimal weight, ease of handling and the highest levels of performance, Husqvarna Motorcycles' TC and TXi lineup features the latest 2-stroke technology with class-leading power and unrivaled attention-to-detail. Advanced ergonomics and modern bodywork combine to ensure all TC and TXi machines offer superior on-track comfort and control in all riding conditions.
Engineered to keep ahead of the field, Husqvarna Motorcycles' 4-stroke models feature compact and modern engines with internal shaft arrangements at the ideal center of gravity to notably benefit handling and maneuverability. At the top of the range, the powerful and smooth FC 450 engine has been enhanced with several new internal pieces as well as revised mapping to keep it running at the front of the pack. Modern electronics and launch control throughout the lineup ensure perfect acceleration. Accompanying the launch of the 2021 motocross range is the new Husqvarna Motorcycles app and Connectivity Unit, coming to the Technical Accessories lineup this summer. The app enables riders to adjust their FC's engine mapping and gives recommendations for the optimum suspension setting. Additionally, it allows for precise customization and personalization, while improving overall rideability.
The latest motocross and cross-country lineup features all-new Swedish inspired graphics, giving Husqvarna Motorcycles' latest TC/FC and TX/FX models a fresh and vibrant 'three-color' look.
New Technical Accessory Husqvarna Motorcycles app and Connectivity Unit allows adjustment to engine mappings and gives suspension set-up recommendations on all FC models
New mid-valve damping system WP XACT forks with AER technology
New 10 mm shorter fork cartridges and outer tubes (TC/FC)
The WP XACT shock features new low-friction linkage seals
New seat cover texture
Striking new electric yellow and dark blue graphics
Progressive bodywork for optimal ergonomics
Chromium-molybdenum steel frame featuring precisely engineered flex characteristics
Innovative 2-piece composite subframe design
Interchangeable airbox cover on FC models for optimized airflow
CNC-machined triple clamps
MAGURA hydraulic clutch system offering perfect action in every condition
Brembo brake system and high-performance discs combining superior stopping power with great control and confidence (FC/TC)
MAGURA brake system is specifically tailored for cross-country riding and delivers a sensitive and modulated feel (FX/TX)
Traction and launch control with advanced settings (4-strokes)
Electric starter for easy starting when time is critical
Lightweight Li-ion 2.0 Ah battery
ProTaper handlebar
Progressive throttle mechanism and ODI grips allow for adjustable throttle progression and easy grip mounting
Laser engraved D.I.D. wheels
21" front and 18" rear wheels (TX/FX)
Gearboxes produced by Pankl Racing Systems
2021 Husqvarna FC450 Totalmotorcycle.com Features and Benefits
Performance
Powerful engine
The SOHC cylinder head is incredibly compact and lightweight using a short profile with the camshaft located as close to the center of gravity as possible, significantly improving handling and agility. The lightweight valves are actuated via a rocker arm and feature timing specifically designed to deliver precise levels of torque and throttle response.
INTERCHANGABLE AIRBOX COVER
Designed with precisely positioned inlet ducts aimed at reducing drag and air flow deformation, the airbox ensures unrestricted airflow with maximum filter protection. The TWIN AIR filter is easily accessed without tools, by simply removing the left side panel for easy maintenance. Offering further performance customisation, the FC 450 is delivered with an additional airbox cover that can be changed without the use of any tools for a sharper throttle response according to rider preference or track conditions.
Lightweight frame
The chromium molybdenum steel frame harnesses advanced geometries and flex characteristics aimed at providing unparalleled rider feedback, energy absorption and exceptional straight-line stability. The frame is finished off in a premium blue powder coating with standard frame protectors for superior protection and durability.
Carbon fiber subframe
The use of carbon fiber strips away weight, improving weight distribution and bringing weight closer to the center of gravity for precise handling. The composition of the material is 30% carbon fiber and the overall 3-piece construction is remarkably light but also very strong for an overall weight of 3.1 pounds. Additionally, a specific rigidity has been calculated in the component for optimal handling and rider ergonomics.
Components
Crankshaft
The crankshaft is specifically positioned to harness the rotating mass in the ideal centre of gravity resulting in a lightweight and agile handling feel. As such, the inertia produced by the crankshaft is carefully calculated to deliver optimal traction and rideability from the powerful 450cc plant. A plain big end bearing comprising of two force-fitted bearing shells ensure maximum reliability and durability, guaranteeing long service intervals of 100 hours.
CNC machined triple clamps
The 22 mm offset CNC-machined triple clamps feature an integrated rubber damping system that reduces vibration and increases rider comfort. The triple clamps have been meticulously designed to evenly distribute the clamping force on the fork leg, maximizing contact area for optimal sensitivity and minimal friction and offering superior handling and stability. Additionally, the front number board integrates a triple clamp roost protector.
Magura hydraulic clutch
The reliable, high quality, German-made clutch system guarantees even wear, near maintenance-free operation and perfect modulation in every condition. Meaning that play is constantly compensated so that the pressure point and function of the clutch remain identical in hot or cold conditions, as well as over time.
DDS clutch
The FC 450 features a Dampened Diaphragm Steel clutch, which includes a single-diaphragm steel pressure plate instead of traditional coil springs. It integrates a damping system for better traction and durability. The clutch basket is a single-piece CNC-machined steel component that allows the use of thin steel liners and contributes to the compact design of the engine.
Control
Functional bodywork
Clean, Swedish-inspired design and ergonomics are tailored to deliver exceptional comfort and control, enabling riders to perform at the highest level for extended periods of time. Adapted after countless hours of testing, the contact points are specifically positioned to allow seamless movement around the motorcycle.
WP XACT SUSPENSION
The 48 mm split air fork features a capsulated air spring and pressurized oil chamber for progressive and consistent damping. Extended oil and air bypasses reduce pressure peaks and new 10mm shorter cartridges and outer tubes provide refined rigidity. In combination with a new midvalve damping system, the fork provides exceptional feedback and rider comfort. The setting is easily adjusted via the single air pressure pre-load valve, as well as through easy access click adjusters for compression and rebound. Additionally, the air pump needed to adjust the fork's air pressure is provided as standard. Together with the fully adjustable WP XACT rear shock, Husqvarna offers superior suspension performance, feeling and comfort.
Wheels and tyres
Made from high-strength alloy rims by D.I.D and featuring CNC-machined hubs, the wheels of the FC 450 are fitted with DUNLOP MX33 Motocross tyres with proven "block-within-a-block" design for more progressive cornering and superior grip.
BRAKES
The highest level of quality is guaranteed with class-leading Brembo callipers and controls. The 260 mm front and 220 mm solid rear discs deliver superior stopping power instilling confidence in any condition.
Electronics
Map switch
Optimized for easy operation, the map switch selects between two engine maps, operates launch control and activates a traction control feature. Traction control works by analyzing throttle input from the rider and the rate at which the RPM increases. If the RPM increases too quickly, the EMS will register a loss of grip and reduce the amount of power to the rear wheel ensuring maximum traction.
Engine management system
The KEIHIN EMS is designed to be small, lightweight and fast at processing data. It integrates launch control for perfect starts, selectable engine maps via the switch on the handlebar as well as traction control.
44 mm throttle body
The FC 450 features a 44mm Keihin throttle body. The injector is positioned to ensure the most efficient flow into the combustion chamber while to ensure optimal throttle response the throttle cable is mounted directly without a throttle linkage providing more immediate throttle response and feeling.
Electric start and Li-Ion battery
Along with the benefit of an easy electric starting system, a lightweight Li-Ion 2.0 Ah battery is fitted to the FC 450. The Li-Ion battery weighs approx. 1 kg less than a conventional lead battery meaning the convenience of electric starting is delivered while keeping overall weight to a minimum.
2021 Husqvarna FC450 – Totalmotorcycle.com Specifications/Technical Details
US MSRP Price: $10299 USD
Canada MSRP Price: $11749 CDN
Europe/UK MSRP Price: £ See Dealer for Pricing in GBP (On The Road inc 20% Vat)
| | |
| --- | --- |
| ENGINE | |
| Engine type | Single cylinder, 4-stroke |
| Displacement | 449.9 cc |
| Bore/stroke | 95/63.4 mm |
| Compression ratio | 12.75:1 |
| Starter/battery | Electric starter / Lithium Ion 12,8V 2Ah |
| Transmission | 5 gears |
| Fuel system | Keihin EFI, throttle body 44 mm |
| Control | 4 V / SOHC with rocker levers |
| Lubrication | Pressure lubrication with 2 oil pumps |
| Gear ratios | 16:32  18:30  20:28  22:26  24:24  – |
| Primary ratio | 31:76 |
| Final drive | 13:49 |
| Cooling | Liquid cooling |
| Clutch | Wet multi-disc DDS-clutch, MAGURA hydraulics |
| Ignition / Engine Management | Keihin EMS |
| CHASSIS | |
| Frame | Central double-cradle-type 25CrMo4 steel |
| Subframe | Carbon fibre reinforced polyamide |
| Handlebar | ProTaper, Aluminium Ø 28/22 mm |
| Front suspension | WP XACT-USD, Ø 48 mm |
| Rear suspension | WP XACT Monoshock with linkage |
| Suspension travel front/rear | 300/300mm |
| Front/rear brakes | Disc brake Ø 260/220 mm Brembo |
| Front/rear rims | 1.60 x 21″; 2.15 x 19″ DID |
| Front/rear tyres | 80/100-21″; 120/90-19″ |
| Chain | 5/8 x 1/4″ |
| Silencer | Aluminium |
| Steering head angle | 63.9° |
| Triple clamp offset | 22 mm |
| Wheel base | 1,485 ± 10 mm |
| Ground clearance | 370 mm |
| Seat height | 940 mm |
| Tank capacity, approx. | 7 l |
| Weight, without fuel, approx. |  101 kg |
Manufacturer Specifications and appearance are subject to change without prior notice on Total Motorcycle (TMW).