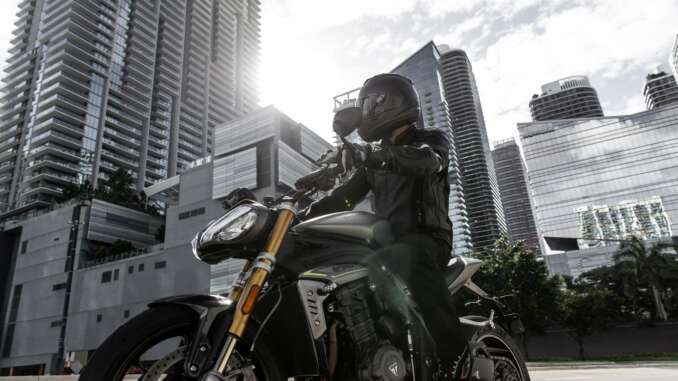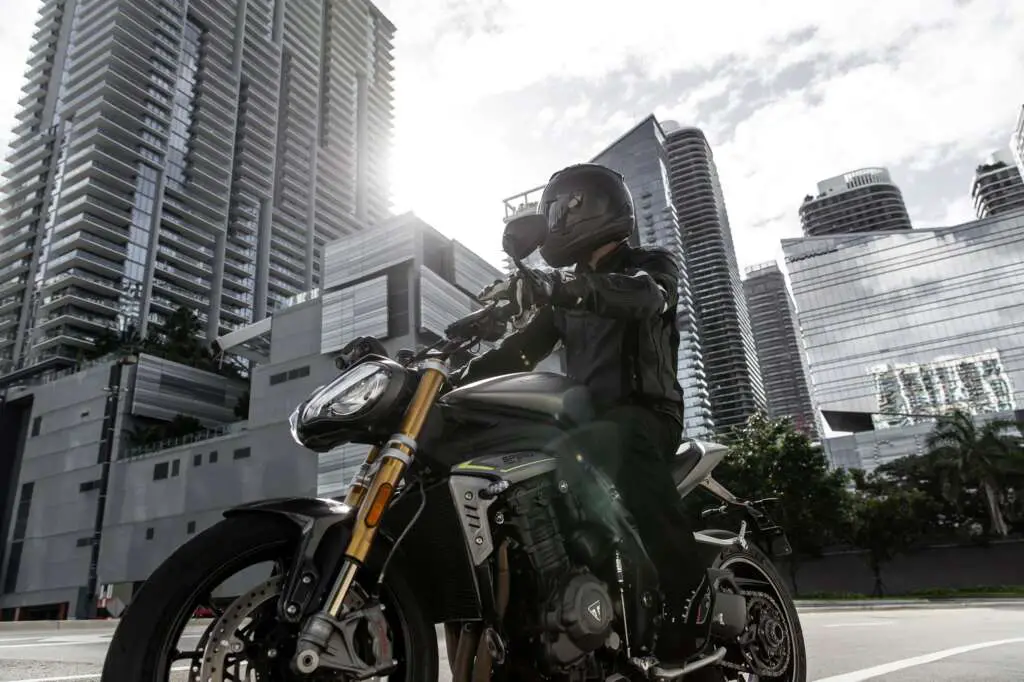 Introducing the new 2021 Triumph Motorcycle Guide
New Bike Reviews, Huge Photos, Full Specifications. Get it all at Total Motorcycle with the 2021 Triumph Motorcycle Guide.
Rocket 3
The new Rocket 3 motorcycle range is in a class of its own, with truly imposing muscular presence and magnificent style.
– 2021 Triumph Rocket 3R – Revised
– 2021 Triumph Rocket 3R Black – New model
– 2021 Triumph Rocket 3GT – Revised
– 2021 Triumph Rocket 3GT Triple Black – New model
Roadsters
Triple engine roadsters are precision-engineered for maximum everyday fun.
– 2021 Triumph Speed Triple 1200 RS – New model
– 2021 Triumph Trident 660 – New model
– 2021 Triumph Trident Prototype – New model (August Version)
– 2021 Triumph Trident Concept – New model (September Version)
Modern Classics
Legendary in every sense of the word with an unparalleled history of performance, racing success and cultural impact.
– 2021 Triumph Speed Twin – New model
– 2021 Triumph Street Twin – New model
– 2021 Triumph Street Twin Gold Line – New model
– 2021 Triumph Bonneville Bobber – New model
– 2021 Triumph Bonneville Speedmaster – New model
– 2021 Triumph Bonneville T100 – New model
– 2021 Triumph Bonneville T120 Black – New model
– 2021 Triumph Bonneville T120 – New model
– 2021 Triumph Scrambler 1200 Steve McQueen Edition – New model
– 2021 Triumph Scrambler 1200XE – New model
– 2021 Triumph Scrambler 1200XC – New model
Adventure
Open up a world of adventure, with motorbikes built to go the distance.
– 2021 Triumph Tiger 850 Sport – New model
Electric Bikes
Triumph's passion for two-wheeled performance and riding fun brings together for the very first time the latest in e-drive bicycle technology.
– 2021 Triumph Trekker GT – New model
Prototype Motorcycles
An Exciting new chapter for Triumph
– 2021 Triumph Trident Prototype – New model (August Version)
– 2021 Triumph Trident Concept – New model (September Version)
– 2021 Triumph TE-1 – New model
From the manufacturer – 2021 Triumph Motorcycle Guide
ALL-NEW TRIUMPH TRIDENT 660: TRIPLE THE ADVANTAGE
The Trident 660 enters the middleweight roadster category with an exciting all new motorcycle, designed to deliver three significant advantages. From its unique triple engine performance advantage, to its class-leading technology and handling, and its incredibly competitive price, the Trident 660 introduces a whole new dimension to a new generation of Triumph riders.
A whole new dimension of fun, performance and style

Joining Triumph's award-winning Roadster line up, home of the category defining Street Triple RS, Speed Triple RS, and Moto2 race engine programme.
The Trident 660 combines triple engine performance, pure and minimalistic lines, and class-leading technology to deliver pure riding pleasure

Triple engine performance advantage

Perfect combination of punchy linear power and torque, low down
and across the whole rev range.
81PS peak power @ 10,250rpm and 64Nm peak torque @ 6,250rpm,
plus 90% of peak torque available across most of the rev range
Slip and assist clutch
Unique triple sound
A2 licence conversion kit available

Class-leading technology, fitted as standard

Class leading features:

Road and Rain riding modes
Switchable traction control (integrated into the riding modes)
Ride by wire throttle

High specification features include:

All-new multi-functional instruments with colour TFT display, with Accessory fit "My Triumph" Connectivity System
All-LED lighting
ABS
A WHOLE NEW DIMENSION FOR A NEW GENERATION OF TRIUMPH RIDERS
The all-new Triumph Trident 660 marks the beginning of a new chapter for the Triumph Roadster segment and competes in what is now one of the most dynamic and exciting categories in motorcycling. Its minimal design, combined with class-leading technology and a new 660cc triple powertrain, constitute the perfect combination for a new generation of riders to enter the Triumph world, with a motorcycle that provides class leading riding agility, thrilling performance, enhanced by state-of-the-art safety features, and an iconic and modern British design.
TRIPLE PERFORMANCE ADVANTAGE
The new 660 triple engine delivers all the character and performance advantages of a triple to the middle-weight category for the first time, and has been developed specifically for the Trident with 67 new components and a unique torque and power rich tune.
The best of all worlds
The Trident rider will experience the perfect balance of low-down torque, mid-range and top-end power, with the triple's signature smooth, responsive and linear delivery. The result is an engine that has been designed to combine the low down and mid-range of a twin, with the top end performance of a four-cylinder engine, to deliver a major performance advantage with the best of all worlds.
Trident power and torque
The all-new 660 triple engine has been designed for maximum performance usability in everyday conditions thanks to its perfectly balanced character.
All Trident riders will benefit from a punchy and linear power and torque delivery, with peak power of 81PS at 10,250 rpm and over 90% of the maximum torque being available across most of the rev range, peaking at 64Nm at 6,250rpm.
DESIGNED TO DELIVER BEST-IN-CLASS HANDLING
With a set-up and specification designed to set a new benchmark for handling, the new Trident delivers a confidence-inspiring, agile and fun ride, with a light steering weight, low seat height and slim width. Combining a wet weight of just 189kg, all-new tubular steel chassis, an ergonomic set-up designed to suit both experienced and new riders, lightweight 17'' aluminium spoke wheels and tapered aluminium bars, the Trident is as great to ride as it is to look at.
CATEGORY-LEADING TECHNOLOGY AS STANDARD
Further enhancing its incredible value for money and class leading safety set-up the Trident features an unparalleled standard of rider focused technology.
Multi-functional instruments with TFT display
The Triumph Trident is equipped with an elegantly styled all-new dashboard providing the rider with all necessary information in a compact, clean and uncluttered style through a colour TFT screen integrated with a crystal clear 'white-on-black' LCD display. The instruments, when implemented with the dedicated My Triumph Connectivity System accessory module, can also provide turn-by-turn navigation, GoPro control and phone and music control, all via Bluetooth, using the handlebar mounted switch cubes.
Category-leading standard fit electronics
Designed to deliver maximum riding pleasure and confidence the new Trident comes fitted as standard with three class leading technology features: with 2 riding modes, adjustable traction control and ride-by-wire. The 'Road' and 'Rain' riding modes enhance the rider's confidence, control and safety through the electronic adjustment of both the throttle map and traction control. The adjustment of the throttle map is made possible by the ride-by-wire technology that provides crisp and precise throttle response. The power of the 660 Triple Engine is managed by the switchable traction control, integrated in both riding modes, and this can also be disengaged directly through the instrument menu. Additionally, the power of the Nissin braking system is made even smoother and safer thanks to ABS, which the Trident 660 also features as standard.
UNIQUE NEW TRIDENT CHARACTER AND STYLE 
The new Trident 660 introduces a unique contemporary Triumph roadster style and character with a pure, minimalist stance and clean lines, bringing together Triumph's iconic design DNA, with more than a hint of our Speed Triple's muscular poise.
Unique Trident features
The distinctive look of the new Triumph Trident 660 is characterised by a host of unique features including a 14L fuel tank, with a new contemporary design style and Triumph's signature knee cut-outs. Lightweight cast aluminium five-spoke wheels add an aggressive look to the bike thanks to their black sporty design. The Trident's elegant new swingarm and clean and light rear design amplifies the distinctive styling with a minimal number plate hanger integrated with the rear indicators.

Exceptional fit and finish
As with every Triumph motorcycle, the attention to detail and finishing has been crafted to set the benchmark for quality. From the body coloured radiator cowls, to the sculptured aluminium yokes, body coloured fork protectors, tapered aluminium handlebars and teardrop shape mirrors, the Trident's detailing, quality and finish is outstanding.  the 45 options available have been designed alongside the Trident and come with a 2 year unlimited milage warranty.
INCREDIBLE VALUE
The Trident not only comes with class-leading technology, category-redefining rideability and a new Triumph iconic style, but it also brings an incredible value and a cost of ownership among the lowest in the premium motorcycle market.
Class leading 10,000 miles / 16.000 km service interval
The new Trident 660 comes with a class-leading service interval, which at 10,000 miles / 16,000 km is between 25% and 65% higher than the main competitors in the middle-weight roadster category – delivering incredible value to the customer and a much lower ongoing cost of ownership.
Manufacturer Websites – 2021 Triumph Motorcycle Guide
Triumph