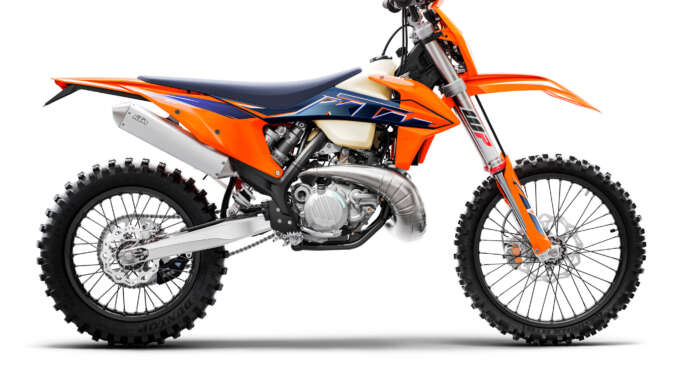 2022 KTM 250 XC-W TPI: RACE TO NEW HEIGHTS.
Introducing the 2022 KTM 250 XC-W TPI…
The KTM 250 XC-W TPI is the ultimate combination of power and rideability and sets a clear benchmark for intuitive handling, unique style and top performance. Thanks to its groundbreaking TPI technology, this extreme machine continues to reach new heights, clearly demonstrating KTM's unrelenting commitment to 2-stroke development. Besides the renowned benefits of excellent fuel efficiency, clean exhaust emissions and the removed need for jetting, the KTM 250 XC-W TPI features a dynamic, lightweight frame. It was developed with feedback from factory riders and in hindsight, returns the favor by offering excellent rider feedback.
2022 KTM 250 XC-W TPI Totalmotorcycle.com Features and Benefits
Engine & Exhaust
Exhaust
There's more to it than 'braaaap!'. The exhaust plays a key role in packing that signature 2-stroke punch. The KTM 250 XC-W TPI models feature heavy-duty exhaust headers made using an innovative 3D stamping process that produces a ribbed surface finish. This makes the pipe much stronger, with better impact resistance, while also helping to reduce noise.
Engine
The 250cc 2-stroke engine has plenty of power and torque but remains light enough for riders to muscle their way through the toughest obstacles. Thanks to state-of-the-art engineering, innovative 2-stroke design, and revolutionary TPI fuel injection technology, and a 13:52 re-gear, the powerplant is even more refined than ever before. The compact and lightweight 2-stroke is a great choice for offroad riders who want usable enduro performance that is ready to conquer in the most extreme terrain.
Cylinder
The cylinder on the KTM 250 XC-W TPI has a bore of 72 mm and is fitted with a sophisticated power valve, providing ultra-smooth and controllable power characteristics. Being fuel-injected, the cylinder features two lateral domes which hold the fuel injectors, supplying fuel to the rear transfer ports. The downstream injection guarantees excellent atomization of the fuel with the upstreaming air. Thus, the loss of unburnt fuel is minimal for fewer emissions, more efficient combustion, and reduced fuel consumption. The cylinder also features a state-of-the-art power valve unit with a sophisticated mechanism for the lateral support exhaust ports. The exhaust port layout increases engine performance, while the upper contour of the exhaust port has been machined to ensure more accurate port timing.
Crankcases and engine covers
These compact engine cases are manufactured using a high-pressure die-cast production process which helps with weight reduction but maintains strength and durability. This design also allows for optimal shaft arrangements close to the center of gravity, resulting in ideal mass centralization and ride-ability.
Transmission
The robust 6-speed transmission made by PANKL Racing Systems features an Enduro-specific wide-ratio specification and provides precise and easy shifting. An advanced ´No Dirt´ gear shift lever design prevents mud and dirt from blocking the joint. Because even dirt lovers hate mud when it's in the wrong places.
Engine management system
The engine management system (EMS) of all 2-stroke XC-W TPI models features a control unit located below the seat. The ECU defines the ignition timing while the amount of fuel to inject is based on several sensor readings such as intake air pressure, throttle position, water temperature , and ambient air pressure. Thanks to altitude and temperature compensation, re-jetting is a thing of the past, meaning more time twisting throttles and less time turning screws. Should the rider decide to mount a radiator fan from the KTM PowerParts, it will be controlled directly by the EMS without needing to add an additional thermal switch.
Balancer shaft
The KTM 250 XC-W TPI engine design allows for the implementation of a lateral balancer shaft in order to keep engine vibrations to a minimum. This means riders can focus on the obstacles ahead of them, with out distraction. After all, more comfort equals less fatigue.
Clutch
The KTM 250 XC-W TPI employs the KTM-developed DDS clutch (damped diaphragm steel) with a wear-free steel basket, extremely heat resistant clutch plates and nitrated steel liners. This clever design employs a diaphragm spring instead of the usual coil springs, making for considerably easier clutch action. A diaphragm spring also leaves sufficient space for a damping system to be integrated into the clutch hub. The goal is traction, but without compromising durability. Light operation and a 'telepathic' level of control come standard with this hydraulic Brembo actuated clutch.
Oil pump
Pre-mixing 2-stroke fuel is a thing of the past for KTM XC-W TPI owners. The 2-stroke enduro range is fitted with a frame-mounted oil tank featuring flexible mountings, which greatly improves durability and reliability. In addition, a mesh filter preventss dirt from getting into the oil pumpand into the fuel. This works in conjunction with the oil pump, that delivers the lubricant directly to the throttle body, where it is mixed with the incoming air to lubricate the piston and crankshaft. Using engine speed and throttle position sensor data, the engine management's precise electronic control of the oil pump ensures that the ideal amount of oil for any given conditions is used. With an average fuel-to-oil ratio of 1:80, an oil capacity of about 0.7 liters is sufficient for at least five tanks of fuel.
Throttle body
The KTM 250 XC-W TPI engine is fitted with a 39 mm throttle body made by Dell`Orto. These regulate the airflow via a butterfly connected with a twin-cable throttle cam, which is operated by the handlebar throttle assembly, supported by a throttle position sensor that provides airflow data to the control unit. What all this means is, riders can precisely set the idle speed via the bypass screw, as well as easier cold starts.
TPI Alternator
In order to accommodate the power requirements of the engine management system, all KTM XC-W TPI models are fitted with a powerful 196 W alternator and voltage regulator to ensure all systems are always powered up.
Cooling
Maintaining the optimal engine temperature is crucial to ensuring consistent horsepower throughout the ride. The KTM 250 XC-W TPI features newly designed radiators which are mounted 12 mm lower than the predecessors. This lowers the center of gravity and matches the design of the new shrouds perfectly, in order to achieve perfect ergonomics. By using CFD technology (computational fluid dynamics) together with a clever coolant circuit routing, the innovative system ensures the optimum engine temperature for the highest performance, no matter what the conditions. Above all, a reworked delta distributor, integrated into the frame triangle, features a 4 mm larger center tube, increasing the cross section by 57%, making the coolant flow from the cylinder head to the radiators more efficient. The radiators also feature special protectors that don't only serve as protection from flying rocks and debris but also as a brace that disperses energy around the radiators in the event of an impact.
Chassis
Airbox
The easy-access airbox on the KTM 250 XC-W TPI ensures optimal flow dynamics, thanks to specially designed intake snorkels. This means air is force-fed into the motor, resulting in the perfect balance of power and throttle response. Keeping the air clean, is a large Twin-Air air filter fitted to a rigid cage for ideal placement at all times.
Frame
All KTM XC-W models feature high-tech, lightweight Chromoly steel frames with race-derived geometry, optimal stiffness, and unparalleled feedback for the rider. This translates into a playful handling character, with remarkable stability at speed. The subframe is made of extra-light and ultra-stable aluminum profiles, weighing less than 900 grams providing rear fender stability and durability in the event of a loop out. On the KTM 250 XC-W TPI frame, the engine is lowered by 1° around the swing arm pivot improving front wheel traction significantly.
Swingarm
The KTM 250 XC-W TPI's one-piece aluminum swingarm is manufactured using a gravity die-cast production process, offering exceptional strength at the lowest possible weight. The single-component casting process offers low weight, perfect flex behavior and also allows for a large number of geometry solutions.
Wheels
The KTM 250 XC-W TPI is fitted with lightweight, CNC-machined hubs, high-end Giant rims and black spokes with lightweight aluminum nipples providing maximum stability at minimum weight. The latest Dunlop Geomax AT81 tires guarantee perfect traction and outstanding performance.
Tires
Dunlop Geomax AT81 tires provide maximum grip, traction, and stability at the absolute minimum weight for unmatched offroad performance.
Suspension
For 2022, all KTM XC-W models have received a suspension update, with a firmer factory setting focusing on performance and improved consistency across different terrains.
Front suspension
New slots in the outer fork tube mean the 48 mm diameter WP XPLOR upside-down forks feed more oil to the bushes and reduce friction and heat build-up. The fork springs have also been updated with a new polished surface finish to improve consistency and new valve dedign increases rebound damping performance. The forks retain their adjustability, with compression damping on the left and rebound on the right.
Rear suspension
The race-proven and fully adjustable WP XPLOR shock absorber has received a re-tune, with factory settings making it firmer, and new conical bushing between the pistons to improve bottoming reserves. This has resulted in reduced fade and improved wear, taking the PDS rear suspension design even further in its quest for podiums.
Triple clamp
The KTM 250 XC-W TPI is fitted with forged triple clamps with an offset of 22mm, ensuring a solid grip of the fork and precise handling. The handlebar can be adjustabed forwards and backwards over 4 positions, ensuring you find your perfect postion when tackling the gnarliest of terrain.
Brakes
When it comes to bringing this machine to stop, you'll be happy to have high-tech Brembo brake calipers and lightweight wavy discs doing the business. These also take years of competitive racing into account, providing the perfect combination of ideal pad density and steel quality for longevity and consistent feel.
Fuel tank
All KTM enduro models are fitted with lightweight polyethylene tank, with a ¼‐turn bayonet-style filler cap makes for quick and easy operation. The integrated fuel pump ensures a direct feed to the injectors, while a 90° connector provides protection against damage. The tank is also manufactured using see‐through plastic, riders are able to gauge fuel levels at a glance and on the go.
Ergonomics & Comfort
Seat
Go ahead, take a seat. The 2022 KTM 250 XC-W TPI's seat is perfectly shaped to allow riders complete freedom of movement, but comfortable enough to maintain longer sessions in the saddle, and is covered in a grippy factory-inspired seat blue vinyl.
Handlebar
All KTM XC-W models are equipped with adjustable, high-strength aluminum tapered handlebars made by NEKEN. These can be mounted in four different positions. Standard with ODI vulcanized grip on the right side and a comfortable ODI lock-on grip on the left, your only worry is hanging on, and letting rip.
Footpegs
Self-cleaning footpegs prevent mud from clogging up the pegs, even when dragging them through deep ruts. This means your boots maintain their grip, and you maintain your focus on the trail.
Bodywork & Graphics
Decals
Drawing inspiration from the RED BULL KTM FACTORY RACING TEAM, the 2022 KTM XC-W range features a bold contrast of orange and blue tones, as well as a factory-inspired blue seat. These are applied using in-mold graphics, which feature greater friction and fade resistance, meaning your steed will look factory-fresh after even the toughest time spend on the trails.
Software & Electronics
Battery & wiring harness
The KTM 250 XC-W TPI is fitted with a time-proven electrical system, powered by a super lightweight 2 Ah lithium-ion starter battery. The wiring harness also has most of the electrical components carefully positioned into a common area below the seat, making them easily accessible.
2022 KTM 250 XC-W TPI – Totalmotorcycle.com International Specifications/Technical Details
US MSRP Price: $10199 USD
Canada MSRP Price: $11599 CDN
Europe/UK MSRP Price: £ See Dealer (On The Road inc 20% Vat)
Engine
 Transmission 6-speed
 Starter Electric starter
 Stroke 72mm
 Bore 66.4mm
 Clutch Wet, DDS multi-disc clutch, Brembo hydraulics
 Displacement 249cm³
 EMS Continental EMS
 Design 1-cylinder, 2-stroke engine
Chassis
 Weight (without fuel) 103.4kg
 Tank capacity (approx.) 9l
 Front brake disc diameter 260mm
 Rear brake disc diameter 220mm
 Front brake Disc brake
 Rear brake Disc brake
 Chain X-Ring 5/8 x 1/4″
 Frame design Central double-cradle-type 25CrMo4 steel
 Front suspension WP XPLOR-USD, Ø 48 mm
 Ground clearance 370mm
 Rear suspension WP Xplor PDS shock absorber
 Seat height 960mm
 Steering head angle 63.5°
 Suspension travel (front) 300mm
 Suspension travel (rear) 310mm
Manufacturer Specifications and appearance are subject to change without prior notice on Total Motorcycle (TMW).