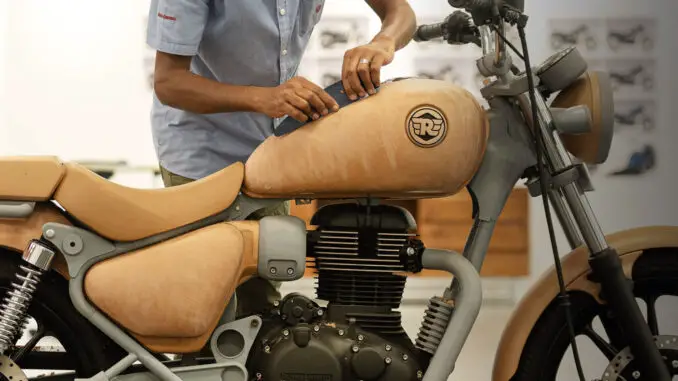 Introducing the new 2023 Royal Enfield Manufacturers Motorcycle Guide.
New Bike Reviews, Huge Photos, Full Specifications. Get it all at Total Motorcycle with the 2023 Royal Enfield Motorcycle Guide.
Street Motorcycles
– 2023 Royal Enfield Super Meteor 650 – New model
– 2023 Royal Enfield Int 650 (aka Interceptor 650)
– 2023 Royal Enfield Continental GT650
– 2023 Royal Enfield Himalayan
– 2023 Royal Enfield Scram 411 – New model
– 2023 Royal Enfield Classic 350
– 2023 Royal Enfield Meteor 350 – New model
– 2023 Royal Enfield Hunter 350 – New model
From the Manufacturer: 2023 Royal Enfield Motorcycle Guide
What's the story behind the Super Meteor 650?
Over the years, Royal Enfield has made exceptional contributions to the cruiser category with stylish motorcycles that have founded new, niche markets. Beginning in the mid-1950s, it was decades ahead of the cruiser genre being defined when it produced US export variants of the original Redditch Super Meteor twin, with what is today considered to be a strong cruiser profile. It then introduced cruising to India with the Citybike, Lightning 535, at the time the biggest and baddest motorcycle on India's roads, and a succession of 350 and 500cc Thunderbirds, which garnered a large and loyal following. Global success followed in 2020 with the launch of the Meteor 350 on the brand new J-series platform. Based on the highly acclaimed 650 twin engine and a new chassis, the Super Meteor takes Royal Enfield's 121-year-old heritage of producing exquisitely designed motorcycles perfectly suited for cruising, to a new level.
Is Super Meteor 650 based on the Twins platform?
The Super Meteor 650 is centered around the acclaimed 648cc twin platform that, since 2018, has enjoyed worldwide recognition within the multi-award-winning motorcycles, Interceptor INT 650 and Continental GT 650. However the Super Meteor 650 has the silhouette of a thoroughbred cruiser, with a low stance and seat with wide hips and a narrow waist. The riding position is one of the key differentiators with fully feet-forward foot controls and raised, wide handlebars. A large tank gives extended range and wide tubeless tyres on 16" rear and 19" front alloy rims completes the cruiser look.
What are the new features available in Super Meteor 650?
Some of the highlights features of the Super Meteor 650 are:
– A new chassis with relaxed ergonomics
– Proven 650cc parallel twin engine
– Authentic cruiser styling
– All new full LED Headlamps
– Upside Down front forks
– Tripper Navigation System
– Larger capacity fuel tank
– Low sculpted seat
– Alloy Wheels with Tubeless Tyres
Why Upside down suspension in Super Meteor 650?
The upside down USD fork improves stability, giving better control and ride comfort. This suspension has been developed with the tyres and seat to ensure the optimum level of comfort is achieved whilst maintaining control in all speed and riding conditions
Is the New Navigation Display a standard fitment or an accessory?
Tripper will be as a standard fitment and will be available in all variants. The navigation system has bluetooth connectivity which pairs with the Royal Enfield app (powered by Google Maps) to display turn by turn navigation for rider convenience.
Are there any predefined/ bundled kits of accessories available for Super Meteor 650? If yes then for which variant?
Super Meteor 650 comes with two inspirational themes
1 – Solo Tourer
2 – Grand Tourer
All GMAs can also be ordered when booking your motorcycle through Royal Enfield's innovative MIY, Make It Yours, personalisation programme, either online or in your local dealership at a later date.
We have a waiting period for the accessories and they shall be available by March 2023, however you can place the order for them now and we shall have it installed on your motorcycle once available
Manufacturer Websites