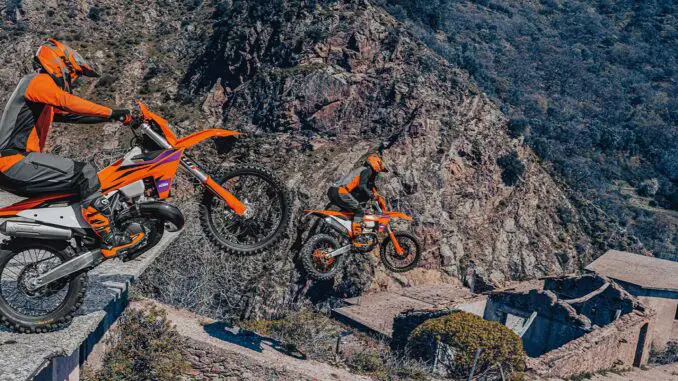 2024 KTM 150 XC-W: LIMITLESS RESPECT.
Introducing the 2024 KTM 150 XC-W…
Taking its place as the entry-level enduro weapon in the XC-W arsenal, the 2024 KTM 150 XC-W isn't one to take for granted. Featuring the same model enhancements as the rest of the KTM 2024 XC-W range – like an all-new frame, closed-cartridge suspension, new bodywork, and an all-new TBI fueling system – it packs enough punch to hang on to the big boys, while commanding just as much respect.
All-new generation model with new chassis and engine wrapped in new bodywork.
New engine with electronic power valve offers improved mid-range power and rotating mass.
New 39 mm Keihin Throttle Body Injection system for immediate throttle response and optimal power. Electronic oil injection ensures a perfect fuel-oil mix under any condition and enhanced ease of use.
New frame design with parallel mounts, new forged shock mount and reworked rigidity to improve rider comfort.
New topology optimized subframe with hybrid polyamide and aluminum construction for improved durability.
New forged triple clamps provide precise fork action and optimized front end feel.
New hollow, die-cast swingarm offers reduced unsprung weight and increased rigidity.
New WP XACT Closed Cartridge spring fork delivers consistent damping character over long rides while a new hydrostop improves bottoming resistance.
New, completely redesigned WP XPLOR rear shock has a lighter and shorter body and all new internals.
New topology optimized handlebar mounts increase grip surface for reduced bar twist.
New 300%-brighter LED headlight with quick release.
New optional map select switch changes engine character depending on track conditions and rider preference.
New polyamide composite skid plate for advanced protection and durability.
Dunlop MX33 front and AT81 rear tires are mounted to high-end GIANT rims with CNC-machined hubs.
Hydraulic Brembo clutch and brakes offer highly controllable modulation and light operation.
CHALLENGE ACCEPTED! THE 2024 KTM ENDURO RANGE IS HERE TO REDEFINE LIMITS
HAMBLY, QC – Sporting 95% new components, the 2024 KTM Enduro range is moving the goalposts further than ever before. Featuring an all-new frame, revolutionary closed-cartridge suspension, refined bodywork, LED headlight, and industry-defining technology, the latest generation of KTM Enduro machines is ready to accept any challenge.
With over three decades of racing experience and more than 126 World Enduro titles in the trophy cabinet, KTM has remained the weapon of choice when it comes to taking on the world's toughest terrain. For the 2024 model year, the KTM Enduro range continues to raise the bar in the areas of performance, development, and innovation with its most radical transformation to-date.
An all-new hydro-formed, laser-cut, and robot-welded frame forms the backbone of the 2024 KTM Enduro range. This brings new longitudinal and torsional flex parameters for unmatched rider feedback, energy absorption, and straight-line stability to the riding experience but also provides the foundation on which the 2024 model range is built.
Upfront, the full range now boasts an all-new 48 mm WP XACT Closed Cartridge spring fork, featuring a new mid-valve piston concept that optimizes oil flow within the cartridge.
The KTM Enduro models continue to feature the proven PDS shock system, which for 2024, is updated and optimized to work fluidly with the new frame concept. This is mated to a new WP XPLOR PDS rear shock.
As an industry first, the suspension at both ends remains fully adjustable for compression and damping by way of hand clickers, without the need for any tools, and easy set preload adjustability on the rear.
An all-new lightweight 2-piece subframe, constructed from a combination of polyamide and reinforced aluminum, delivers outstanding handling and rider feedback, as well as remarkable robustness. All electronic components, including an all-new Offroad Control Unit, are fully integrated into the subframe for easy access and improved protection.
At the surface level, the 2024 KTM Enduro range benefits from new bodywork all around. This has been developed with input from the FMF KTM Factory racers to deliver an improved rider triangle for better knee contact, especially when standing on the pegs.
A new front fender design now also features mud-repelling fins for expelling dirt and mud from hitting the rider or radiators, while a new transparent, polythene (XPE) fuel tank (2.24-gallon/8.5-liter 4-stroke and 2.37-gallon/9-liter 2-stroke) provides easyfuel level monitoring and completes the bodywork package.
Monitoring the electronics comes courtesy of a totally independent OCU under the seat, which replaces the use of electronic fuses and relays. In the event of any electrical component failure, the outputs are deactivated individually, with the error status of each unit indicated by a red or green LED light. ​This makes for quick and easy troubleshooting on the trail.
In terms of engines, the 2-stroke model range once again takes its place as the leader of the oil-burners, debuting new electronic Throttle Body Injection technology. Dubbed TBI for short, it provides almost carburetor levels of ultra-smooth power delivery, while eliminating the need for re-jetting at different altitudes.
The reed valve case has also received an important design update, with new plastic flaps on the outside of the reed valve case for improved sealing of the intake tract. This new design avoids fuel excess in extreme up- or downhill sections which could lead to the fueling running rich.
A beneficial side effect of the new electronic fuel injection and the ECU is implementing the new electronic exhaust control, allowing for two different engine maps, selectable via an optional Map Select switch.
The 2024 KTM XC-W 2-stroke range will once again consist of the following model lineup:
KTM 150 XC-W
KTM 250 XC-W
KTM 300 XC-W
The 4-stroke offering includes two distinct model ranges for 2024, the dual-sport EXC-F models and the pure competition-focused KTM 450 XCF-W. All models in the 4-stroke range benefit from class-winning engines, engineered to deliver massive torque down low with an explosive power delivery at higher RPMs.
An improved center of gravity was achieved by tilting the engine 2° backward and repositioning the front sprocket 3 mm lower, for greatly improved handling and maneuverability. Together with the benefits of mass centralization and reduced weight, the anti-squat behavior of the chassis was significantly improved, enhancing traction on extreme inclines and powering out of corners in special enduro stages.
The 2024 KTM 450 XCF-W also debuts the optional Traction Control and, for the first time ever on an enduro machine, Quickshifter function. The latter makes for clutchless upshifts from 2nd to 6th gear, allowing riders to keep the throttle pinned open while upshifting through the gears for improved control. These can be toggled on or off via an optional and newly designed Map Select Switch.
The 2024 KTM Enduro range is the culmination of many years at the top end of Enduro competition, bringing together a dynamic combination of race-bred performance, ergonomics, and technology to challenge any terrain and redefine limits.
2024 KTM 150 XC-W Totalmotorcycle.com Features and Benefits
Preperation makes Perfect
SETTING THE SAG
Adjustability
Getting READY TO RACE has never been easier. Thanks in part to its all-new suspension, the 2024 KTM XC-W range boasts totally tool-free suspension setup at both ends. At the rear, the all-new shock absorber design features hand-adjustable dual compression control, allowing riders to adjust high- and low-speed settings in a matter of seconds. On the front, the forks are also easily adjusted thanks to hand-adjustable clickers on the bottom of the fork shoe and on the fork top cap, allowing riders to change settings on the fly without the need for any tools.
DEEP BREATH
Air filter box
Maximum airflow with minimal water intrusion, a new air filter box is designed with precisely positioned inlet ducts aimed at preventing air deformation and maintaining filter protection. An enduro-specific splash protector under the airbox prevents water or dirt from splashing up from the rear wheel, while the Twin Air filter and air filter support design feature a simple fail-proof mounting system for safe and accurate filter installation, ensuring the air filter is easily accessed, without tools, for fast track-side maintenance.
FULLY FUELED
Fuel Tank
The transparent, polythene (XPE) fuel tank is a signature element of the KTM Enduro lineup. Not only does this let you keep an eye on your fuel level with a quick glance, but years of development mean it's the strongest, most reliable fuel tank yet. For 2024, a one-piece fuel pump and filter improve the fuel supply allowing the tank to be emptied further at a low fuel level. And with 9 liters of fuel at your disposal, you can hit the trail or track with utmost confidence.
SWITCH IT UP
Switchgear
For 2024, the entire KTM Enduro range receives new, easy-to-use switchgear. On the right side of the handlebar, you'll find a new start/stop switch, and on the left, an new and optional Map Select switch will allow riders to choose between Map 1 or Map 2.
Benchmark lap
TORQUE ABOUT IT
Engine
Quite literally in a class of its own, the 2024 KTM 150 XC-W has an impressive powerplant for its size. With many parts being rearranged, modified, or developed from the ground up, the 2024 KTM 150 XC-W boasts an impressive 36.7 hp, with an overall weight of just 18,8 kg, setting the benchmark for youngsters, beginners, and experienced enduro riders looking for an ultra-lightweight, agile 2-stroke off-roader.
FUELING SPEED
Throttle Body Injection
​Forget TPI, the ​2024 KTM ​2-stroke ​Enduro models ​feature​ all-new electronically​-controlled Throttle Body Injection​ – or TBI. The ECU​​, together with ​a new Keihin​ ​39mm throttle body​,​calculates​ the ​ideal air-fuel mixture by constantly analyzing water temperature, air temperature, ambient pressure, ​and ​pressure within the crankcase, ​the ​rpm, and the throttle position​ to ensure the smoothest and most consistent power delivery​ in the most gnarly of ​enduro conditions.
POWER ON TAP
Powervalve
For 2024, the reed valve case ​has ​received an important design update along with ​electronic exhaust control. ​New​ plastic flaps on the outer reed valve case​ ​provide improved​ sealing of the whole intake tract​, preventing ​excess​ fueling​ in extreme up or downhill sections which could lead to rich engine settings​.
SMARTER ELECTRONICS
Offroad Control Unit
An all-new Offroad Control Unit – or OCU – under the seat replaces all the electronic fuses and relays. All outputs are switched depending on signals from the voltage regulator and the ECU continuously. In the event of over-current, outputs are deactivated individually. This makes for easy error detection as the status of each output is indicated by a red or green LED light. This means diagnosing an electrical issue out on the trail is as easy as lifting the seat, and there's no more need to carry fiddly fuses.
PICK YOUR POWER
Selectable Engine Maps
Designed for easy operation, a newly developed map select switch is available as an optional extra on all KTM XC-W models and allows for the easy selection of 2 unique engine maps. Map 1 is the standard, more linear, and predictable power map, while map 2 is a more aggressive map for added throttle response and more crisp, explosive power output.
LITHIUM POWERED
Battery & Wiring Harness
As with the rest of the 2024 2-stroke XC-W range, the KTM 150 XC-W is fitted with a proven, reliable electric start system. Powered by an ultra lightweight 2 Ah lithium-ion starter battery, it provides a safe, reliable starting time and time again, while the wiring harness has most of the electrical components carefully positioned under the seat for easy accessibility.
FLUID RIDER MOTION
Ergonomics
The 2024 KTM XC-W range features a rider-focussed body-position triangle, providing improved knee contact – especially when standing on the pegs – with improved gripping surfaces all around. With the plastics working to expel mud buildup in wet, muddy conditions, a flat seat profile with a high grip seat cover providing exceptional rider movement and control, and a polyamide-reinforced aluminum subframe providing unmatched rider feel and feedback, your only concern is navigating the terrain ahead of you.
UNMATCHED PERFORMANCE
Exhaust
​Binging the Braaap! Thanks to the KTM 150 XC-W new, more compact engine design, the header pipe is designed with the target of achieving more ground clearance and reducing the risk of damage​ when riding over​ deep roots​, ruts, or climbing steep rocks. ​The silencer is crafted from lightweight aluminum and is stylishly finished off in a black coating that highlights its premium quality.
On the charge
BUILT TO BE THE BACKBONE
Frame
Specifically engineered for longitudinal rigidity, the 2024 2-stroke KTM XC-W range is engineered around an all-new black powder-coated frame providing exceptional rider feedback, energy absorption, and high-speed stability. This has been achieved by repositioning the rotating masses in the frame and the inclusion of a forged steering head connection. New parallel frame mounts also improve flex characteristics, while the footrest mounts have also moved inwards, slimming things down. And when the ride comes to an end, a completely redesigned forged one-piece side stand ensured things your enduro weapon stands proud.
MORE THAN A SUBFRAME
Subframe
A new ultra-light lightweight subframe takes charge at the rear of the main frame, featuring a 2-part polyamide and reinforced aluminum construction. With the help of computational dynamics, a specific rigidity was engineered into the subframe, to deliver outstanding handling and rider feedback. The new subframe is also shorter, more compact, and more robust than the previous generation, with the ability to bend and flex in the event of a crash, rather than break. The subframe fully integrates the electronic components, without any extra need for brackets, holders, or unnecessary fixtures.
UNFLAPPABLE FRONT END
WP XACT Closed-cartidge Fork
An all-new 48 mm WP XACT Closed Cartridge spring fork finds its way into the KTM Enduro line-up for 2024. Providing fast and consistent damping, optimized oil flow, and a new hydro stop in the last 68 mm of the stroke, the forks ensure unmatched performance at any level. New fork protection rings also provide improved protection against dirt intrusion. Best of all, the new fork allows for full adjustment of compression and rebound without the need for any tools.
GET THE POWER DOWN
WP XACT Shock
Remaining a hallmark of KTM Enduro weaponry, an updated PDS rear shock concept sees a new shock mount that significantly improves the anti-squat behaviors of the chassis. This remains the most reliable and maintenance-friendly option for competitive enduro racing. Moreover, an all-new WP XPLOR PDS rear shock now takes charge at the rear, weighing 380 g less than the previous generation unit. It features a new compact design, new bearings seals, and a new main piston for optimized oil flow, and improved, consistent damping, as well as providing full adjustability thanks to easy-to-use hand clickers for adjustments on the fly.
WHERE RUBBER MEETS DIRT
Wheels and Tires
The KTM 150 XC-W rolls on a set of high-strength GIANT alloy wheels coupled to CNC-machined hubs and aluminum nipples. These are wrapped in a Dunlop MX33 up front and a Dunlop AT 81 on the rear, providing exceptional traction in all conditions.
Keeping you going
HOLD THE LINE
Stability
The 2024 KTM XC-W range remains rock-solid at any speed thanks to a repositioned and forged steering head connection and CNC-milled triple clamps. Made from high-grade aluminum, these feature optimally tuned steering stem stiffness, perfect alignment of the fork tubes, and precise geometry of the fork clamps to ensure highly responsive and smooth fork action – not to mention unwavering stability for those ultra-fast flat-out special stages. Newly designed, topology-optimized rubber-mounted bar mounts provide an increased grip surface for less handlebar twist They come with a fixed mounting, providing the perfect amount of flex for the forged triple clamp setup.
FIGHTING FATIGUE
Energy Absorbtion
Besides the expertly crafted, hydro-formed, laser-cut, and robot-welded frame being engineered to provide exceptional rider feedback and straight-line stability, a number of components mean the frame acts as a "shock absorber" making for a less harsh ride, resulting in less rider fatigue over many hard laps. A new shock mounting, no longer connected to the main tube, significantly improves the anti-squat of the chassis. In contrast, a new, service-friendly one-piece steering head seal provides improved reliability. The closed-head tube design also provides a new routing for the fuel overflow. And lastly, a new forged one-piece side stand means no more sinking feelings when parking up.
SEE INTO THE FUTURE
LED headlight
Lighting the way forward, the 2024 KTM XC-W range features a completely new LED headlight unit and light mask. The mask itself features improved triple clamp protection against roost and does away with the rubber mounting straps for improved fitment. Most importantly, the LED lighting unit provides 300% more illumination, making riding in the dark a completely new experience.
2024 KTM 150 XC-W – Totalmotorcycle.com International Specifications/Technical Details
US MSRP Price: $10,099 USD
Canada MSRP Price: $ See Dealer for Pricing CDN
Europe/UK MSRP Price: £ NA GBP (On The Road inc 20% Vat)
Engine Type: Single Cylinder, 2-Stroke
Displacement: 143.99 cc
Bore/Stroke: 58/54.5 mm
Starter: Electric, Lithium Ion 12.8V 2Ah
Transmission: 6 Gears, Wide Ratio
Fuel System: Keihin EFI, Throttle Body 39 mm
Lubrication: Electronically Regulated Oil Pump
Primary Ratio: 23:73
Final Drive: 13:50
Cooling: Liquid Cooling
Clutch: Wet Multi-Disc DS Clutch, Brembo Hydraulics
Ignition: Vitesco Technologies EMS
Frame: Central Double-Cradle Type 25CrMo4 Steel
Subframe: Aluminum Reinforced Polyamide
Handlebar: NEKEN, Aluminum Ø 28/22 mm
Front Suspension: WP XACT Closed Cartridge USD Ø 48 mm
Rear Suspension: WP XPLOR Shock with PDS
Suspension Travel Front / Rear: 300 / 310 mm; 11.8 / 12.2 in
Front/Rear Brakes: Disc Brake 260 mm; 220 mm
Front/Rear Rims: 1.60 x 21" / 2.15 x 18" Giant
Front/Rear Tires: 80/100-21" Dunlop MX33 / 110/100-18" Dunlop AT81
Chain: 520, X-Ring
Silencer: Aluminum
Steering Head Angle: 26.1º
Triple Clamp Offset: 22 mm
Wheelbase: 1,489 ± 10 mm / 58.6 ± 0.4 in
Ground Clearance: 374 mm / 14.7 in
Seat Height: 963 mm / 37.9 in
Tank Capacity, Approx: 9 l / 2.37 gal
Weight (without fuel), Approx: 97.8 kg / 215.6 lbs
Manufacturer Specifications and appearance are subject to change without prior notice on Total Motorcycle (TMW).