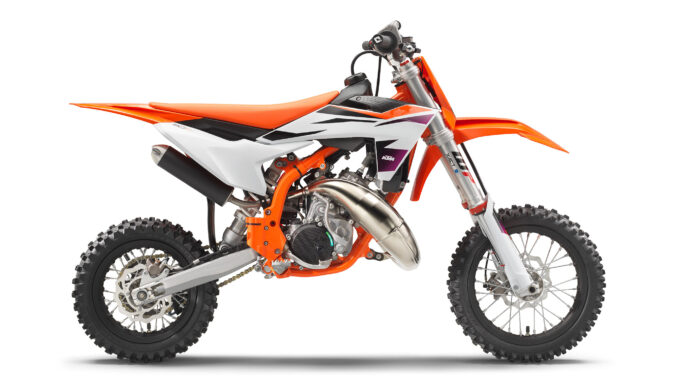 2024 KTM 50 SX: READY. GET SET. GO!
Introducing the 2024 KTM 50 SX…
When the next step up is into the 50cc class, there is no better option than the most powerful 50cc out there. For 2024, the KTM 50 SX is built around an advanced steel frame, housing a powerful engine, a 35mm WP XACT AER fork, a WP XACT monoshock, and an advanced hydraulic Formula brake system. Simply put – it's the most advanced and READY TO RACE 50 cc mini-crosser available to your little racer.
KTM STEPS UP ITS MINI-CROSS OFFERING WITH THE 2024 KTM SX MINI RANGE
Now even more closely related to the full-sized KTM Motocross machines, the 2024 range of KTM Sportminicycles is poised to continue their championship-winning assault on the competition.
Following on from the successes of the KTM SX range, the 2024 KTM SX 'Minis' hit the track with a completely fresh approach in the development of READY TO RACE motocross machines aimed at grassroots racing.
Using scientific, statistical data, the 2024 KTM 50 SX has been developed to be as close to a scaled-down version of a full-size KTM SX machine as possible, with careful consideration given to young riders and body proportions compared to grown-ups. This has been considered in the design and development phases of the 2024 KTM 50 SX as well as all of its components.
Likewise, for the first time, the development of the 2024 KTM 65 SX was done in close cooperation with a number of international test riders, who have been successfully racing and testing the different development stages over the last two years. This has resulted in a brace of mini-crossers that not only look like miniature READY TO RACE motocross machines but also share a superior level of quality and attention to detail.
With top-level handling and performance being a critical and essential part of mini-cross, both the 2024 KTM 50 SX and 2024 KTM 65 SX are built around a new, advanced steel frame with a lightweight polyamide glass fiber reinforced steel 2-piece subframe.
This has allowed for a revolutionary change to mini-cross, in that the new frame allows for multi-adjustability to cater to different rider heights. Suspension, handlebar position, bodywork, and subframe are now height adjustable to match the growing needs of young riders. Seat height is adjustable between 634 mm to 683 mm for the 2024 KTM 50 SX and 730 mm to 760 mm for the 2024 KTM 65 SX.
Regarding suspension updates, both mini-crossers feature the latest in suspension technology, with a 35 mm USD WP XACT AER fork taking charge at the front. On the rear, an all-new fully adjustable WP XACT monoshock is fitted for perfect balance and damping characteristics, with both models benefiting from revised fitment and geometry.
For model year 2024, the KTM 50 SX FACTORY EDITION will also find its way onto the racetrack, boasting a brace of top-shelf high-performance components over and above the standard 2024 KTM 50 SX spec sheet.
Staying true to its name, the 2024 KTM 50 SX is wrapped in a Red Bull KTM Factory Racing inspired graphics kit, with an orange, high grip diamante KTM FACTORY SEAT. Performance is also upped, thanks to a full FMF exhaust system and Iridium BRISK FE-specific spark plug, making it the ideal choice for young up-and-coming champions.
The 2024 KTM Sportminicycle range is the perfect representation of KTM's dedication to mini-cross, with the same amount of energy and attention to detail by the same passionate team in Austria who are also in charge of the race-proven full-size models.
The 2024 KTM Sportminicycle range will be available in authorized KTM dealers from the beginning of November 2023.
Before The Gate Adjustablity
Different adjustability options were built into the 2024 KTM 50 SX construction using scientific statistical data and young racers' input data. Finding the right fit for your little ripper is easy thanks to height-adjustable suspension, handlebar position, subframe, and bodywork, taking the seat height from a low setting of 634mm to a taller setting of 682mm.
Ignition
A new digital ignition finds its way onto the 2024 KTM 50 SX, with improved processing power and an all-new ignition curve, making for a cleaner burn and smoother power delivery. Individual ignition timing across the entire rpm range, just like that found on the full-sized KTM SX range, adds a key advantage to the digital ignition. Ignition timings are also new, matching the revised engine layout, longer stroke, and other updates.
Carburetor
A proven Dell'Orto type PHBG 19 BS carburetor takes prime position in producing the goods in the 2024 KTM 50 SX, with updated settings that work perfectly in harmony with the new engine, exhaust, and air intake design.
Start Strong Performance
The 2024 KTM 50 SX features a modern and compact engine using the latest 2-stroke technology. Using a 3-shaft design, the crankshaft is positioned near the center of gravity, which not only benefits mass centralization but also creates the ideal intake angle into the reed valve for top-level performance. An independent cylinder blank allows for a completely new cylinder design, with power peaking at 15hp.
Power-Reduction Kits
For absolute beginners, the KTM POWERPARTS catalog now offers a choice of two power-reduction kits. The first allows for a entry-level, moderate and controllable power reduction to 4hp, with the second allowing for a more intermediate power kit unleashing 8hp for mid-level riding levels.
Clutch
The 2024 KTM 50 SX is fitted with an updated and reworked automatic centrifugal clutch reducing the complexity for younger riders, and helping to boost riding confidence. The multi-disc clutch delivers a precise and predictable power delivery across the RPM range. It can be set to suit rider preferences or track conditions without using any special tools. Also, a reinforced clutch basket provides Improved durability, wear, and consistent performance.
Spark Plug
There's no more worrying about breaking the plug, thanks to the 2024 KTM 50 SX featuring a new spark plug from BRISK with a longer thread. Also, thanks to this innovation from BRISK, the part number is printed on the spark plugs for easy reading.
Calm Under Fire Tank
The KTM 50 SX is ready to fuel the fire in your little ripper with an updated tank design to compliment the new frame concept and bodywork.
Airbox and Filter
An all-new airbox concept features a conventional suction sleeve made from a hard-wearing polyamide instead of rubber and a Twin Air filter mounting system that now features snap locks for easy and intuitive mounting. The Twin Air filter is also placed under the seat and is easily accessible without any tools by simply removing the seat. It also features improved dirt intrusion resistance, with no more dirt falling into the intake tract when changing the filter.
Ergonomics
Mimicking the full-size KTM SX range, the KTM 50 SX features the same advancements found in the larger KTM SX range. Slimmer, sleeker, and better suited to standing on the pegs, the side panels now work much better with young riders' boots, allowing a proper squeezing of the bike when standing up. The front number plate incorporates plastic flaps to protect the lower triple clamps from roost, while the tank spoiler features a bicomponent technology featuring the KTM-specific texture on the upper part. Side number plates are kept as close to the frame as possible, with the general seat line sitting slightly flatter compared to the old generation.
Handlebars & Grips
Hold on tight! The high-quality, tapered, black handlebar is made of lightweight aluminum alloy and ensures top stability, vibration damping, and control. An entirely new bend and profile is designed specifically to meet the needs of young riders, with ODI grips on the left, and a vulcanized ODI grip on the right-side throttle assembly, adding to the overall quality. A crash pad on the handlebar protects the rider from any rough contact or impact with the bars.
Frame
Right, this is a big one. For the first time ever on a 50cc, the 2024 KTM 50 SX boasts an all-new high-strength chromium molybdenum steel frame design with forged connecting parts. These, together with carefully calculated parameters of longitudinal flex and torsional rigidity, and incorporated sheet metal parts that allow tailormade stiffness, an unprecedented quality of the Mini frame could be achieved. The new frame layout features a typical MX design without any cross tube behind the steering head. Like our full-size models, the rear shock mount is separated from the main upper frame tube. The frame now also comes with frame protectors as standard.
Hit The Big Stuff Wheels & Tires
Rolling off the race rig and into the pit lane, the 2024 KTM 50 SX uses lightweight, black anodized, aluminum rims just like the full-size KTM SX range. These provide the highest levels of strength and reliability, while MAXXIS MX-ST tires deliver outstanding performance on any terrain, along with exceptional straight-line stability.
Footpegs
All-new, "no-dirt" footrests offer a bigger surface area for improved grip while standing on the pegs, and are less susceptible to hooking up in deep ruts, take-offs when scrubbing, or track barriers.
Suspension
Featuring the latest in suspension technology, the KTM 50 SX is fitted with a state-of-the-art, lightweight 35mm USD WP XACT AER fork. With 205mm of wheel travel, the air unit in the left fork leg can also be adjusted easily using an air pump for rider preference, rider weight, or track conditions. At the rear, an all-new fully-adjustable WP XACT monoshock boasts new mounting points on the frame, making it more compact, and providing the perfect balance and damping characteristics to match the fork.
Brakes
Featuring the same level of technology offered on the full-size KTM SX range, the 2024 KTM 50 SX is fitted with dramatically improved hydraulic brake calipers and waved state-of-the-art front and rear brake discs. This system ensures advanced braking feel and unmatched stopping performance in all conditions, specifically on wet or muddy tracks, with improved durability and brake pad longevity.
Maintaining Momentum Exhaust
A completely new exhaust system, features the same manufacturing process as the full-size 2-stroke KTM SX range, with improved overall quality and performance. This has resulted in massive improvements in thermodynamics. Moreover, improved sealing of the silencer end cap and a new rubber between the header pipe and silencer adds another level of quality to the new exhaust system. The silencer has also been updated and now comes with a black anodized finish and a signature 'Braaaaap!'.
Radiator
Featuring state-of-the-art technology and superior cooling power, the 2024 KTM 50 SX uses one large radiator with more capacity instead of two smaller separate ones. This concept allows for better integration of the radiator into the frame, with the tank spoilers channeling air through the cooling fins efficiently.
Hour Meter
Keep track of engine hours easily, with an hour meter now mounted at the same position behind the front number plate – as on the full-size KTM SX models. This makes for easier reading and has a lower risk of dirt and water fowling up the display.
Graphics
Modeled after the full-size motocross bikes, the KTM 50 SX features typical READY TO RACE graphics using the time-proven in-mold application process to ensure the best durability and quality.
2024 KTM 50 SX – Totalmotorcycle.com International Specifications/Technical Details
US MSRP Price: $ See Dealer for pricing in USD
Canada MSRP Price: $ See Dealer for Pricing in CDN
Europe/UK MSRP Price: £3999 GBP (On The Road inc 20% Vat)
ENGINE
TRANSMISSION Single-speed automatic
STARTER Kickstarter
STROKE 40.7 mm
BORE 39.5 mm
CLUTCH Centrifugal clutch (adjustable)
DISPLACEMENT 49.9 cm³
EMS Seletra 2p D36
DESIGN 1-cylinder, 2-stroke engine
CHASSIS
WEIGHT (WITHOUT FUEL) 42.5 kg
TANK CAPACITY (APPROX.) 2.3 l
FRONT BRAKE DISC DIAMETER 160 mm
REAR BRAKE DISC DIAMETER 160 mm
FRONT BRAKE Disc brake
REAR BRAKE Disc brake
CHAIN 415, Non-sealed
FRAME DESIGN Chrome-molybdenum steel central-tube frame
FRONT SUSPENSION XACT 35 WP Upside-Down fork, Ø 35 mm
GROUND CLEARANCE 233 mm
REAR SUSPENSION XACT WP mono shock
SEAT HEIGHT 653 mm
STEERING HEAD ANGLE 66 °
SUSPENSION TRAVEL (FRONT) 200 mm
SUSPENSION TRAVEL (REAR) 190 mm
Manufacturer Specifications and appearance are subject to change without prior notice on Total Motorcycle (TMW).