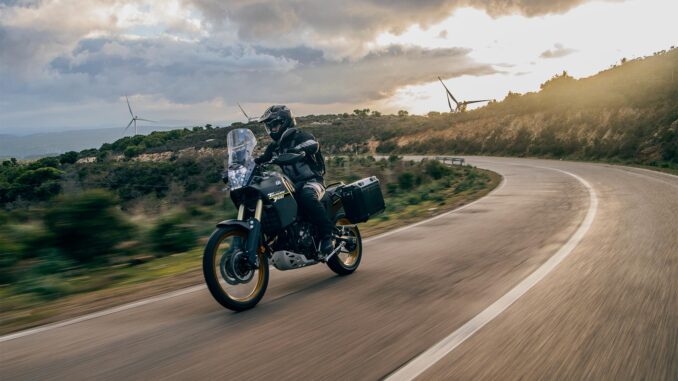 2024 Yamaha Tenere 700 Explore: THE TÉNÉRÉ SPIRIT LIVES ON.
Introducing the new 2024 Yamaha Tenere 700 Explore…
Specially developed by Yamaha to take you wherever you desire, the Ténéré 700 Explore is built to get out into the big wide world and start adventures. Featuring a lower seat height and equipped with a larger touring screen, dedicated quickshifter, as well as revised KYB suspension and side case stays, it's ready to go far.
Inspired by the Yamaha XT model that won the inaugural Dakar Rally, the original Ténéré opened up a new world of possibilities when it was introduced 40 years ago. This legendary motorcycle, equipped with a long range fuel tank, high torque engine and rugged chassis was Yamaha's first Adventure bike that went on to inspire generations of riders to push the limits, explore the globe and discover iconic places that were previously out of reach.
Carrying forward the authentic rugged DNA and go-anywhere attitude of its predecessor, the Ténéré 700 has proved to be one of the company's most successful models. Built with the very essence of the original bike – that is to open up the world and make long distance travel accessible to every rider – Yamaha's best-selling Adventure bike has established a loyal following in a very short time.
For 2024 the Ténéré line-up is strengthened with the addition of the Ténéré 700 Explore. Designed to give today's globetrotters the opportunity to enjoy the journey as much as they look forward to arriving at their destination, this new Adventure model underlines Yamaha's dedication to offering the most diverse selection of machinery to suit a wide range of lifestyles.
EXPLORE YOUR NEXT HORIZON
Now the Ténéré 700 Explore is about to make global travel and international exploration even more accessible. Its unique specification perfectly combines comfort with performance, including KYB front forks and rear suspension system with reduced wheel travel, in addition to a higher and wider touring screen for extra wind protection.
Revised suspension settings make the Ténéré 700 Explore even more accessible thanks to a lower seat height, while the side case stays that can accommodate hard and soft luggage from the Genuine Yamaha accessory line make it ideally suited for longer journeys. All you need is a tank full of fuel and the world is yours.
2024 Yamaha Tenere 700 Explore Totalmotorcycle.com Key Features
Ténéré 700 Explore – Increased comfort, capability and accessibility
With its lower 860mm seat height and increased levels of comfort and convenience, the Ténéré 700 Explore is designed to make it easier for anyone to discover the Next Horizon.
Revised front and rear KYB suspension systems feature a 20mm reduction in wheel travel to achieve a lower seat height for easier ground access and greater low speed controllability – and the front and rear spring rates are increased slightly for even more confident handling when fully loaded.
The Ténéré 700 Explore's screen is higher and wider than standard, giving a 50% larger surface area for improved riding comfort during adverse weather conditions – and the quickshifter with CP2-specific settings gives seamless upshifts. With side case stays fitted as standard equipment, customers can choose to fit Yamaha's Genuine hard or soft luggage at additional cost.
Ténéré 700 Explore: Exclusive features
43mm KYB front forks, 190mm wheel travel (20mm less than Ténéré 700)
Remotely adjustable rear shock absorber, 180mm wheel travel (20mm less than Ténéré 700)
Lower 860mm seat height for improved ground access and controllability (15mm less than Ténéré 700)
50% larger screen area for increased wind protection
Side case stays fitted as original equipment
Choice of Genuine Yamaha hard or soft side cases (additional cost)
Quickshifter for seamless upshifts
2024 Yamaha Tenere 700 Explore Totalmotorcycle.com Features and Benefits
Revised 43 mm KYB front forks
For improved convenience and easier ground access, the Ténéré 700 Explore is equipped with 43 mm KYB front forks offering 190 mm wheel travel, 20 mm less than the Ténéré 700. The revised spring rates give a stable and comfortable ride when touring with luggage – and the reduction in suspension travel achieves a lower seat height.
Remotely adjustable rear shock absorber.
The bike is equipped with a specially developed KYB shock absorber with an increased spring rate that delivers excellent comfort and controllability even when you're fully loaded. Giving 180 mm travel – 20 mm less than the Ténéré 700 – the remotely adjustable shock gives a lower seat height for easy ground access.
Lower seat height
For easier mounting and dismounting, the latest Ténéré 700 Explore is equipped with a lower seat height of 860 mm – 15 mm less than the Ténéré 700. This offers various advantages, including easier ground access for added low speed controllability when riding in tricky off-road situations or in congested traffic.
Increased wind protection
When you're riding long distances you'll appreciate the added wind protection provided by the factory-fitted larger screen. Higher and wider than the standard design, it gives a 50% increase in surface area to ensure improved touring comfort.
Dedicated quickshifter
The unique specification of the Ténéré 700 Explore is focused on delivering added comfort and convenience. The new quickshifter features settings that have been developed specifically for the 690cc CP2 engine. Now you can enjoy seamless upshifts for smoother and more effective acceleration.
Choice of side cases
The Ténéré 700 Explore features side case stays as original equipment, and when you purchase your new bike you can choose to fit* Genuine Yamaha aluminium side cases available in black or silver – or you can go for the Explorer soft bags. *At additional cost.
5-inch dual-theme TFT meter with smartphone connectivity
The 5-inch colour TFT display offers you two different screen themes – a modern dynamic design as well as a more traditional look reminiscent of the analogue era. The bike's CCU communicates with the MyRide app so that text messages and incoming call alerts are displayed on the screen, keeping you connected at all times.
690cc 4-stroke CP2 engine
Yamaha's 690cc CP2 engine is designed to deliver the most sensational and satisfying riding experience on any terrain. Producing strong linear torque, this 270° crank powerplant will pull hard all the way from low rpm, making the Ténéré 700 Explore an outstanding performer in the widest range of conditions.
3-mode switchable ABS
3-mode ABS gives you the option to decide exactly how you want your bike to behave on different surfaces. Mode 1 is full on, with ABS working on both wheels – a legal requirement on public roads. Mode 2 is front wheel on, rear wheel off, giving added confidence on loose gravel tracks. Mode 3 is fully off, giving you ultimate controllability when riding in the dirt.
Ergonomic 16-litre fuel tank
Featuring a slim rear section that gives a relaxed knee grip and a natural seating position, the fuel tank contributes towards the easy ergonomics that make this the ultimate all-round adventure bike. Thanks to the CP2 engine's high fuel efficiency, the 16-litre fuel tank gives you plenty of range between refills so there's no range anxiety when you're in the middle of nowhere.
Full LED lighting and USB outlet
The aggressive 4 LED headlight cowl is inspired by the desert race bikes that can trace their DNA back to Yamaha's Dakar winning machines. The full LED lighting features compact front and rear flashers and a lightweight taillight for high visibility with excellent reliability and low weight.
Lightweight spoke wheels
Just like Yamaha's factory rally-raid race bikes, the Ténéré 700 Explore is equipped with a 21-inch front wheel and an 18-inch rear wheel that combine low weight with immense strength and excellent shock resistance. And for high levels of traction and durability on the dirt and street, these gold anodised aluminium spoked wheels are fitted with Pirelli Scorpion Rally tyres.
2024 Yamaha Tenere 700 Explore – Totalmotorcycle.com USA Specifications/Technical Details
US MSRP Price: $ TBA USD
Canada MSRP Price: $ TBA CDN
Europe/UK MSRP Price: £ See Dealer for Pricing in GBP (On The Road inc 20% Vat)
TBA
2024 Yamaha Tenere 700 Explore – Totalmotorcycle.com Canada Specifications/Technical Details
TBA
2024 Yamaha Tenere 700 Explore – Totalmotorcycle.com European Specifications/Technical Details
Engine
Engine type 4-stroke, 2-Cylinder, Liquid-cooled, DOHC
Displacement 689cc
Bore x stroke 80,0 × 68,6 mm
Compression ratio 11,5 : 1
Maximum power 54,0 kW (73,4 PS) @ 9.000 rpm
Maximum Torque 68,0 Nm @ 6.500 rpm
Lubrication system Wet sump
Clutch Type Wet, Multiple Disc
Ignition system TCI
Starter system Electric
Transmission system Constant Mesh, 6-speed
Final transmission Chain
Fuel consumption 4,16 L/100 km
CO2 emission 100 g/km
Carburettor Electronic Fuel Injection
Chassis
Frame Double cradle, Steel tube backbone
Caster Angle 27º
Trail 105 mm
Front suspension system Upside-down telescopic fork
Rear suspension system link suspension, Swingarm
Front travel 190 mm
Rear Travel 180 mm
Front brake Hydraulic dual disc, Ø 282 mm
Rear brake Hydraulic single disc, Ø 245 mm
Front tyre 90/90 – 21 M/C 54V
Rear tyre 150/70 R 18 M/C 70V
Dimensions
Overall length 2.350 mm
Overall width 905 mm
Overall height 1.500 mm
Seat height 860 mm
Wheel base 1.590 mm
Minimum ground clearance 225 mm
Wet weight (including full oil and fuel tank) 211 kg
Fuel tank capacity 16 L
Oil tank capacity 3 L
Manufacturer Specifications and appearance are subject to change without prior notice on Total Motorcycle (TMW).