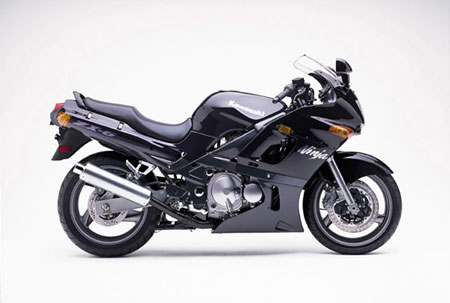 Back to 2001 Kawasaki Motorcycle Index Page
Click photo to enlarge.
It makes a great desktop image.


2001 Kawasaki Ninja Sportbikes

 
– 2001 Kawasaki Ninja ZX-6
.
2001 KAWASAKI NINJA® ZX-6
All-Around Street Performer
For those seeking sportbike performance with comfort, civilized manners and an affordable price, the Kawasaki Ninja ZX-6 delivers. It has the performance of a 600cc SuperSport champion while its low seat height, spacious cockpit and wide power spread make the ZX-6 an excellent all-around, street-going motorcycle.
The ZX-6 is powered by a compact 599cc liquid-cooled four-cylinder engine that shares some features with the high-performance, AMA 600cc Supersport competition-winning ZX-6R powerplant. Dual overhead cams actuate four extra-light valves per cylinder. Kawasaki Straight-Shot ports combine with the narrow valve stems to produce free-flowing, less turbulent intake for quick throttle response.
Intake efficiency is further enhanced by the Kawasaki Twin Ram Air Induction system. Scoops at the front of the fairing supply cool air directly to the airbox, and at highway speeds it becomes pressurized to help pack more fuel mixture from the 36mm Keihin carburetors into the cylinders for increased power.
A digital capacitor discharge ignition (CDI) system ignites the mixture. Its microprocessor-controlled timing is ultra-responsive to engine speed and the system never needs adjustment. Burned gasses exit the engine through two mufflers for smooth power throughout the rev range.
The NINJA ZX-6 has a lightweight aluminum perimeter design frame to increase handling performance. Made from a welded aluminum sheet, each section is precisely engineered to provide maximum rigidity with minimum weight.
The extruded aluminum swingarm is lightweight, yet rigid, and acts on the single rear shock through Kawasaki's UNI-TRAK® linkage system that produces progressively stiffer damping and spring rates as the suspension is compressed. At the front end the 41mm fork provides exceptional rigidity for
precise cornering. Preload and four-way rebound damping adjustments allow riders to fine-tune the front suspension for specific needs.
Dual floating front disc brakes clamped by opposed four-piston calipers and a rear disc provide excellent power to quickly stop the ZX-6.
The motorcycle is covered by an aerodynamic fairing designed to slice through the air with minimal turbulence. Rider comfort is enhanced by the fairing's wind protection as well as an upright riding position and thickly padded seat. Other rider convenience features include a tripmeter, a small lockable storage compartment and a digital clock.
With all the power one would expect from a Kawasaki Ninja motorcycle, a comfortable layout and convenient features, the ZX-6 is a street performer that will satisfy a wide range of riders in the everyday world of commuting and weekend pleasure trips.
New Color for 2001:
Pearl Purplish Black Mica/ Pearl Cosmic Gray



2001 NINJA® ZX-6 FEATURES
Compact, 599cc, 4-Cylinder Engine
Extra-light valves, exhaust tappets, pistons, rods, and crankshaft
Light flywheel for quick revs
Liquid Cooling and Oil Cooler
More even running temperatures mean no "power fade" on hot days and longer engine life
Automatic fan keeps things cool even in traffic
Four Valves per Cylinder
Excellent breathing for more power at high rpm
Compact flat combustion chamber for a high compression ratio without detonation
Twin Ram Air Induction System
Incredible volumetric efficiency
Straight-Shot Intake Ports
Produce free-flowing, less turbulent intake for quick throttle response
Maintenance-Free Battery
Sealed for long, trouble-free life
41mm Front Fork
Adjustable preload and 4-way rebound damping adjustments
Exceptional rigidity for more precise cornering
Aluminum lower triple clamp to reduce weight and improve handling
Bottom-Link UNI-TRAK® Rear Suspension
Extruded aluminum swingarm is light and rigid
Good mass centralization and lower center of gravity for better handling
Progressive rate provides a smoother, more controlled ride
Lightweight aluminum components provide quick suspension response
Rear shock spring preload and damping force adjustable
Dual Floating 300mm Front Disc Brakes
Opposed 4-piston calipers for reliable stopping power under the most demanding conditions
Thin brake discs reduce weight
240mm Disc Rear Brake
Single-piston caliper produces quick, sure stops
Digital Ignition
Microprocessor controlled timing, never needs adjustment; ultra-responsive to engine needs
Lightweight Aluminum Perimeter Frame
Made from welded aluminum sheet, each section is only as thick as necessary for maximum rigidity and minimum weight
Low Drag Aerodynamic Fairing
Clean design cuts drag and turbulence while providing wind protection for rider comfort
Bridgestone Tires
Excellent handling and great grip
Z-rated for extra durability
Digital Clock
A convenient, useful feature
Centerstand
Additional convenience for servicing, detailing or parking
2001 KAWASAKI NINJA® SPORTBIKES
Built to Deliver Performance
For years Kawasaki NINJA® motorcycles have defined the sportbike market and represented the company's long-standing performance heritage. The 2001 Kawasaki NINJA motorcycle line-up gives motorcyclists a variety of ways to experience Kawasaki's legendary performance, from the most powerful NINJA ever to entry-level models that can still deliver plenty of thrills to seasoned veterans.
The NINJA ZX-12R is the flagship model in the NINJA motorcycle line-up and is the most radical embodiment of race-proven technology that Kawasaki has ever produced. Quite simply, the ZX-12R was built to deliver the lightest weight and highest power-to-weight ratio of any machine in its class.
The very first NINJA was a 900cc machine, and the ZX-9R carries on the tradition of providing open-class power in a lightweight, nimble package. This is the model that became the first production motorcycle to break the nine-second barrier in the enthusiast magazines' quarter-mile testing.
In recent years Kawasaki has dominated the AMA/Prostar Motorcycle Drag Racing Series, with Kawasaki Drag Racing's Rickey Gadson winning three consecutive AMA/Prostar 750 Superbike National Championships, and teammate Marty Ladwig winning the 1999 600cc SuperSport title.
Kawasaki Road Racing uses the NINJA ZX-7R as the base for its AMA U.S. Superbike Championship assault and it has carried team rider Eric Bostrom to victory. Bostrom also won on the NINJA ZX-6R that kept him near the top of the 2000 600cc SuperSport Series all season long. The ZX-6R has also been highly acclaimed in the enthusiast press, winning several 2000-model 600cc sportbike comparisons and being chosen "Best Middleweight Streetbike" in Cycle World magazine's annual Ten Best Bikes feature.
For those looking for NINJA performance at an economical price, Kawasaki has three models. The NINJA ZX-6 features SuperSport championship-winning performance in an extremely comfortable and user-friendly package, while the NINJA 500R and 250R models provide excellent entries to the NINJA motorcycle fold.
No matter which NINJA motorcycle it is, customers can always count on getting a motorcycle that performs.
Specifications:


Model
Ninja ZX-6

Engine Type
4-stroke, liquid cooling with Oil cooler

Displacement
599 cc.

Bore x Stroke
64 x 46.6 mm.

Compression Ratio
12.0:1

Valve System
DOHC, 16 valves

Carburetion
Keihin CVKD36 x 4

Ignition
Digital

Starting
Electric

Transmission
6-speed

Rake / Trail
24.5

Wheelbase
56.3″

Suspension, Front
41 mm. fork with adjustable preload and 4-way rebound damping

Suspension, Rear
Bottom-Link Uni-Trak with gas-charged shock, adjustable spring preload and 3-way rebound damping

Tire Front
120/60ZR17

Tire Rear
160/60ZR17

Brakes, Front
Dual floating discs with dual four-piston calipers

Brakes, Rear
Disc with single-piston caliper

Seat Height
30.7″

Fuel Capacity
4.8 gallons

Dry Weight
430 pounds
Specifications are subject to change without notice, in accordance with national regulation and legislations.