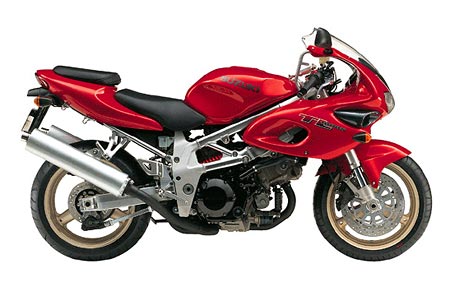 Back to 2001 Suzuki Motorcycle Index Page
Click photo to enlarge.
It makes a great desktop image.

 
– 2001 Suzuki TL 1000 S

THE 2001 SPORT LINE: KATANA, TL1000S, SV650, SV650S
Suzuki Katanas have long been known as motorcycles with the right combination of performance and value. A Katana combines sport-bike responsiveness with an ample amount of comfort that a motorcyclist needs for a weekday commute, or a weekend pleasure ride. Look at a Katana and you'll see handlebars and footpegs that place the rider in a comfortable upright position, and a contoured seat that helps the rider stay focused on the ride. If you prefer the same level of comfort and versatility, but with V-twin performance there's the compact SV650, new SV650S and sport-oriented TL1000S. Both of these streetwise, 90° V-twin powered machines offer plenty of value with unmistakable V-twin sound and feel.
TL1000S
There's something about the loping gait, the sound and instant throttle response of a booming V-twin motorcycle. The Suzuki TL1000S combines all the visceral appeal of a traditional large-displacement V-twin with the latest sport-performance technology.
The big bore, short stroke engine was designed to be narrower, shorter and lighter than traditional V-twin motors, with the cylinders positioned in a 90o V, downdraft cylinder heads with four valves per cylinder, double overhead cams and liquid cooling. Suzuki Ram Air Direct (SRAD) induction, two-stage electronic fuel injection and a digital engine management system provide instant throttle response.
The TL1000S also has a beautiful aluminum truss frame, which offers outstanding torsional rigidity, and a rotary damper rear suspension system which utilizes separate linkage systems for the damper and spring. With all of these features and more, the TL1000S is clearly a V-twin perfomance bargain.
TL1000S AT A GLANCE
Suggested Retail: $9,099*
Engine Type: Four-stroke, 90-degree V-Twin, liquid cooled, DOHC
Bore and Stroke: 98.0 mm x 66.0 mm
Front Brake: Dual Hydraulic Disc
Rear Brake: Single Hydraulic Disc
Wheelbase: 1415 mm (57.5 in)
Dry Weight: 191 kg (427 lbs.)
*Suggested Retail Prices (MSRP) shown do not include freight/ destination or other dealer charges.
Specifications:
Overall Length: 2,065 mm (81.3 in)
Overall Width: 715 mm (28.1 in)
Overall Height: 1,175 mm (46.3 in)
Seat Height: 835 mm (32.9 in)
Ground Clearance: 140 mm (5.5 in)
Wheelbase: 1415 mm (57.5 in)
Dry Weight: 191 kg (427 lbs.)
Engine type: Water-cooled 996 cc 4-stroke 90° V-twin, DOHC, TSCC, 8 valves. 125 hp (92 kW)/ 8,500 rpm, 107,4 Nm/ 7.100 rpm.



Specifications are subject to change without notice, in accordance with national regulation and legislations.