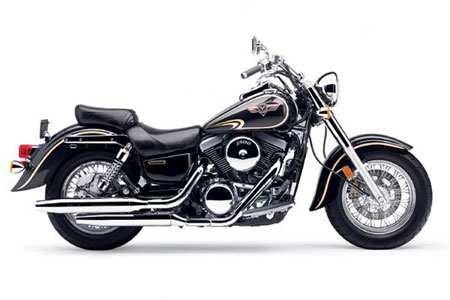 Back to 2002 Kawasaki Motorcycle Index Page
Click photo to enlarge.
It makes a great desktop image.


2002 Kawasaki Vulcan 1500 Classic Fi


2002 Kawasaki Vulcan 1500 Classic Fi

 
– 2002 Kawasaki Vulcan 1500 Classic Fi
.
What immediately distinguishes the Kawasaki Vulcan™ 1500 Classic Fi cruiser from the rest of the well-populated class is that it has the look, feel and sound of a mid-1950s motorcycle. But Kawasaki matches the "look" with a digitally controlled fuel-injection system and high-tech features that result in modern performance. Indeed, response to the Vulcan 1500 Classic Fi was so positive that upon its introduction, Motorcycle Tour & Cruiser magazine dubbed the bike "Cruiser of the Year."
The big 90 cubic-inch V-twin engine in the Classic Fi pumps out plenty of torque and power with high-compression pistons and cam timing taken from the original Vulcan 1500. A Mitsubishi digital fuel-injection system feeds each cylinder a high-octane fuel mixture through twin 36mm throttle bodies. A separate intake tract for each throttle body provides smooth engine operation. The tip of each injector contains four nozzles, with two of those aimed at each intake valve.
Two different systems automatically and accurately control the amount of fuel injected into the cylinders. A 16-bit electronic control unit (ECU) uses readings from sensors that monitor engine coolant temperature, intake air temperature, atmospheric pressure, intake air pressure and throttle position to adjust the amount of fuel injected. The overall result is excellent engine response and power with increased fuel efficiency. The ECU also has a special pin that allows technicians to check the fuel-injection system if needed.
There are four valves per cylinder actuated by single overhead cams. Two valve springs are used on all valves to help ensure tight valve closure, while hydraulic valve lash adjusters automatically maintain valve clearance for smooth engine performance, reduced noise and no maintenance. Automatic cam chain tensioners keep cam timing accurate and provide greater reliability with no upkeep. The right-side crankcase and clutch cover are designed to make it easy to check the engine's oil level and to perform regularly scheduled maintenance.
The engine produces 85 foot-pounds of torque at 2,500 rpm so that a crack of the throttle punches out smooth acceleration. A gear-driven engine counterbalancer and rubber engine mounts reduce handlebar and floorboard vibration, yet the engine retains its distinctive V-twin rumble.
A long, low-slung chassis provides the classic cruiser look. The Classic Fi's floorboards are positioned to put the rider in an upright and comfortable position. Also, the brake pedal is designed to make it easier to apply the dual-piston-caliper-equipped brake. Other conveniences include wide, five-way adjustable brake and clutch levers for added rider comfort and self-canceling turn signals for easier use.
An electronic speedometer eliminates the traditional wheel-driven mechanism and its speedometer cable for a cleaner look. The speedometer face atop the five-gallon gas tank features an LED display for the odometer and tripmeter, as well as a clock.
Because customizing is integral to the whole cruiser experience, Kawasaki offers a full line of FIRE & STEEL™ accessories for the Classic Fi. Among the choices are numerous chrome pieces, leather bags and trim, backrests, lights, racks and windshields.
With its exceptional performance, nostalgic looks and high-tech enhancements, the Vulcan 1500 Classic Fi is just the ticket for the high-minded cruiser enthusiast.
Kawasaki Vulcan® Cruisers

By introducing the KZ900 LTD in 1976, Kawasaki was an early metric leader in what has become today's cruiser movement. When the Vulcan® 750 cruiser debuted 10 years later, it was Kawasaki's first V-twin-powered cruiser and featured high-tech items such as liquid cooling, double overhead cams, shaft drive, dual disc front brakes and mag wheels. In 1995, Kawasaki unveiled the Vulcan™ 800, one of the industry's first V-twin metric cruisers to feature modern cruiser styling.
For 2002, the Kawasaki cruiser lineup is 10 models strong and ranges from the entry-level Eliminator® 125 to the brand-new Vulcan 1500 Mean Streak. The venerable Vulcan 500 LTD, Vulcan 750 and Vulcan 800 models retain the stylish characteristics that have made them popular, and are now available in new hues.
Also available this year are the Vulcan Classic and Drifter™ models. The Classics include the 800, 1500 and 1500 Fi, and provide a choice in both displacement and technological advancement without sacrificing style. Similarly, the Drifter 800 and Drifter 1500 provide a stylish retro appearance, but in both the mid- and heavyweight-cruiser genres.
In addition to the bikes, a key element to the cruiser lifestyle is customizing the motorcycle to fit individual design tastes and performance needs. Fortunately, Kawasaki offers its own extensive line of genuine Fire & Steel™ accessories. Motorcyclists can choose from literally hundreds of parts to customize their Kawasaki Vulcan motorcycles, and in doing so, make their own bold statement. Customers can find Fire & Steel accessories at their local Kawasaki dealer or shop online at buykawasaki.com.
Specifications:
Model
VN1500-N3
Engine Type
4-stroke V-Twin

Displacement
1470cc

Bore x Stroke
102 x 90 mm.

Compression Ratio
9.0:1

Valve System
SOHC, 8 valves

Fuel System
Mitsubishi 36 mm x 2
Ignition
Dual Plug Digital Ignition

Starting
Electric

Transmission
5-speed

Rake
32 degrees

Wheelbase
65.6″

Suspension, Front
41 mm. hydraulic telescopic fork

Suspension, Rear
Dual rear shocks with 4-way spring preload adjustment

Tire Front
130/90-16

Tire Rear
150/80-16

Brakes, Front
Disc

Brakes, Rear
Disc

Seat Height
27.6″

Fuel Capacity
5.0 gallons

Dry Weight
659 pounds

Color
Pearl Boulogne/Metallic Dark Bronze, Candy Cardinal Red/Metallic Phantom Silver



Specifications are subject to change without notice, in accordance with national regulation and legislations.