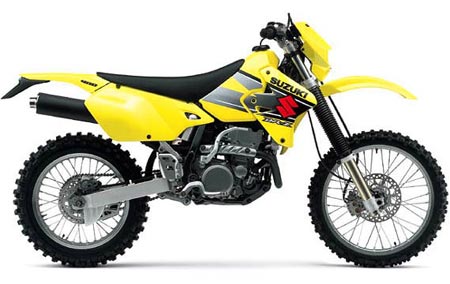 Back to 2002 Suzuki Motorcycle Index Page
Click photo to enlarge.
It makes a great desktop image.

 
2002 SUZUKI DUALSPORT
Thousands of riders have either learned to ride or rediscovered the fun of off-road riding with Suzuki DualSport machines. Largely based on off-road models, these hybrid machines come with lights speedometers and turn signals so they are also street legal. They're versatile, inexpensive to own and maintain, and most of all, pure fun thanks to their light weight, agility, and ability to go so many places. Suzuki has done more to grow this segment of the market than any other manufacturer. How? By offering a complete line of street-legal dirt bikes, packed with advanced technology and performance. Suzuki also supports the Suzuki DualSport Riders Club, which hosts events and sponsors rides all over the country, promoting the safe and responsible use of off-road trails.
UPDATED MODELS: DR-Z400 & DR-Z400E
HIGH PERFORMANCE OFF ROAD
Suzuki changed the face of off-road riding with the introduction of the DR-Z400 model line in 2000, and both the DR-Z400 and electric start DR-Z400E continue to be class leaders in the 400cc off-road class and have quickly established themselves as the do-it-all machines of off-road motorcycling. Not surprising considering the well-balanced performance of the compact four-stroke engines combined with the strong and lightweight chassis. New for 2002, the DR-Z400 and DR-Z400E feature a new plastic-lensed headlight housed in an aggressive new headlight cover, as well as a new rear shock absorber with adjustable high and low speed damping, and wider RM-style footpegs.
Powered by a 398cc, DOHC, liquid-cooled engine with dry sump lubrication system, both DR-Z400 models have the performance and power to handle any off-road situation. The compact engine is equipped with a four-valve cylinder head, Keihin FCR39 carburetor with a throttle position sensor, five speed transmission, automatic decompression system, forged piston and lightweight nickel-silicon-phosphorus-carbide plated cylinder. The electric start DR-Z400E comes equipped with a small maintenance free battery and additional electric start components.
The compact four-stroke motor is mounted in a chrome-moly steel frame with detachable aluminum sub-frame, patterned after Suzuki RM motocross models and designed with maximum torsional strength and light weight in mind. Oil for the dry sump lubrication system is carried in the main backbone and front downtube of the frame for maximum efficiency. Long travel conventional 49 mm front forks feature an internal cartridge with adjustable compression and rebound damping, while a new, fully adjustable RM-style rear shock absorber with adjustable high and low speed compression damping and lightweight aluminum swingarm support the rear. Lightweight aluminum wheels and hubs with disc brakes front and rear complete the DR-Z chassis.
New-generation yellow bodywork and aggressively redesigned headlight housing clothe the DR-Z400's, and the slim design allows for quick and easy movements, allowing the rider to move freely back and forth over the motorcycle. The left side frame cover comes equipped with quick-release fasteners for easy air filter maintenance, and rounding off the package are a mechanical trip meter, 55 watts of off-road lighting and a unique LED taillight implanted on a flexible base.

DR-Z400 & DR-Z400E (K2) AT A GLANCE
Suggested Retail: DR-Z400: $5,349
DR-Z400E: $5,449
Engine Type: Four-stroke, DOHC single cylinder, Liquid cooled
Bore and Stroke: 90.0 mm x 62.6 mm
Front Brake: Single Hydraulic Disc
Rear Brake: Single Hydraulic Disc
Wheelbase: 1,475mm (58.1 in)
Dry Weight: DR-Z400: 113 kg (249 lbs.)
DR-Z400E: 119 kg (262 lbs.)

DR-Z 400 Specifications:
Overall Length: 2,235 mm (88.0 in)
Overall Width: 825 mm (32.5 in)
Overall Height: 1,245 mm (49.0 in)
Seat height: 935 mm (36.8 in)
Wheelbase: 1,475mm (58.1 in)
Dry Weight: 113 kg (249 lbs.)
Engine type: Water-cooled 398 cc DOHC 1-cylinder, 4 valves. 48 hp (35 kW)/ 9,000 rpm, 41 Nm/ 7,500 rpm. Kick start only.



Specifications are subject to change without notice, in accordance with national regulation and legislations.