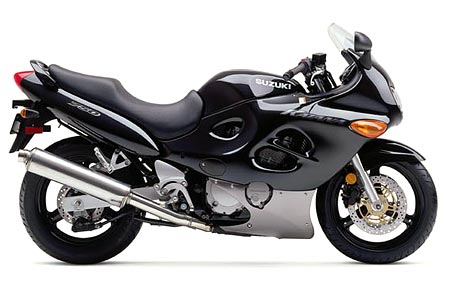 Back to 2002 Suzuki Motorcycle Index Page
Click photo to enlarge.
It makes a great desktop image.

 
2002 SUZUKI SPORT LINE
Suzuki sport bikes have a long tradition of combining sporting performance with great value. Whether it be a Katana or the hugely successful SV650 series, Suzuki sport bikes are sure to make you happy no matter what kind of bike you're looking for, or what kind of budget your working with. The Katana utilizes sport bike responsiveness, great rider comfort and incredible value. The Katana provides the perfect all-around tool for a weekday commute or a weekend getaway in the canyons. If a V-twin is what you're after the SV650 and SV650S provide the same level of comfort and versatility in a compact and sporty V-twin package. All of our street 90-degree V-twin motorcycles offer a great value with the throaty sound and feel of a V-twin powered machine.

GSX750F KATANA
For 2002 the 750 Katana gets two brand new colors to compliment its strong and nimble performance package. The 750 Katana provides the same comfortable ergonomics of its smaller 600cc brother, plus the additional horsepower of a 750cc machine. Much of the same technology that make the Katana 600 such a great machine is also carried over to the 750 Katana including the dual overhead cams, 16-valve, 4-cylinder engine, 4-into-1 stainless steel exhaust system, strong perimeter frame and a well balanced suspension front and rear. Lightweight aluminum wheels, radial tires and triple disc brakes also contribute to an excellent all-around machine. The 750 Katana provides the perfect blend of value, performance and comfort for any experienced rider.

GSX750F KATANA (K2) AT A GLANCE
Suggested Retail: $7,299.00
Engine Type: 4-stroke, air/oil-cooled
Bore and Stroke: 70.0 mm x 48.7 mm
Front Brake: Dual Hydraulic Disc
Rear Brake: Single Hydraulic Disc
Wheelbase: 1,465 mm (57.7 in.)
Dry Weight: 211 kg (465 lbs)

Specifications:
Length: 2 135 mm (84,1 in)
Width: 750 mm (29,5 in)
Height: 1,190 mm (46,9 in)
Wheelbase: 1,465 mm (57.7 in.)
Dry Weight: 211 kg (465 lbs)
Engine type: Air/oil-cooled 750 cc DOHC, 16 valves. 92 hp (68 kW)/ 10,500 rpm, 66,7 Nm/ 9,500 rpm.


Specifications are subject to change without notice, in accordance with national regulation and legislations.