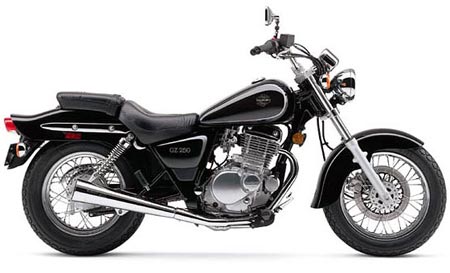 Back to 2002 Suzuki Motorcycle Index Page
Click photo to enlarge.
It makes a great desktop image.

 
2002 SUZUKI CRUISERS
Suzuki's commitment to all kinds of motorcyclists is nowhere more obvious than in its cruiser line-up. Suzuki builds a wide selection of models designed to appeal to people of all ages and experience levels. Classically styled motorcycles with upright handlebars, plush seats and comfortable riding positions. But don't let the traditional looks fool you, every one of these bikes comes standard with the latest in technology and performance. With seven bikes ranging from 250cc all the way up to 1500cc, there's a Suzuki cruiser for every type of rider.
GZ250 Marauder
For the entry-level rider, the 2002 Suzuki GZ250 is perfect, combining all the style of larger cruisers with an inexpensive price tag and low operational costs. The GZ250 is powered by a fuel efficient 4-stroke, SOHC, single-cylinder engine and a five-speed transmission. Styled similar to the larger VZ800 Marauder, the GZ250 has a long and stable 57 inch wheelbase, a low seat height of just 28 inches, and a dry weight of only 302 lbs. Other features include a single hydraulic front disc brake and wide tires mounted on classic spoke wheels. So whether you're just learning to ride or commuting to work, the GZ250 will get you where you're going in style and at an affordable price.
GZ250 (K2) AT A GLANCE
Suggested Retail: $2,999.00
Engine Type: 4-stroke, air-cooled, SOHC Single cylinder
Bore and Stroke: 72.0 mm x 61.2 mm
Front Brake: Single Hydraulic Disc
Rear Brake: Mechanical Drum
Wheelbase: 1,450 mm (57.1 in)
Dry Weight: 137 kg (302 lbs)

Specifications:
Overall Length: 2,160 mm (85.0 in)
Overall Width: 815 mm (32.1 in)
Overall Height: 1,090 mm (42.9 in)
Seat height: 680 mm (27.8 in)
Wheelbase: 1,450 mm (57.1 in)
Dry Weight: 137 kg (302 lbs)
Engine type: Air-cooled 249 cc single cylinder, SOHC, four valves. 20.1 hp (15 kW)/ 8,000 rpm, 18.7 Nm/ 7,000 prm.


Specifications are subject to change without notice, in accordance with national regulation and legislations.