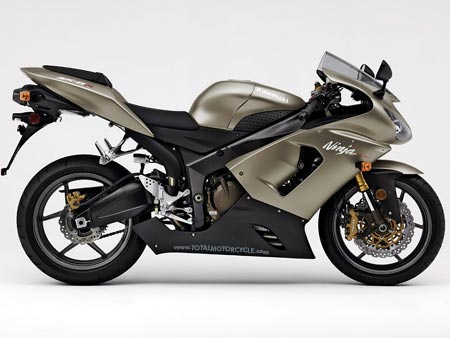 You are here: Home — New Models — 2005 Kawasaki Motorcycle Models
2005 Kawasaski Ninja ZX-6R
Back to 2005 Kawasaki Motorcycle Index Page

Click to Enlarge for Desktop Sized Photo
– 2005 Kawasaki Ninja ZX-6R

While the world's top motorcycle magazine editors are still shaking their heads in amazement at the staggering performance of the NINJA® ZX-10R sport motorcycle, Kawasaki is unveiling a new middle-weight sportbike that will again leave them breathless.
The 2005 NINJA ZX-6R exemplifies Kawasaki's commitment to developing the world's leading-edge sportbikes, strongly reaffirming Kawasaki as the brand of choice for hardcore sportbike enthusiasts.
Like the ZX-10R, the NINJA ZX-6R is oriented toward serious sport riding and track performance. It features ultra-aerodynamic bodywork with Ram Air, GP-style swingarm, under-seat exhaust system, six-spoke wheels, petal-style disc brakes, inverted forks and a powerful engine that will leave riders itching to find their local twisty highways.
Leading-Edge Style
Along with its racing-homologated sibling, the ZX-6RR, the new NINJA ZX -6R is the most aerodynamically efficient sportbike Kawasaki has ever created – even more streamlined than the leading-edge ZX-10R. Specifically, the new fairing helps to divide the air stream farther ahead of the bike; by moving the "bubble" of still air farther forward in the cockpit, the rider experiences less buffeting around the head and shoulders.
The point of convergence – where the divided air streams comes together behind the rider – is critical to aerodynamic efficiency, so Kawasaki engineers designed the tail section to smoothly blend the air together while minimizing turbulence. The result is quicker roll-on acceleration and higher top speeds at the race track, as well as enhanced rider comfort and control.
The new body work also includes a ZX-10R-style central Ram Air duct and a flush-surface LED tail light, which makes the ZX-6R more visible to drivers of other vehicles. It also features an aerodynamic ZX-10R-style front fender for a strong NINJA family resemblance.
From the cockpit, the NINJA ZX-6R rider will notice several more leading-edge features that put this bike at the forefront of design and performance. Foremost is the new split-seam fuel tank/airbox cover. The rear half is the actual fuel tank, designed to fit neatly between the frame spars and down behind the engine's fuel injection system, while the front half covers a new, quick-access air box. By centralizing the fuel mass near the center of the bike, chassis responsiveness is enhanced – weight transfers from turn to turn are lighter, and the chassis is exceptionally stable under acceleration and braking.
The advanced split-seam design also enabled engineers to make the airbox larger, thus enhancing engine performance. It also makes filter access quick and easy. Plus, a depression in the top of the fuel tank enables the rider to tuck in for improved aerodynamics.
The final tribute to aerodynamic efficiency is the new under-seat muffler, which gives the NINJA ZX-6R a slim, racy look.
Exhilarating Power and Performance
No sportbike can garner mass approval on good looks alone, and here again, the NINJA ZX-6R sets new standards of performance for the middle-weight class. For that, the engine includes a new cylinder, new cylinder head, and 38mm oval-shaped sub-throttle valves fed by twin injectors and redesigned Ram Air.
The NINJA ZX-6R utilizes oval-shaped sub-throttle technology. Combined with the improved Ram Air design, the oval-shaped throttle bodies increase airflow without making the fuel delivery assembly wider – intake efficiency is improved nearly 20 percent while helping to maintain a slim chassis profile.
Larger intake and exhaust valves, revised cam profiles and an exhaust valve integrated with the muffler improves low and mid-range response of the 636cc engine.
Also, the engine control unit has more memory for controlling the exhaust valve and second set of fuel injectors. Plus, the radiator is 40mm taller and features more-tightly packed cores for increased cooling capacity.
The NINJA ZX-6R features a more durable, smoother-shifting six-speed transmission, and includes a taller third gear ratio. It also utilizes a multi-disc wet clutch with a back-torque limiter. Designed to maximize on-track performance, the back-torque limiter helps to reduce rear-wheel hop that may occur when downshifting a high-rpm.
Chassis Features
The matte-black aluminum frame features a shortened the wheelbase and the swingarm pivot point has been moved forward. Combined with a longer, braced aluminum swingarm, the new chassis gives the NINJA ZX-6R improved cornering performance and high-speed stability.
The fully adjustable Showa fork delivers improved ride quality and outstanding cornering performance. At the rear, new UNI-TRAK® linkage ratios provide more linear action, and new shock settings improve ride quality and track performance.
Radial-mounted, four-piston front brake calipers deliver exceptional feel and performance; four independent brake pads are used – one for each piston – for more even wear and improved heat resistance. The 300mm petal-style front discs are 5.5mm thick for high heat capacity and the front brake master cylinder uses direct action for better rider feedback. Also, the caliper for the 220mm rear disc brake mounts directly to the swingarm, negating the need for an independent brake tie-rod.
The NINJA ZX-6R rides on light, six-spoke wheels shod with 120/65ZR17 front and 180/55ZR17 rear tires for exceptional cornering performance.
The Cockpit
The riding position is also based on the NINJA ZX-10R. By pulling back the steering head assembly, the distance between the handlebars and footpegs is reduced, which provides the rider with an idealized position for performance riding. Combined with the new frame, seat and fuel tank, the rider sits "in" the bike, rather than "on" it.
The NINJA ZX-6R's racing-style instrument panel features a bar-type LCD tachometer, digital LCD speedometer, stopwatch-style lap timer and adjustable shift indicator lamp, which includes Off, Low and Bright settings. A digital temperature gauge, clock and tripmeter are also included.
Features and Benefits
– Designed for #1 performance on the circuit and winding roads
– Power boosting features include bigger intake and exhaust valves, new cams, and larger-area oval-shaped sub-throttles fed by dual injectors
– Exhaust valve integral with the under-seat muffler improves low- and mid-range engine performance
– Improved aerodynamics give this middle-weight SuperSport the best CdA of any NINJA to date
– Back torque limiter is standard
– New frame and swingarm with revised chassis dimensions improve cornering performance
– 300mm petal-style front disc brakes with radial-mount calipers and direct-action brake master cylinder provide excellent performance and feel
– Revised riding position based on the ZX-10R lets the rider take advantage of the awesome performance
Engine Details
– New cylinder head design locates each pair of intake/exhaust valves farther apart for improved breathing and higher combustion efficiency
– Complementing the new head are new pistons with reshaped crowns and improved, low-friction skirt profiles
– Larger diameter intake and exhaust valves, together with new cam profiles, contribute to the new engine's enhanced performance
– Dual-injector fuel injection system uses fine atomizing injectors for the main injectors and features a set of secondary injectors located in the airbox for improved cylinder filling, crisper throttle response and higher power output
– Extremely narrow included valve angle of 25 degree allows the fitting of large valves in a compact, highly efficient combustion chamber
– Breathing passageways, one located between each pair of cylinders, contributes to effective crankcase breathing, which reduces pumping loss
– Thicker castings used for the engine cases improve engine rigidity and reduce vibration and feature improved lubrication
– The new lower case has separate mounting bosses for the oil filter and oil cooler
– New aluminum oil cooler improves cooling efficiency.
– Further performance gains were achieved by increasing the width of the oil pump while changing its drive ratio to reduce its rpm
– Deeper oil sump lowers the oil level for reduced windage losses
– The crankshaft has been strengthened to reduce flexing and now features larger diameter main journals (from 30mm to 31mm), and the crank has been re-balanced for smoother running
– Catalytic converter located at the collector helps keep emissions friendly
– New auto-fast-idle system improves starting

Specifications
Engine: Four-stroke inline four-cylinder, DOHC, 16 valves
Displacement: 636cc
Starting: Electric
Bore x stroke: 68 x 43.8mm
Compression ratio: 12.9:1
Cooling: Liquid
Carburetion: Fuel injection with (4) 38mm throttle bodies
Ignition: Digital
Transmission: Six-speed with multi-disc with back torque limiter
Frame: Twin spar aluminum
Rake / trail: TBD
Front suspension: 41mm inverted cartridge fork with rebound and compression damping, plus spring preload adjustability and top-out springs
Rear suspension: Bottom-link UNI-TRAK® with gas-charged shock, stepless compression and rebound damping, spring preload adjustability and top-out spring
Wheel travel, front / rear: 4.7 / 5.2 in.
Front tire: 120/65ZR17
Rear tire: 180/55ZR17
Front brakes: Dual semi-floating 300mm petal discs with dual radial-mounted, four-piston calipers
Rear brake: Single 220mm petal disc with single-caliper piston
Overall length: TBD
Overall width: TBD
Overall height: TBD
Seat height: TBD
Dry weight: TBD
Fuel capacity: 4.5 gal.
Wheelbase: TBD
Colors: Lime Green / Flat Stoic Black, Metallic Raw Titanium / Flat Stoic Black, Candy Plasma Blue / Flat Stoic Black, Pearl Magma Red / Flat Stoic Black
* Price and specifications subject to change