You are here: Home — New 2008 Models — 2008 Benelli Motorcycle Models
2008 Benelli TNT 1130 Cafe Racer
Back to 2008 Benelli Motorcycle Index Page
Click photos to enlarge for detail.
They make great desktop images.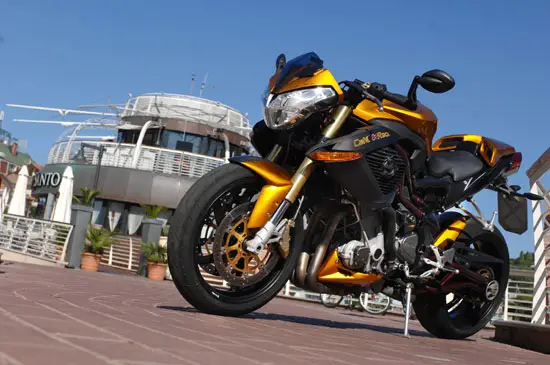 2008 Benelli TNT 1130 Cafe Racer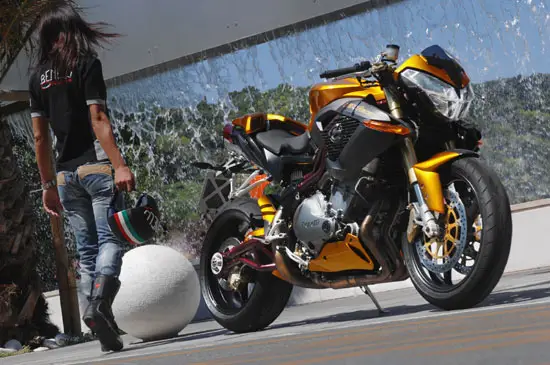 2008 Benelli TNT 1130 Cafe Racer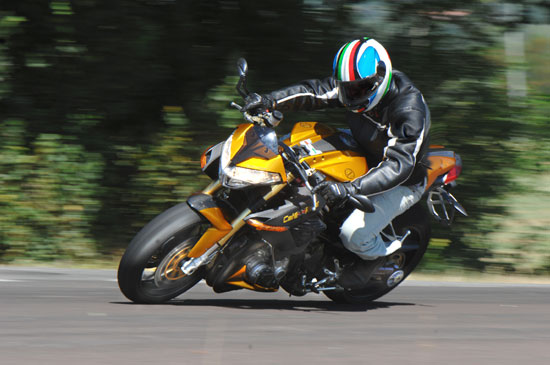 2008 Benelli TNT 1130 Cafe Racer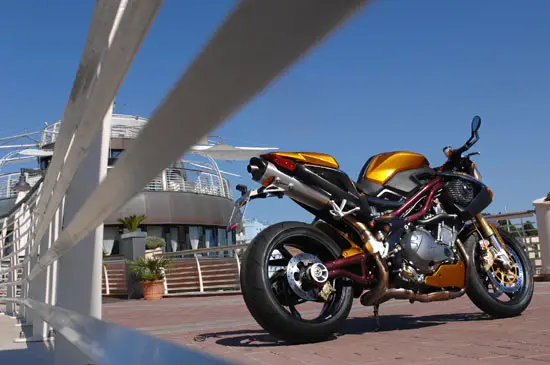 2008 Benelli TNT 1130 Cafe Racer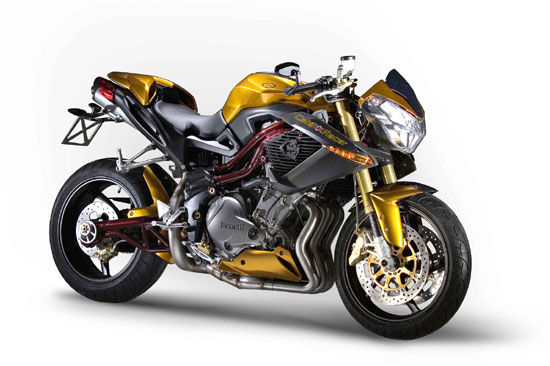 2008 Benelli TNT 1130 Cafe Racer
– 2008 Benelli TNT 1130 Cafe Racer

2008 Benelli TNT 1130 Cafe Racer
The TNT Café Racer is the result of a perfect blend of stylistic solutions and exclusive, sophisticated technique which come together to fully satisfy the performance levels which today's motorcycle riders demand.
The design idea used for the development of the Cafè Racer was that of creating a TNT inspired by the racing bikes of the past, but with a series of unique, sophisticated details to make it modern and effective.
The result is a motorcycle with an extraordinary personality – a bike which simultaneously offers riding comfort and extreme performance thanks to its exceptional components: a higher and more protective windscreen for greater aerodynamic protection, lower clip-on handlebars in aluminium alloy, single seat ballypan and tailpiece to experience the thrills of riding a true racer alone, eccentric foot board adjustment system, carbon parts and seat support.
As with the design, the colour was also inspired by the past for an exceptional aesthetic impact and to make the Café Racer even more exclusive in the world gamma of the Streetfighters.
An important innovation in the motor: as in all of the TNT model year 2005 versions, The Café Racer offers the possibility of modifying motor functions by simply pressing a lighted button on the dash support. The engine control unit can be switched between free power and controlled power for better control of the motorcycle in poor traction conditions. This also guarantees a decrease in fuel consumption of 10-20% depending on driving style and on the road.
The free power configuration makes it possible to fully enjoy the torque features and motor power, while the controlled power configuration makes it possible to enjoy using the bike easily in the city, even on asphalt with poor traction, either alone or with a passenger, without stress.
The exclusive technical aspects are also seen in the exceptional cycle: this version sports a powerful 50 mm fork completely adjustable in compression, extension and spring preload, with a hardened surface to improve the sliding qualities which contribute to making the road holding solid and precise.
The back shock absorber body is in Ergal – light and unique in the world panorama; it is completely adjustable in extension and spring preload to offer a good level of performance constancy and to make riding safe in all asphalt conditions.

The attention given to the quest for lightness and performance is confirmed by the use of Marchesini rims in forged and machined aluminium alloy and the Brembo braking system which mounts a 4 piston radial calliper and a 320 mm diameter double disk at the front.


US SPECIFICATIONS: 2008 Benelli TNT 1130 Cafe Racer
Price $16,299 MSRP
Colors Gold
Engine Type Liquid cooled in line triple, valve arrangement dohc 12 valve
Bore x Stroke 88 x 62 mm
Displacement 1130cc
Compression Ratio 11.2 : 1
Transmission 6 speed cassette type
Final Drive 525 x-ring chain, engine sprocket Z-16, chain sprocket Z-36.
Chassis Weight dry 438 lbs, weight wet 473 lbs
Rake 24.5 degrees, trail 4.13 inches
Wheel Base 55.87 inches
Seat Height 30.70 inches
Fuel Capacity 4.6 gallons

Brakes Brembo
Front 320mm dual floating disc with 4 piston Brembo calipers.
Rear 240mm fixed disc with 2 piston Brembo caliper.

Suspension
Front Fully adjustable 50mm inverted Marzocchi forks, w/ 4.72" travel
Rear Extreme Technology single shock with adjustable rebound damping and
adjustable spring pre-load w/ 4.72 inches travel

Performance
Horsepower [email protected],250rpm,
Torque 86 ft/[email protected],750rpm. Quarter mile, 10.92 sec., 0-60mph 3.31 sec.,
0-100mph 6.01 sec., 0-120mph 10.92 sec
Fuel Mileage 33.7 mpg city / 35.56 highway



Canada SPECIFICATIONS: 2008 Benelli TNT 1130 Cafe Racer

ENGINE
TYPE 3 cylinders, 4 stroke, liquid cooled, 12 V,
DOHC(double overhead camshaft)
CYLINDER CAPACITY 1131 cc
BORE X STROKE 88 X 62
COMPRESSION RATIO 11, 9:1
MAXIMUM POWER 135hp
MAXIMUM NET TORQUE / RPM 86ftlb
FIRING ORDER 1 > 3 > 2
INTAKE VALVE DIAMETER 33 mm
EXHAUST VALVE DIAMETER 29 mm
INTAKE ENGINE TIMING 21°BTDC42° ATDC
EXHAUST ENGINE TIMING 42°BTDC21° ATDC
MAXIMUM VALVE LIFT Int.8,75 exh.8,75
THROTTLE BODY,DIAMETER 53 mm
LUBRICATION SYSTEM Wet sump
FUEL SYSTEM Injection EURO 3
CLUTCH Wet clucth 11 discs
IGNITION Digital – inductive type via electronic engine management
STARTING Electric
GEARBOX 6 – speed
TRANSMISSION 525 chain type
PRIMARY RATIO 44 / 79
FINAL RATIO 16 / 36
GEAR RATIOS (SECONDARY) 1°14 / 39
2°18 / 35
3°21 / 32
4°23 / 30
5°24 / 28
6°25 / 27

CYCLE PARTS
FRAME ASD steel tube trellis, with boxed section
FRONT SUSPENSION "Upside down" fork totally adjustable Ø43 mm
FRONT TRAVEL 120 mm
REAR SUSPENSION Box-type structure swingarm
REAR TRAVEL 120 mm
RAKE 25°
TRAIL 95 mm
OFFSET 35 mm
FRONT BRAKE DIAMETER Ø320 mm
REAR BRAKE DIAMETER Ø240 mm
FRONT TYRE 120-70-/17; 120-65/17
REAR TYRE 180-55/17; 190-55-/17; 200-50/17

SIZES
LENGHT 2100 mm
WIDTH 790 mm
HEIGHT 1050mm
SEAT HEIGHT 780mm
WHEELBASE 1443 mm
DRY WEIGHT 1959 kg
FUEL TANK CAPACITY 17l
FUEL RESERVE 4l

EUROPE SPECIFICATIONS: 2008 Benelli TNT 1130 Cafe Racer

ENGINE
TYPE In line 3 cylinders, 4-stroke, liquid cooled , 4 valves per cylinder double overhead camshaft, with balancer shaft
DISPLACEMENT 1131 cc
BORE x STROKE 88 x 62 mm
COMPRESSION RATIO 11.2:1
RATED OUTPUT 101 kW (137 cv) @ 9500 rpm
MAX. TORQUE 110 Nm (11.2 kgm) @ 7750 rpm
FUEL SUPPLY Electronic injection with three throttle bodies ø53 mm
EXHAUST SYSTEM With catalytic converter and oxigen sensor
CERTIFICATION Euro 3
CLUTCH Wet clutch
GEARBOX 6 speed
FINAL DRIVE Chain drive, ratio 16:36

CHASSIS
FRAME Decomposable, front steel trestle, rear alluminium alloy casting
FRONT SUSPENSION Ø43 mm upside-down fork, with idraulic extension / compression and spring preload adjustments
FRONT SUSPENSION STROKE 120 mm
REAR SUSPENSION Steel trestle swingarm, progressive rear dumper with idraulic extension and spring preload adjustments
REAR SUSPENSION STROKE 120 mm
FRONT BRAKE Twin floating disk ø320 mm with 4 piston calipers
REAR BRAKE Singol disk ø240 mm with double piston caliper
FRONT RIM 17"x3.50" DOT-D
REAR RIM 17"x6.00" DOT-D
FRONT TYRE 120/70-ZR17 58W (-120/65-ZR17 56W-)
REAR TYRE 190/50-ZR17 73W (-180/55-ZR17 73W — 200/50-ZR17 75W -)

SIZES
LENGHT 2128 mm
WIDHT EXCLUDING MIRRORS 750 mm
HEIGHT EXCLUDING MIRRORS 1050 mm
SEAT HEIGHT 820 mm
WHEELBASE 1443 mm
UNLADEN WEIGHT* 208 kg
ROAD READY WEIGHT** 215 kg
PERMITTED TOTAL WEIGHT 400 kg
USABLE TANK VOLUME 16 lt
RESERVE N.D.
* without fluids
** According to guideline 93/93/CEE with all fluids, fuelled with at least 90% of usable tank volume
(Benelli Q.J. reserves the right to change technical specifications, equipment, set ups, and colours without prior notice.)


Media Press Release:
None to date.